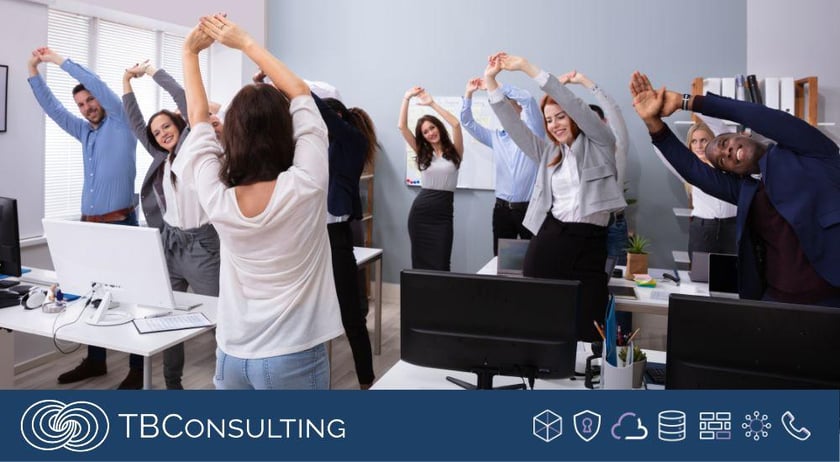 Who wouldn't want to be lean, efficient, and capable? While those characteristics are the physical goals we may set for ourselves, they also correspond to how your IT environment should run. And the easiest way to refresh your tech stack vision is to lean on the experts to inject infrastructure fitness into your sluggish IT routine.

Some midsize organizations are still fighting IT modernization due to fear, slim resources, or the lack of trusted IT advisors. Even digital-first companies can get left behind in the face of endless upgrades. It is time to face those challenges and capitalize on growth opportunities.

Break Through your Plateau
Do you feel stuck, or even comfortable, in your routine? Maybe you are unaware of the progress made by others pushing the envelope. Have you taken the time to evaluate where you are and where you should be?
What are your infrastructure fitness goals? To become technical debt free? To bring flexibility and agility to your IT environment? To secure your digital perimeter to keep your hybrid workforce protected? To streamline operations to be able to sustain productivity despite supply chain disruptions?
Don't expect a miracle.
Infrastructure fitness, like personal fitness, is hard work. Both start with a vision of what you imagine and expect to become. And both take time, dedication, a plan, resources, and support. Incremental improvements are better than giant leaps to reshape your infrastructure – and can lead to burnout, safety gaps, and technical debt.
But no matter what your vision, you must first consider the ramifications of doing nothing.
Inertia is your Worst Enemy
The Oxford English Dictionary defines inertia as the "tendency to do nothing or to remain unchanged." Change is hard, and people tend to avoid it if things are consistent and they feel generally productive. But under all that comfort is some other company streamlining their organization, making positive changes, and growing. If you are stagnant, those companies will be happy to relieve you of your profit, your customer base, and your reputation.
| | | |
| --- | --- | --- |
| | | |
Make technology your driver of change when your performance metrics prove lackluster, and the Board is hounding you for significant improvements. The cost of doing nothing is too high to ignore.
Be SMART
You may be accustomed to using the SMART principles to define the steps you need to achieve your personal health – but those same principles can also fuel the modernization of your enterprise infrastructure and operations goals. If your goals include developing greater functionality, deeper flexibility, and higher efficiency, start with the SMART strategic framework to make incremental improvements.
SMART
Specific – clearly define goal criteria and what "done" means
Measurable – define progress and quantify benchmarks
Achievable – understand your teams' capacity to accomplish goal-associated tasks
Relevant – focus on goals unique to your industry, your environment, and your revenue goals
Timely – create an attitude of controlled urgency and keep your teams aligned on tasks and timelines to ensure success.
IT Modernization is a marathon and not a sprint. In fact, it's an endless quest for efficiency in operations and costs. Celebrate success by being vocal with praise and realistic about recovery from failures.
Rise to the Challenge
While you may be tempted to invest and deploy new tools without the proper preparation and training for your teams and organization, those tools may only serve to dig you into deeper technical debt. But you can overcome this common mistake with consistent, incremental improvements.
Once your team starts meeting important milestones, be proud, but never be satisfied. Quickly tie success to larger goals so you don't become complacent. Fight the tendency to become stagnant by constantly moving the goalpost forward while acknowledging resource and time constraints.
While technology will not stop for you, there will always be contingencies and a budget to work through. The best way to meet the challenges of change and increase your organization's flexibility is to rely on experts to help create a roadmap to IT maturity.
Invest in Infrastructure Fitness
Do you tend to buy into every fad diet and exercise trend? Do you also think that you can revamp your IT infrastructure with a quick and easy upgrade? As you may have discovered on your own, the empty promises of new IT tools and turnkey solutions can lure you in, but without a thorough evaluation and plan, your health and wallet will suffer in the end.
Maybe you are reluctant to take the slow and steady path. Perhaps you are afraid to commit to IT infrastructure improvements requiring multiple vendors, training programs, and a hearty IT budget because you are too busy to manage it properly. Maybe you haven't yet been hit by a cybersecurity attack that impacted your critical infrastructure. Or maybe you can't prove the value of new IT investments to your Board?
The Cybersecurity and Infrastructure Security Agency (CISA) recommends running "cyber and physical security exercises" . . . "to enhance security and resilience of critical infrastructure." These exercises help to "inform future planning, technical assistance, training, and education efforts." You can remind a passive Board that investing in responsibly planned and proactive improvements will contribute to a resilient and consistently responsive IT environment that can protect their bottom line.
Find an Accountability Partner
TBC a Managed Services Provider headquartered in Phoenix, Arizona, has decades of experience helping create, enhance, and deliver critical IT infrastructure and services to our global customer base. Our IT architects and engineers are certified in Veeam, Citrix, Oracle, VMWare, AWS, Nutanix, and ServiceNow, supporting TBC's unique capabilities in understanding customer pain points and motivation.
TBC offers a Security Posture Assessment to evaluate the current state of your infrastructure, configurations, applications, workflows, and security measures. With those results, we act as an accountability partner in your IT health and maturity journey. You can dominate your market by flexing your infrastructure muscle with TBC supporting your core competencies.
If you want professional help to overcome the difficulties of old habits and legacy infrastructure which plague your modernization efforts, please reach out to our teams. Repeated failures and investments in the wrong tools can increase your costs. With TBC as your IT partner, your growth is supported by our cybersecurity, data backup, infrastructure management, ITIL, Unified Communications, and endpoint management solutions. So no matter your industry, you can benefit from continuous monitoring, 'ownership' of hardware and software you couldn't afford or manage on your own, and IT experts to deliver results.