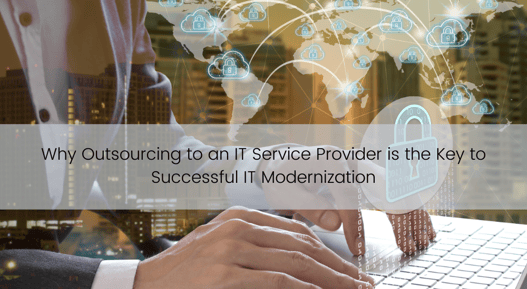 In today's rapidly changing world, organizations are faced with the pressures of keeping up with ongoing digital innovation as well as shifting their strategies to align with today's challenges. Companies must strive to address and mitigate technical issues, as well as ensure the well being of their associates, as a means for driving corporate strategy and improving operational performance.
IT Modernization is an imperative step towards remaining competitive. According to IDG, 85% of enterprise decision-makers claim they must make a digital transformation within two years to keep pace with the competition.
Considering the recent shift in the way businesses are operating, companies must strive to assess and recalibrate business processes and experiences related to key technical needs. The impact of a successful digital transformation can boost customer experience while also improving the bottom line. In fact, a recent report published by IDG found that digital transformation projects can increase revenue by up to 23%.
The problem is the majority of companies lack the appropriate IT talent and technological infrastructure necessary for executing IT modernization strategies successfully. Recent research from Couchbase has found that up to 90% of digital transformations fail due to a multitude of reasons. Add in the challenges from the pandemic and business leaders are now faced with increased obstacles to overcome for successful IT modernization.
Outsourcing to an IT service provider can help companies better allocate resources while providing ongoing support. Businesses with limited resources may find that outsourcing IT functions can be an appropriate solution to help enable their IT modernization initiatives.
IT Talent Shortage Makes Recruiting Difficult
As companies become increasingly more reliant upon technologies, the need for highly skilled IT personnel continues to grow at an exponential rate. As a result, the demand for IT personnel has created a shortage of talent causing extreme competition within the IT job market.
The problematic shortage of qualified professionals makes it difficult for companies to recruit IT personnel capable of handling the complexity of these tasks. As a result, creating a competent in-house team of experts continues to be an ongoing challenge for companies of all sizes. Outsourcing your company's IT needs will ensure you have the right IT expertise - 24/7 - regardless of potential skill gaps.
Adding to the talent shortage, companies now need to consider that some associates consider working remotely a priority. They may have school-age children they are forced to home school because their school is closed, or possibly they are caring for an aging parent. Companies that put the well being of their associates at the top of their priorities will have a better chance of recruiting top talent.
Mitigating Vulnerabilities and Risk
Managing your IT infrastructure can be difficult to do in-house with limited staffing capabilities. Outsourcing IT service needs to a third-party company is one way of mitigating potential risks while addressing technical concerns simultaneously.
A recent cybersecurity report conducted by the Ponemon Institute suggests that it takes up to six months to detect potential data breaches. By the time your business is aware of potential issues, it may be too late to act. A lack of IT protection could have a devastating financial impact on your future business.
As more companies expand their work from home policies, they increase their risk of cyber attacks. Cyber criminals have taken advantage of the current circumstances, oftentimes posing as health authorities or government officials from the World Health Organization (WHO) or the White House. Unfortunately, criminals know people are vulnerable when tragedy strikes and they may be lured into exposing credentials or downloading harmful malware, so it's important to have policies and technology in place to mitigate these risks.
IT service providers allow your business to be protected around the clock 24/7 with real-time information feedback and monitoring. Any lapses in network performance and application testing can have catastrophic effects on normal business operations.
Network problems can be found and resolved in a timely manner with the help of an IT service provider. With around-the-clock monitoring, IT service providers can accurately pinpoint potential system weaknesses while identifying issues and abnormalities.
The vast majority of companies lack the resources necessary for staffing coverage around the clock. Outsourcing IT needs to a third-party can provide constant protection and peace of mind.
Evolving Technology Needs can be Challenging to Keep up With
The world's collective data is rapidly expanding at an alarming rate. IDC recently released a report on the digitization of the world and found that world data is expected to grow to 175 zettabytes by the year 2025.
The emergence of such tremendous data capabilities leads to a constant evolution of technological complexities requiring highly skilled IT professionals. This may be well beyond the scope and capabilities of many internal IT departments.
Newly expanded work from home policies are creating additional complexities. With the CDC issuing recent guidance on schools in the fall, companies will be faced with decisions on how to continue to accommodate working parents with children that may have hybrid school schedules. The need to have a secure, flexible, and stable unified communications/collaboration solution has suddenly become a priority for business leaders to ensure they provide the best customer experience possible while keeping the well being of their associates top of mind.
Many companies are struggling to hire and retain professionals adept enough at keeping up with ongoing technology shifts. As hackers and cybercriminals employ more sophisticated techniques for breaching IT systems, data volumes explode and everything becomes connected, it becomes crucial for companies to focus on creating a centralized solution to manage their infrastructure.
Improves Business Operation Workflows
Outsourcing technical needs to third-party partners can eliminate mundane work within your team, freeing up human capital to focus on strategic initiatives. Most corporate decision-makers would agree that there is insufficient time within the day to handle and solve all company IT-related problems as well as partner with the business to deliver the applications they need.
Delegating IT service tasks to third-party companies can allow IT staff, once inundated with mundane tasks, to stay focused on aligning with their business partners, implementing solutions to help transform and grow the business. This method of strategic alignment improves workplace productivity and increases focus on core business initiatives.
Let TBConsulting Manage the Mundane, So You Can Modernize and Grow
Companies of all sizes struggle to build and retain in-house knowledgeable IT teams capable of handling IT modernizations. Entrusting your IT needs to a third-party company such as TBConsulting can provide visibility and stability within your organization enabling your business to operate in a more succinct, strategic manner.
We're able to determine risk, safeguard data, and develop strategic surveillance systems that provide additional layers of protection and constant security support. TBC will help your company create a customized solution where we manage the mundane exceptionally, so you can transform and grow to gain a competitive advantage.
If you would like more information on how TBC can help guide your business through a successful IT modernization, be sure to request a 30-minute consult. One of our knowledgeable solutions experts will provide you with insights to help you work through your dilemma or challenge.