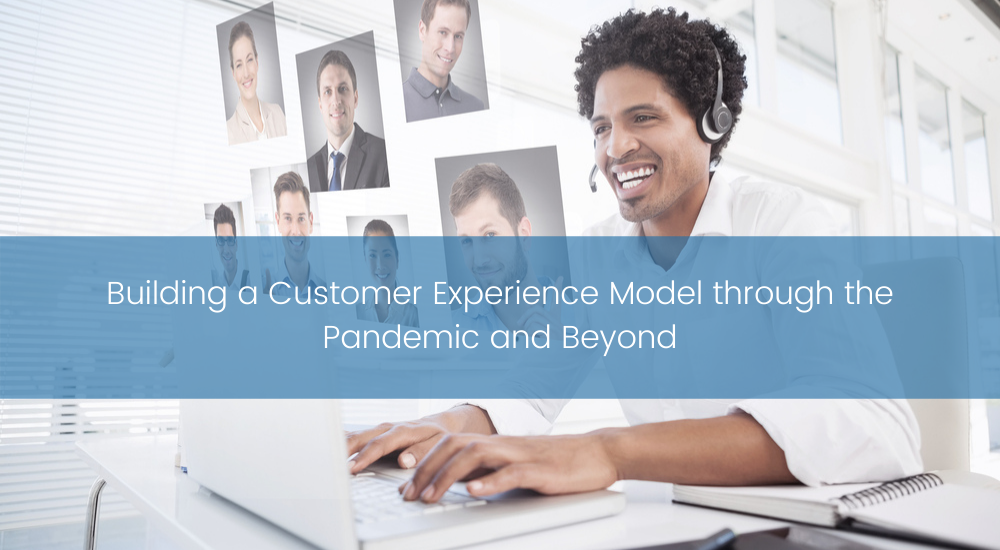 The global pandemic has caused a seismic worldwide shift in how we conduct business. What originally appeared to be a short-term problem lasting days or weeks has transgressed into a situation that has extended months. The initial shock factor associated with the virus has subsided, but its effect continues to impact daily life of professionals and consumers.
Right now many companies are losing revenue due to national social distancing and stay-at-home guidelines. As with any marketplace shift, organizations must be willing to adapt in order to maintain profitability and relevancy. Leaders that find a way to adapt and place customer experience at the top of their priorities, will find their organizations leading us through this change.
Decision leaders must continue to invest in their employees while meeting the needs of consumers. Large organizations such as Google, Facebook, and Twitter have moved to remote environments for the foreseeable future. Although these workplace models can be effective, leaders must ensure that customer experience remains a top priority.
Communication and trust should be at the forefront of all professional relationships. Speaking with customers regularly through various communication outlets and providing customers transparency is critical for long-term success. This approach will help improve the customer experience, but leaders need to figure out how to optimize this while keeping the well being of their employees top of mind. Businesses that are unwilling to accept change may suffer financial consequences in the long run.
Ensuring the Safety and Well-Being of Employees
Successful businesses all usually have one trait in common—they care about the well-being of their employees. As people face uncertain times, catering to the specific needs and values of colleagues is of the utmost importance.
Working remotely initially began as a short-term solution to protect public health and safety however, the pandemic has created a tremendous shift in the remote workforce. Professionals in nearly all office environments have been fulfilling job obligations from home. Contact centers typically operate with employees in close proximity to one another, but they too are also utilizing virtual models.
People are becoming more acclimated to remote environments and may be hesitant to return to offices. A recent survey performed by IBM indicated that 75% of respondents want to continue working remotely after the pandemic. Many organizations that were once adamantly opposed to remote work now are understanding its benefits from a broader perspective. Maintaining employee morale within a safe and happy environment is one of the most critical elements of organizational success. Providing these types of foundational values will create a harmonious work environment that encourages professional growth and accountability and is ultimately reflected when employees interact with customers.
Driving Customer Experience through Contact Centers
Customer care is more important now than ever before. Various industries have been affected by the pandemic crisis creating disarray for many consumers; insurance, travel, and healthcare are just a few of the industries to be impacted. Navigating the crisis with frustrated, emotional customers can be challenging, so companies must be sure they are focused on improving the experience.
Leaders must make certain customer representatives have the right technology, procedures, and mindset to help ensure the customer has a good experience in these challenging times. Call drops, extended wait times, and rerouted calls are just a few of the issues that reps may encounter. It's more important than ever to have the right infrastructure in place to provide a seamless customer interaction, ensuring the customer and CSR do not have added frustration from technology failures. Not having the right business processes and technology in place will lead to frustrated employees as well as frustrated customers.
Associates must have the tools and resources necessary to perform their obligations from home. Operating in a collaborative environment that encourages communication with other associates can help to ease the remote transition. They'll be better equipped to answer calls quickly while efficiently serving customers.
How TBConsulting is Driving Customer Experience with UCaaS
Creating a compelling customer experience requires digitalization to help set your organization apart from the competition. Legacy unified communication systems are costly to maintain, they don't interact well with new technology and their outdated firmware and hardware can cause security issues. Using the right strategy and technology solutions can help companies remove these obstacles and meet digital transformation challenges head-on.
At TBConsulting we're here to help guide you in creating a flexible, scalable, and secure UCaaS solution. TBConsulting is preparing for the future by working side-by-side with our potential customers to develop an understanding of what's needed to optimize their IT environments. Once the solution is implemented is when we really shine, by establishing true partnerships with our customers, eliminating maintenance, updates, or service, hence letting your associates focus on your strategic business initiatives.
TBConsulting is committed to helping companies achieve mission-critical needs while protecting invaluable technology infrastructures. Our vision is to provide secure UCaaS environments that enable employees to work anywhere safely so they can provide the best possible customer experience.
For more information on how TBC can create customized solutions to best fit your business, please schedule a free consultation with one of our knowledgeable experts.