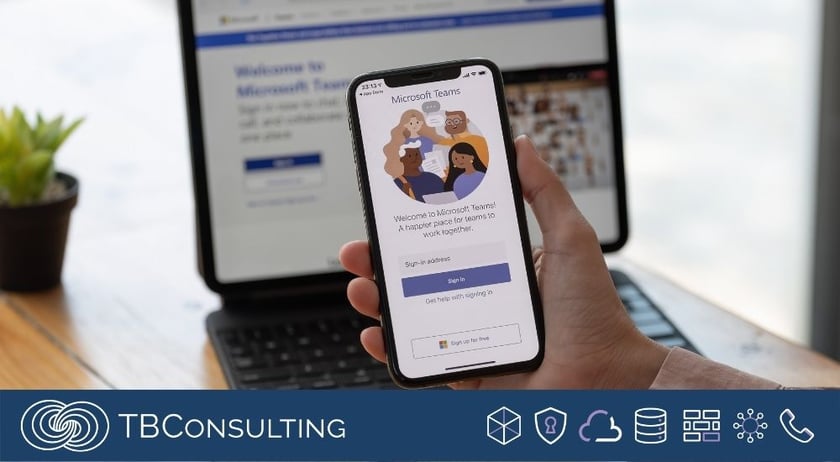 Who doesn't need more clarity in workplace communications? Maybe if you are a one-person band or only communicate between Alpine villages, a yodel can suit your business needs just fine.
But for everyone else, there's Teams.
Digital communication platforms are key to hybrid work productivity, departmental interoperability, crystal clear communication, and improved visibility across a distributed workforce. With document and screen sharing capabilities and the ease of recording meetings, you can make sure everyone is on the same page – literally.
Why Microsoft Teams?
Microsoft Teams is an enterprise-grade communication platform available to any organization with a Microsoft 365 license. Teams is included in the 365 Suite without additional fees – so if you are already paying for a program benefit – why not use Teams for Voice and Collaboration?
In addition to being a great workplace tool to manage communication and productivity, Microsoft Teams can integrate with existing apps to improve business efficiencies. It doesn't matter if your company has 100 or 10,000 seats, Teams can promote employee collaboration across the business.
Teams is not a single-capability tool. Teams is an integrator of digital applications, tools, and workspaces on a single platform and, as such, gives businesses the freedom to conduct business more efficiently. Imagine how removing the hassle of jumping between standalone apps and relying on email to share and track documents could improve your efficiencies. Ignored emails, wasted time trying to decipher the latest version of a document, and limitations on sharing can all be eliminated with Teams.
Teams Now
Maybe you feel you have missed the Teams boat now that the pandemic is waning? Perhaps your employees are fine communicating between multiple applications as they have always done. But aren't you interested in increasing productivity, eliminating the excuses stemming from communication inefficiencies, and integrating your disparate applications onto one platform?
Teams can seamlessly integrate with the applications you are already running – Outlook, Asana, Salesforce, MindMeister, Adobe, DocuSign, ServiceNow, and the list goes on and on. Your business can run under one convenient tab for superior performance. Onboarding and training become easier when access controls are managed on one platform.
Not convinced yet? Check out the Microsoft Teams Application Store to find the apps you use and see how you too can jump on the Teams train!
Microsoft Teams Benefits
Enjoy Teams' core efficiency and security features, which support real-time collaboration apps and distributed workspaces. Check out the top 12 benefits of deploying Teams across your organization:
Cost savings: A single, cloud-based platform that allows you do to more with less as part of the Microsoft 365 suite
Security: Enforcement of Multifactor authentication, Active Directory sign-on, data encryption
Access controls: Limit document visibility to necessary collaborators
Transcription: Instant transcriptions make it easy to search topics discussed
Top-quality audio and visual capabilities: Make real workplace connections
Instant messaging, video, voice: Instant contact through the chat – no need to hunt for a telephone number
Ease of setting up meetings: No more scanning through multiple outlook calendars to book meetings
Time savings: No wasted time moving between applications and finding links to documents shared in a meeting
Superior app integration: One platform to consolidate internal business communications and applications
Remote work collaboration: Visible activity metrics to see who is available
Whiteboard: Meeting attendees can all contribute to the same idea space
Channels: Keep projects and to-dos organized in channels for transparency and follow-through
Teams Adoption
TBConsulting, a Managed Service Provider based in Phoenix, Arizona, can help your organization with the Teams implementation process. TBC can take away the pain of migrating your organization off multiple work platforms to Teams. Having rolled out Teams across our own company, we are proud of our 100% Teams adoption rate. And we can help persuade your most ardent in-house Zoom, Jabber, and Slack holdouts with our Teams Integration adoption campaign designed to engage, educate, demystify, and train employees and executives on the Teams platform.
"Change happens when the pain of staying the same is greater than the pain of change." Tony Robbins makes an excellent point. Changing the way work gets done can make employees uncomfortable. Using a different platform can be disorienting. But you can confidently make the change to increase collaboration and work efficiencies with TBC's Teams Integration management and training.
Sure, change takes some getting used to, as does the initial navigation of the Teams platform. But with TBConsulting guiding your adoption strategy and ensuring application interoperability, your employees will learn how to navigate the Teams platform to enhance productivity, communication, and security.
Break the bonds of multiple platforms. Streamline. Make the most of what you already pay for.