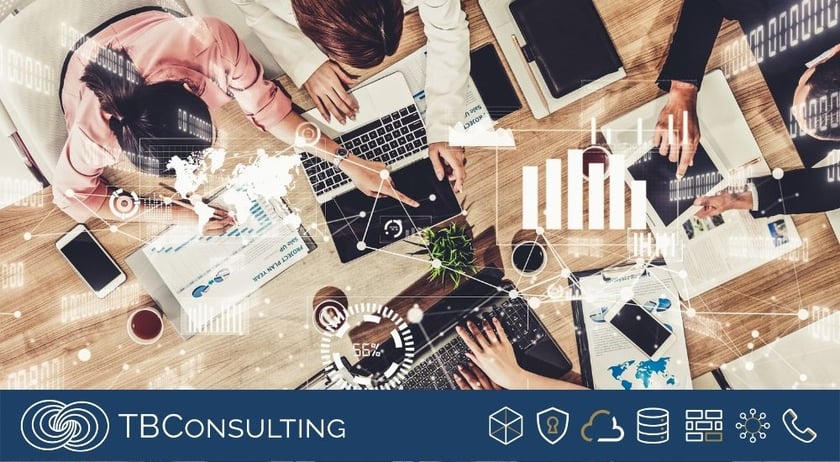 Budgeting is an economic reality. Sixty-two percent of IT leaders had to tighten their 2022 IT budgets. But does the volatility of global peace and the increased sophistication of government-backed threat actors have you reconsidering your IT budget allocations?
If your IT priorities have shifted to focus on security around existing IT systems and disaster recovery, what have you pushed down your list of digital initiatives? Now is the time to be ruthless about your business strategy- future-proof your business by aligning your risk profile with the security of your data and operations.
Because IT priorities can change, develop a regular cadence to review them. If any good has come from the pandemic, it has revealed that business functionality is entirely dependent upon IT efficiencies, security, accessibility, and technical enablement that allows employees to get work done despite disruptions.
Align IT Strategy with Business Vision
When IT leaders must do more with less, how can they empower their teams to maintain the pace of product delivery and service excellence?
IT strategies are inherently purpose-driven with defined end goals. The goals of IT must reflect the business's vision. It's about selling the company vision and creating a culture of collaboration.
But if you don't have a shared vision or a roadmap to achieve those company goals, then any shift in financial support may make IT feel undervalued - and you will have a talent retention problem.
So how do you communicate value within a limited budget? By clearly defining strategic business initiatives, adding visibility to business operations, and collaborating with IT on technical must-haves that support the company vision.
Need vs. Want
Remember when your mom forced you to define needs versus wants? She'd list the needs: food, shelter, clothing, education, water, electricity, and you'd roll your eyes. And then, she would ask how your long list of "wants" fit into that list of needs. Suddenly, you couldn't justify a pair of Air Jordans when your existing sneakers were sufficient for the job.
Well, nothing has changed.
As an adult, you still must define needs versus wants, especially regarding your business viability. Sure, every IT department wants the latest and greatest tech tools – but if the ones you already pay for can do the work, or if you can share costs with a Managed Service Provider (MSP), how would you define your needs?
Resist the temptation for the next shiny object. Draft a list of actual needs and then organize them according to priority. Next, tackle the most critical needs that align with your business objectives.
Here's a list of some 2022 IT "needs." It is your job to prioritize and add to the list to accommodate your business scenario.
When budgets are created, there are often several versions of the truth. Discrepancies in actual costs are spread across licensing, monitoring, hardware, software, and storage. There is also a debate about whether staff salaries should be included in the overall IT budget, making the delineation of parameters critical to accurate budget projections.
IT Assessments for Priority Mapping
Are you having trouble prioritizing your list of needs because you aren't sure what your IT environment requires?
Eliminate the guesswork by enlisting the help of a qualified MSP who can offer a unique third-party perspective on your IT environment. Because your IT team may not be able to see all your vulnerabilities, it is advantageous to have someone from the outside looking in.
A trusted MSP can run health assessments on your environment and regular security audits to find system and process vulnerabilities. Critical issues will be identified if your network, servers, collaboration tools, and essential operations are at risk.
Armed with tangible reports about operating your systems can make budgeting decisions easier, enabling you to solve IT problems and reach your business goals.
Create Value with TBC
TBConsulting (TBC) is a Managed Services Provider based in Phoenix, AZ. TBC offers 'As a Service' IT infrastructure management focused on simplifying IT complexities and protecting critical IT operations.
TBC can evaluate your IT environment to determine the health and viability of your systems and help you prioritize your IT needs. Our multi-team IT experts can take a deep dive into your IT environment to evaluate the interoperability of your systems, your current security posture, and the maturity of your data backup and disaster recovery program.
TBC understands the value of a trusted partnership and works with you to balance the benefits and costs of IT management for your organization. Using an OpEx model, our IT solutions support your existing teams and help protect your environment, streamline critical business operations, and support your business continuity planning with data risk management.
TBC's IT service suite includes Cybersecurity, Unified Communications, Infrastructure Management, Data Backup & Recovery, Hybrid Cloud deployments, and Endpoint Management. With TBC's 'as a Service' model, you will have access to the technology you may not be able to afford on your own and expert teams to manage your IT tools