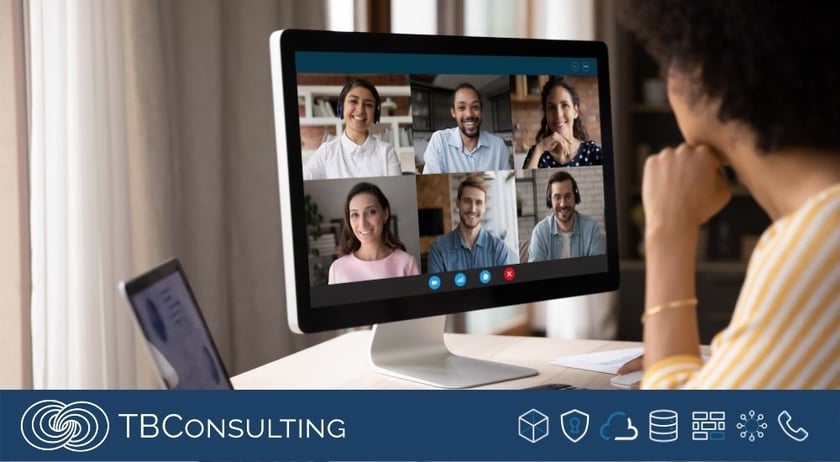 Now that hybrid workspaces are here to stay, the need for location-based hardware (phones, fax, video equipment) has waned, and now the key to business maturity is a permanent, fully integrated, cloud-based communication platform. A 2022 Gallup poll revealed that 53% of the American workforce expect to remain in a hybrid work structure. Employees have adapted quickly to a fully remote and expect a less siloed business environment with easy access across departments. The meeting experience has evolved. Now, the 'norm' is to message or use video and group chats to discuss projects without being hampered by the restrictions of conference room schedules.
Unified Communication as a Service (UCaaS) is a cloud-based, unified communication solution that can expand your organization's telephony capabilities. With the end-user in mind, UCaaS delivers audio, web conferencing, private and group messaging, and integrates Microsoft's 365 software with other business communication apps to streamline productivity.
Value of Outsourcing
Outsourcing communications to a Managed Service Provider (MSP) gives you access to enterprise-level tools and support with controlled costs and easy management. Utilizing an OpEx model to facilitate greater financial and operational flexibility has helped bolster business continuity plans despite pandemic pressures. And that trend continues with 60% of IT leaders who have made the switch from CapEx to OpEx to meet the needs of rapidly changing markets and a hybrid workforce.
Do you have anyone in-house to take ownership and responsibility for your communication solution? If not, "IT service providers are in the best position to accommodate the rapidly changing hot skills required for the leading technologies," says Marc Tanowitz, West Monroe. A qualified MSP offering communication and 'IT as a Service' can help you simplify your IT footprint with zero cost of ownership and remote management of your tools to support growth and promote business maturity.
Alleviate the frustration and time-consuming and burdensome tasks of hardware asset management, software updates, licensing, security, and maintenance of personalized workspaces. An MSP can provide scalable communication and IT service solutions to facilitate productivity across the enterprise and ensure a seamless user experience for both employees and clients.
User Experience and Connectivity
While no single communication tool is too complex, the use of disparate and siloed enterprise communication tools within a corporation does increase frustration. Unified Communication (UC) solutions seek to increase visibility and stabilize connectivity for a consistent and positive end-user experience. UC services can facilitate employee engagement and helps combat proximity bias (unconscious favoritism towards those things closest to us) with real-time accessibility and productivity tracking.
It is easier to build trust, inclusion, and team confidence on a collaboration platform because features like instant chats, shared calendars, presence visibility, and the ease of conducting instant video chats break down the typical in-office access restrictions to tiered executives.
Unified Communication uses a cloud-based platform to optimize connectivity, add controls, manage access, and deploy security measures to fortify your communication network. UC solutions can simplify your toolset and add visibility to your costs and processes. Whether you have 50 or 50,000 users, UCaaS can bring peace and security to the cacophony of business communications.
Compliance & Security
Sharing sensitive data and documents on various platforms also increases security risks and must be addressed by adopting data governance policies and user controls. How better to manage those controls than through a centralized communication platform? UC allows the flexibility to customize your communication solution and integrate your existing applications within a secure framework.
Check out some of the benefits of outsourcing communication solutions to bolster your hybrid workforce:
OpEx model
Integrated voice, telephony, messaging
No hardware maintenance
Managed licensing, updates, and patches
Everywhere presence
Cloud-based for redundancy and accessibility
CCaaS – Contact Center as a Service

Increased customer satisfaction
Agent call recording/training
Call data analytics for business intelligence
Chatbots
Reporting & customer profiles
IVR (Interactive Voice Recognition)
Application integration
Worker efficiency
Document sharing
Video recording and Transcripts
Standardize company communications
Resource alignment
Microsoft 365 Backup as a Service:

Backups of all Microsoft 365 apps and data for business continuity
Immutable copies for legal and compliance purposes
Protect critical applications and data
3-2-1 backup adherence
Productivity from Anywhere
The pandemic may have forced people out of the office, but it has also expanded the talent pool for hybrid-friendly corporations. Workers are no longer tied to their cubicles, and "by 2025, 75% of enterprises will no longer use a desk phone." (Gartner, Critical Capabilities of UCaaS, October 2021) The hybrid workforce is truly a value proposition for organizations seeking innovation and rapid acceleration of research and development. But this productivity from anywhere needs to launch from a solid communications foundation.
Flexibility is key to attracting and retaining talent. But, with this flexibility comes specific challenges: secure and compliant communication technology, management of personal engagement, and clear expectations about endpoint security The ease of information sharing, inclusive video meetings, and an always-on helpdesk can enhance workplace performance and promote business intelligence decisions. Deploying a UC solution can help ease the turmoil and risk of using disparate communication tools to get work done.
TBC for Unified Communications
Ensuring effective communication by eliminating technological glitches is key to productivity. At TBConsulting, a Managed Service Provider based in Phoenix, AZ, our Unified Communications and Security teams will safely facilitate the expansion of your hybrid workforce. TBC focuses on delivering customer service excellence and alleviating the burden of misconfigured deployments, legacy infrastructure, and glitchy communication. Trust TBC to streamline your business process and keep a close eye on your systems with our 24/7/365 IT Operations Center. Let us help you realize your business outcomes with our UC solutions.