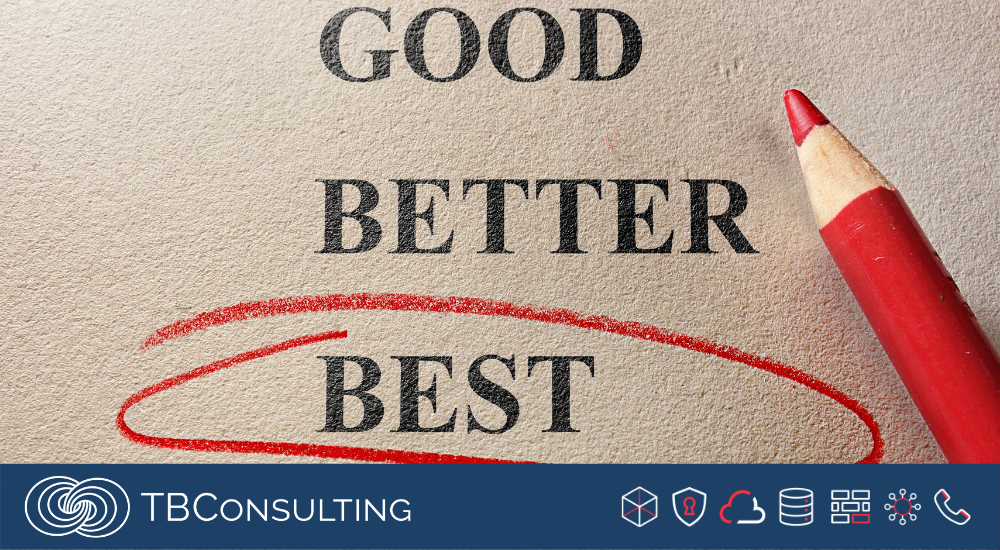 Have you ever seen an "I love backups" bumper sticker?
Probably not.
A Google search of "I love backups" reveals a lot of angst-driven articles about being the second tier in a relationship.
How do you change the perception of backups—data backups—from a chore constantly relegated to the bottom of the must-do list to a top-tier position in daily operations?
Backups need to be a number one consideration. Seek IT talent who loves backups – because your business depends on it. Cyberattacks and disasters are inevitable. The way you respond and the timeline of recovery means everything in business.
Choose your Data Coverage
The best data backup solution protects organizations against the ramifications of human errors, natural disasters, cyberattacks, system and hardware failures, internet outages, and power failures. A single incident can cause tremendous disruption and impact your bottom line.
The widespread impact and sophistication of nation-state attacks have nearly doubled in the last three years. While some industries are high-risk targets for cyberattacks (utilities & infrastructure, education, finance, healthcare), no one is safe.
Before you suffer from a data exfiltration event, gather your stakeholders and IT leaders to discuss risk management and how to develop a data governance strategy to protect your business operations and revenue streams.
Not all data is created equal. And not all data deserves top-tier protection. But your organization must define data standards according to the risk level of the data.
Low-risk data is considered information that is already publicly available and has no bearing on your risk profile.
Moderate risk data is personal contact information, salaries, contracts, reports, and budgets, which could adversely impact the business.
High-risk data is personally identifiable and confidential information, access credentials, financial details, research & development files, and product schematics, the loss of which would negatively impact your reputation and brand and disrupt business operations.
Data protection is a critical element of IT security, and company-wide data policy should dictate data standards according to your risk profile.
Already have Microsoft 365?
Microsoft 365 gives licensed users a range of data protection benefits such as short-term data recovery, user and admin controls, regulatory controls, and HIPPA compliance. But for complete confidence in your data maturity and preparedness for audits, lawsuits, and compliance investigations, you may need the additional support of a Managed Service Provider (MSP) for long-term data backup and recovery of all your Microsoft applications (Teams, Exchange Online, OneDrive for Business, SharePoint Online).
Do you trust Microsoft to have your best interests at heart?
Maybe Microsoft's 30-day data retention policy isn't enough for your business—and you need to keep all call recordings, chats, and agent-supervisor emails to use as training tools indefinitely to improve your quality of service. Maybe you are subject to a legal hold of data and must produce records and asset IDs in response to a lawsuit. Perhaps you need proof of your original research for a copyright application. Or maybe you want a mature digital infrastructure, a scalable backup and recovery plan that complements your business continuity plan, and you don't have the resources to maintain immutable backups.
Microsoft has a clearly defined data responsibility structure that leaves access controls, secondary site data storage, full data retention, point-in-time recovery, and security up to you, the data owner.
Microsoft cannot help you in a legal or compliance challenge because they do not keep immutable copies of your data. Without the benefit of a comprehensive data backup, retention, and recovery solution, data retrievals requested by legal or governmental agencies can drain internal resources and be a significant business disruption.
While Microsoft 365 does give you limited protections, data security is a shared responsibility–one heavily dependent on the data owner to secure their perimeter against attacks and misuse that can undermine business outcomes.
Distribute and Protect
While the motivation of threat actors is varied—money, revenge, industry domination, infrastructure instability—the end game is the same. Disrupt. Destroy. Control.
Even if an organization makes a ransom payment following a cyberattack, data, if ever returned, could be corrupted, incomplete, and useless. Thus, creating immutable copies of your sensitive and high-risk data is strongly recommended. An MSP can help you categorize your data risk and develop a good/better/best data management framework that can scale storage to meet your organization's goals.
Backup as a Service (BaaS) backup levels of protection depending on the sensitivity of the data:
Good – server-based backups
Better – server-based backups + encrypted offsite copies
Best – server-based backups + encrypted offsite copies + immutable copies + backup testing
In addition to creating backup policies and procedures, you can build a mature business continuity plan and improve your resilience with IT asset management, physical and digital security, and the classification of data risk parameters.
Business continuity planning involves first determining which data to protect, the appropriate storage location, and the required level of protection. Once your organization has made those decisions, it can invest in outside resources to help implement a solid data management program.
End to End Data Backup Management
Key factors in creating a scalable data backup solution are the organization's size, the industry, and the budget. The organization's maturity shapes the whole ecosphere of data protection, and most organizations don't have resources solely devoted to the deployment, maintenance, testing, and restoration of data backups.
Few people want the responsibility of cleaning out all the data skeletons in the systems, organizing, labeling, grouping, prioritizing, and separating the trash from the good stuff. It's tedious. It's time-consuming. And it's critically important.
Any inability to recover data due to inexperience, internal confusion, or departmental miscommunication does not make you less culpable—it just increases the costs associated with data restoration efforts.
Enter an MSP to simplify your data nightmare with end-to-end management of data backups.
Consider the difficulty of deploying new solutions on aging infrastructure or relying on fading institutional knowledge to stop a data bleed. You need genuinely experienced data backup engineers and cloud architects who can run discovery in your environment to understand where the data lives, how long it has been there, who is responsible for it and who can find vulnerabilities in your environment.
A qualified MSP can help you prioritize your data library and build a comprehensive data backup and recovery solution. So even if you do fall victim to data-wiping malware, an MSP can shorten the timeframe for you to become whole again and get back to business. High-risk data is secured and distributed, meaning that even if the Microsoft cloud environment fails, the restoration of your data is safe with immutable backup copies.
Business Continuity with TBC
Expand your sphere of protection with TBConsulting, an MSP with a global presence headquartered in Phoenix, AZ. TBC's teams of certified IT engineers and architects will partner with your IT leadership. During a Security Posture Assessment, our teams will conduct a complete IT environment health assessment, run discovery on your network and servers to identify vulnerabilities, and design a roadmap for your business to reach digital maturity.
TBC provides clients with the information and IT support needed to feel secure in making business decisions. We work to close gaps and fortify client environments; our technical expertise and 25 years of IT experience allow our clients the peace of mind to feel confident about the security of their businesses.
At TBC, we do the mundane exceptionally. Contact us today if your data backups, cybersecurity, infrastructure, communications, and ITIL need a boost.