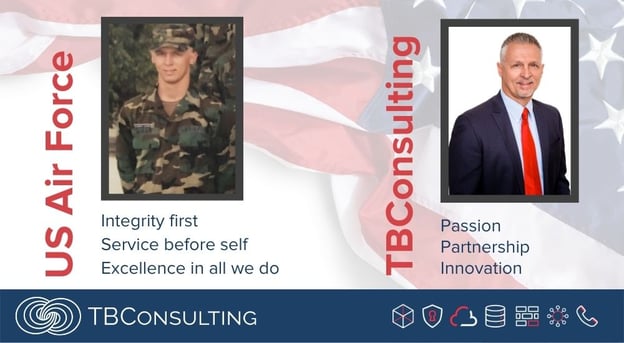 Riddle me this.
A man walks into a bar. He calls for a drink for an airman, a husband, a father, a high school basketball coach, and a Unified Communications (UC) manager. How many drinks does the bartender pour?
1.
Just one.
One man embodies the capabilities of all these professions. With mad skills earned during six years of service in the US Air Force, he demonstrates the principles of teamwork with ego-centric high school athletes, has raised a family, and was initiated into private-sector IT management with a 36-hour straight UC integration project at a client site.
Listen in on how Rick Shear, TBC's Unified Communications Practice Manager, credits his US Air Force training for the skills necessary to empower his personal and professional life with conviction, grace, and humility. Sporting an on-trend crew cut, Rick is a man on a mission using teamwork, leadership, a passion for IT, and years of Unified Communication experience to support client success.
The Value of the Mission
The IT profession mirrors military service—both require incredible stamina and fortitude to complete the mission despite adverse conditions. Just like when military personnel are drop-shipped into hostile territory for an assignment, MSP teams arrive at unsecured and sometimes chaotic client environments on a mission to streamline operations and improve the functionality of critical IT infrastructure.
Completing the mission requires the ability to clearly communicate, plan, perform under pressure, rely on the skill sets of all team members, address challenges, and never quit before the job is done. There is no room for cowardice or dissension--that will cost the entire team valuable resources and the client's confidence.
A mission is a unifying experience, one where an individual's contributions are woven into the team's success. The ability to learn and lead, skills gained in boot camp and in life, help IT teams approach challenges and adhere to a chain of command. But mistakes do happen, and response and recovery protocols must be implemented. And once the smoke clears, there is a mission debrief or 'lessons learned' session to discuss, evaluate and learn from the experience. That is why building processes into IT delivery is so essential for success.
Cybersecurity is war whether you are in the military or the private sector. Battles are fought to protect privacy, critical infrastructure, and business operations each day. Strong leaders fight for their teams and keep lines of communication clear for open and honest discussions to complete projects and missions. MSPs need strong IT teams to fulfill the mission of protecting client environments. And while cybersecurity may focus on protecting industry dollars, leaders commit to risk avoidance and protecting customer data with robust cybersecurity strategy.
The Value of the Cog
Being a 'cog in the machine' has a negative connotation. But it really shouldn't. Everyone is a cog, answerable to someone--as part of an athletic team, family, or business. Even a general is accountable to someone. Cogs not only provide back-end support for heroic deeds, but teamwork will accomplish far more than an individual can. And Rick reminds us, "the faster you learn what a team is, what a true team is, the faster you get out of boot camp."
More mature team members understand that each cog is an essential element in the functionality of the whole and improves their ability to deliver consistent services exceptionally, with humility.
The military teaches discipline and composure under fire, the importance of situational awareness, and the impact that decisions have upon end goals. Instead of coming into an IT environment like a bull in a china shop to fix a particular issue, it is essential to understand how each part of the organization supports the whole and remember the mission. The "IT machine" is complex. You can't tinker with the network without impacting communications. And, you can't set up cybersecurity protocols without addressing systems, data, and server accessibility. The cogs grow and adapt together by using the people, processes, and technology to promote innovation in their industry.
Many in-house IT teams are devoted to firefighting and maintenance while technology advances around them.
The Value of Leadership
In the military, the "chain of command" is a decision-making and discipline structure that seems too restrictive for the civilian world. But in reality, the chain of command structure is in place with civilian nomenclature – the board, the CEO, the executive leadership team. These are the decision-makers and enforcers of workplace compliance.
Those in leadership positions commit to the mission of growth and demand discipline around performance and productivity to increase the organization's value. And while a squadron leader may scream to humiliate a subordinate in the mess hall, corporate leadership should (calmly) set clear expectations, communicate goals, and ensure that each employee is doing their job. Employees are integral to building value for the company by harnessing a passion for innovation, learning, and service. And together, experienced leaders and passionate employees can innovate quickly and sustain long-term success.
As a UC Practice Manager, Rick looks for people driven to learn and work efficiently as a team - without drama. He looks for team players who can elevate the capabilities of his team and those who "keep their ears and minds open and who enjoy taking on new challenges." Rick credits his Air Force training for his leadership skills, his ability to stay calm under pressure, his desire to complete missions and work until he finds a solution to client problems.
Unifying Culture and Core Values
TBConsulting, a business and IT consulting firm located in Phoenix, Arizona, values the commitment and dedication of our military service personnel. We believe our veteran employees are incredible assets to the company and the community. TBC's core values of passion, partnership, and innovation share a similar unifying culture as the Air Force core values of "Integrity first, service before self, and excellence in all we do." As a Managed Service Provider (MSP), TBC is dedicated to serving clients with the people, processes, and technology to support revenue-driven IT projects.
TBC is honored to hire veterans. Even without IT specialization in the military, we are eager to interview veterans to understand if they want to translate military experience into IT skills. At TBC, we do the mundane exceptionally. We value each essential cog that makes the machine run smoothly so those efficiencies can drive organizational success.