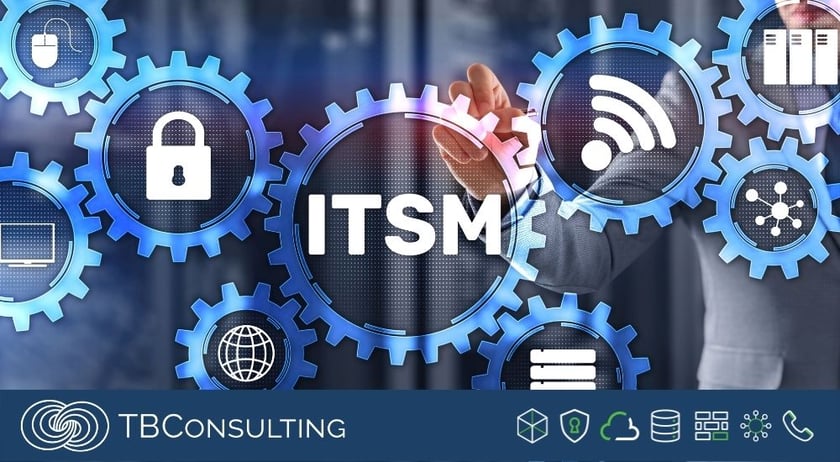 The difficulty in delivering digital transformation securely and efficiently is an executive leadership problem and can be simplified using IT Service Management (ITSM). The tools are available, MSPs are responsive, and processes have been developed - but some decision-makers don't value the CIO or understand the complexities of deploying new technology on top of legacy infrastructure and immature processes. Optimizing ITSM is central to operational efficiency and must be a core executive consideration in creating strategic business goals.
Make a clean break from siloed tools, poor performance, and operational inefficiencies by investing in ITSM on a single platform that integrates disparate tools, streamlines requests, and keeps your team honest with SLA performance reporting. Your brand will enjoy positive end-user interactions and improve revenue streams by delivering consistent IT service to your customers.
What is ITSM and how does it relate to ITIL?
ITSM is the internal and external delivery of IT services. ITSM is a defined, process-based, end-to-end IT management solution that designs, creates, delivers, and maintains IT services for the end-user.
IT Infrastructure Library (ITIL) governance is a framework that structures IT services and investments to meet strategic business goals.
ITIL helps align ITSM with business objectives and offers a best practice control methodology. Businesses can consolidate tools, data, and workflows on a single ITSM platform like ServiceNow to increase visibility, improve performance, manage incidents, and track asset lifecycles, among many other benefits.
Challenges of ITSM
Remember to frame your digital transformation initiatives around an ITIL governance framework. Without ITIL, your organization won't be able to track progress.
Avoid these common pitfalls of deploying ITSM without ITIL governance:
Immature processes
Lack of communication
Siloed talent and technology
Alert fatigue
No strategic vision
Misunderstanding of IT consumption
Duplicative efforts
Unrealized value
Reactive IT departments
Digital workspace inefficiencies
Ticketing without service support
When you lack consistent performance metrics, you can't understand the value of your investment or the health of your infrastructure.
Benefits of ITSM
Adhering to ITIL governance standards within the ITSM delivery model is critical in successful business enterprises. With ITSM, organizations can connect business functions with end-user demands to elevate the customer experience. Using a single ITSM platform like ServiceNow makes the digital workspace easier to use, understand, and navigate.
The implementation of mature ITSM processes improves:
Incident/Problem/Change management
Business focused
Structure & repeatability around core processes
Performance metrics
End to end visibility
Discipline
Productivity
Mobile capabilities
Scalability
Process execution
Automation
Consumer expectations
Planning & delivery
Ability to resolve issues before customer impact
IT asset management
A qualified MSP can help you realize the value of your IT investment, improve communication, and drive customer service excellence by developing measurable, repeatable, and vetted ITSM processes.
Value of Partnership
It is no secret that managing your ITSM is not simple. In fact, you probably need a Managed Service Provider (MSP) to help you take full advantage of your ITSM platform's features and benefits.
TBConsulting is one such MSP that can support your journey to superior ITSM service on the ServiceNow platform. Headquartered in Phoenix, AZ, but serving as one of ServiceNow's preferred partners, TBC can "expertly deliver and extend the value of your ServiceNow experience and investment," no matter where you call home.
Our ITSM developers and administrators are certified by ServiceNow to design, create, configure, and manage your instance to best suit your organization's needs. Recognizing the IT talent gap in the market, Marc Tanowitz considers "IT service providers are in the best position to accommodate the rapidly changing hot skills required for the leading technologies." And we couldn't agree more!
We have found that ServiceNow's suite of ITSM modules highlight the importance of the ITIL framework to structure the people, processes, and technology to improve ROI, shift IT budgets to strategic initiatives, and focus on the security and stability of your environment.
As a strategic partner in your success, we look to improve your productivity, increase visibility, demonstrate controls, and mature your ITIL governance standards. ITSM is a core contributor to operational excellence when process discipline, proactive management, automation, and continuous service improvement are used to avoid major disruptions and increase customer service reliability.
TBC will leverage the structure of ServiceNow to simplify integration, reduce technical debt, and automate IT service delivery so your teams can solve real business problems. Let TBC set up and take care of your ServiceNow modules like Incident, Problem, and Change management, Service Request, Business Management, and Operations Management, for 24/7 availability, reliable end to end IT experience, and built-in best practices to consolidate disparate tools in a single system of action in the cloud.