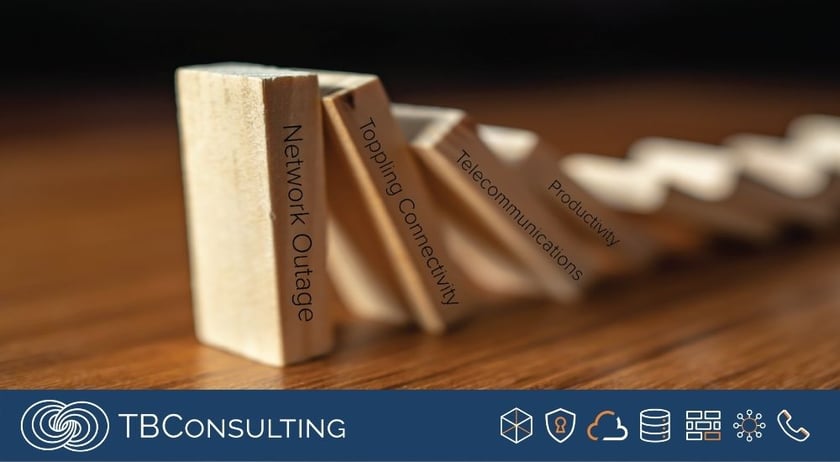 All the fun of Spring Break 2022 was washed away by Southwest Airlines' "intermittent technology issues" and weather challenges that led to multiple airlines canceling 8,800 flights in one weekend. Did stranded travelers care if Southwest Airlines' IT problems were related to network, server, or systems?
No.
Spring breakers were already exhausted (perhaps hungover!), missing family, worried about work, and sick of their travel buddies, so the last thing they needed was a days-long delay of flights. Suddenly, all the time and money spent planning a dream vacation was all for naught. You just had the time of your life, but that memory has been replaced with anger. Next, you take to social media to air your grievances. You give TV interviews from the airport, sunburned and sitting on your luggage. You drain your phone battery waiting on hold to book a new flight home. And the anger encompasses you so thoroughly that you declare that you will never use that airline again.
Why the rage?
It's all about meeting expectations. Consumers expect things to work. Properly. All the time. And the business of business is to meet (and hopefully exceed) expectations – at every level.
IT is no exception. And expectations may be even higher from those who use technology to make life easier – enterprises, customers, employees, vendors, suppliers, distributors, and even website gawkers. End-users tend to be a vocal crowd. And they can impact your revenue projections.
What is a network?
A network is a number of interconnected computers that transmit data between and across physical or wireless connections. A network is a core business functionality tool – and reliable, responsive, cloud-based enterprise networks are vital to keeping organizations running smoothly. But if there is a glitch, an outage, or a natural disaster that takes the network offline, the impact on your business is immediate.
When the network falters, it triggers the domino effect across an organization. If your organization cannot share data and resources across your network infrastructure, there is no ability to work. Without work, there's no opportunity to realize a profit.
Avoid the common pitfalls of neglected networks and understand that using a reactive model to chase network problems as they happen is harmful to your business, your brand, and your valuable time.
Network viability is critical for business operations
Networks are built for delivery, and to fortify your network against disruptions from security breaches, unregulated activity, or equipment failures, you need a proactive monitoring model to anticipate changes and response methodologies to recover quickly.
Disruptions are bad for business – to maintain an online presence, enhance your end-user experience, and improve connectivity, a network program should include process management to:
Segment your network - keep 'visitors' away from accessing your core processes and data
Keep track of all assets and devices connected to your network
Automate device configurations
Monitor endpoints
Enhance network security
Track licensing
Monitor capacity
Control change
Implement 24/7/365 alerting and incident response
Many organizations suffer from extended outages and delayed services because there is no asset management system in place and engineers waste time finding the root cause of an outage. Keeping track of network assets is difficult – and getting more complex with your workforce distributed across the digital landscape.
The lack of network automation impedes an organization's ability to deploy devices and guarantee proper configurations to address the need for maintaining connectivity throughout a distributed workforce. Without automation, integrations are often plagued with unintentional human configuration errors. Gartner found that manual network integrations account for 65% of network activities, subjecting the network to unnecessary disruption.
A comprehensive network management solution must support network health for consistent delivery and access to operational workloads, balance traffic, and provide end-to-end security with enterprise-grade tools. If your in-house IT teams are already swamped with daily IT tasks, it may be time to protect your business outcomes with a Managed Service Provider (MSP) with network expertise for additional visibility and security.
Are Network Management services right for my business?
Keeping up with commissioning, configuring, and securing a burgeoning asset volume requires a full-time IT team. Add to that the need to manage all the vendors who support your network infrastructure, control routine change management, maintain daily operations, monitor capacity, and performance metrics, and ensure internet circuit availability.
Take network management to the next level. If your revenue streams are impacted by extended, unplanned outages, level up your network management with third-party support.
Look for a network partner with proven methodologies and experience in building top-tier networks for SMBs and corporations. The right MSP should have proven capabilities in network management and offer:
Discovery
Subscription management
Asset documentation
Dashboards for visibility and efficiency
Automated provisioning of new devices
Traffic management of core switches
24/7 priority alerting and incident response
Change control management
Performance monitoring
Vulnerability identification
Root cause analysis
Configuration consistency & accuracy
Cost optimization
Both hardware and cloud-based services
Capacity monitoring
End of life device support
Ability to establish a new network topology
Fully cloud managed capabilities
Ability to support legacy networks
Even if you have the systems (like Cisco DNA), the subscriptions still need to be managed. If your network needs to be expanded to accommodate more end-users at distributed sites, you will need additional switches, and those also need to be incorporated. Dashboards offer efficiency and guarantee accuracy when provisioning new devices.
Can your existing IT team manage all the traffic that traverses through your core switches, connects all your devices, and allows the transmission of data and workflows? Or would you feel more comfortable with the support of network experts who understand switch capacity, configuration, and end-to-end network management?
What happens when you lose switches and access points on your network? Does it go unnoticed until someone complains, then your scramble to find the cause? With a comprehensive network monitoring solution, the MSP is alerted immediately of any performance issues and will work to preemptively determine the root cause before a switch is oversubscribed and triggers a network collapse that takes down your operations like a row of dominoes.
Let oversubscribed devices be a thing of the past.
Network Total Care – TBC's Network Management Solution
Take the road to IT excellence with TBConsulting (TBC), an MSP with a global presence headquartered in Phoenix, AZ. As technology evolves faster than organizations can adopt, sharing resource costs with an MSP who can offer industry-leading tools and mature processes to clients makes economic sense.
TBC's Network Total Care solution (NTC) monitors and manages client environments 24/7/365. NTC integrates multiple systems, software, and responsive tools to keep client networks optimized, secured, and compliant. To achieve operational excellence, clients turn to TBC to streamline their piecemeal vendor management software and for capacity management, automation, and monitoring.
NTC is not a cookie-cutter solution; it allows flexibility depending on the customer's network maturity. TBC begins with a systematic discovery assessment of the client's 'as is' environment to understand the devices, topology, technologies, authentication tools, circuit size, and wireless technologies. TBC aims for complete tolerance and a thorough understanding of your environment, devices, connections, and capacity. As an experienced MSP, TBC can help you do this from the initial discovery phase through a fully integrated and always-on network management solution to protect your revenue streams.
TBC's NTC is comparable to Network as a Service (NaaS) models that manage the network lifecycle for a fully cloud-based network design. NaaS is a single service to ensure a cloud-enabled, agile, and resilient network, and NTC can also provide legacy network support.
TBC's Network team has a future-focused approach to network management and is driven to provide customer service excellence. TBC partners with client IT teams to support network health and improve service levels. Outsourcing the oversight of network operations to an MSP such as TBC can promote significant cost savings and deliver results superior to many in-house teams.
Stabilize your network with end-to-end management and gain access to the best technologies available – run by certified network engineers who are constantly upskilling and genuinely care about giving clients relief from reactionary networks.