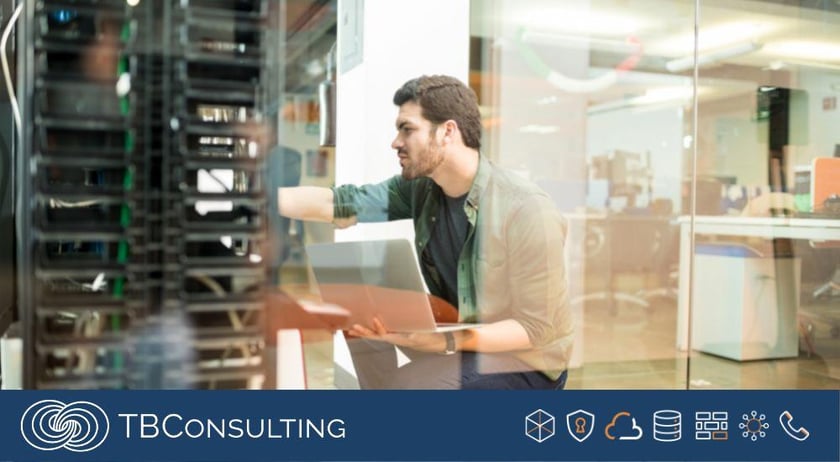 Without a cybersecurity plan, 50% of businesses are sitting ducks for threat actors to infiltrate their IT environment. But recovery entails more than just a call to your cybersecurity insurance company—it is a whole-business crisis that can compromise every element of your operations—and destroy your data.

Cyberattacks are inevitable, competition for cybersecurity talent is fierce, and

41%

of executives feel their security measures cannot meet the demands of newly implemented technology. So how can organizations contain the threat and restart operations after an attack? Restoring data from viable backups is one clear way to initiate recovery after a security event.


The Criticality of Security Monitoring
Security monitoring may be a hard sell because there is no absolute ROI for the service – the "return" is in the deflection of threats, containing malware, and responding to alerts. In addition, it's not an easy task to determine if your cybersecurity budget is enough.
Consider the relationship between data backup and cybersecurity as symbiotic – they need each other to limit the risks of downtime and operational disruptions. When IT environments are protected by continuous security monitoring and data backup and disaster recovery programs, you can build confidence in your organization's ability to respond and recover quickly from a crisis. By bundling these programs into an "as a Service" model, you'll be better able to restore critical data and applications when you need to jumpstart operations after an event.
When developing or updating your business continuity plan, focus on including a NIST-based cybersecurity plan and an encrypted, tested, secure data backup and disaster recovery program. Cybersecurity is bolstered by restorable critical data, workflows, and applications to support backend operations. It's the one-two punch to knock out the impact of threat actors.
What is the Difference between Data Backup and Disaster Recovery?
Restorable data backups dictate your ability to rebound after an attack. But the time to recovery, or Recovery Time Objective (RTO), is the critical difference between Data Backup and Disaster Recovery. Even thoroughly tested backups could take longer to restore than your organization can afford to be down. If real-time restoration is critical, you also need Disaster Recovery.
You can save time and money by prioritizing data by its sensitivity and criticality –allow operational data to have the greatest protections and restoration timelines, and let non-essential or publicly accessible data move to lower-cost storage.
Many rely on the Microsoft 365 data backup services that are included as part of the standard licensing fee. But did you know that those are short-term backups and are not always recoverable, even within the allotted time frame? Check out ProofPoint's recent report that revealed security flaws within Microsoft 365 that could compromise your data.
The best backup strategy utilizes Veeam's 3-2-1-1-0 backup methodology to validate backups, provide immutable copies of your data, and leverage security monitoring to offer whole-business protection.
Worry less and do more by leaving the care of your data in the hands of the data experts at TBC. TBC is a full-service Managed Services Provider that can help your organization reduce operational risk by managing everything from controls, data prioritization, risk analysis, and restorable backups to cybersecurity and business continuity planning.
Incident Response Plan
World Backup Day reports that one hundred thirteen mobile phones are lost or stolen every minute. What does that have to do with your data and cybersecurity? Well, you probably access your business network from your phone, may have your work passwords stored in that phone and have all your work contacts stored in that phone. And if you are like most people, you have an easy-to-guess passcode. One lost mobile phone could set you up for a world of hurt.
Every organization must have an Incident Response Plan to stop the bleed of data, contain malware, respond to the event, and recover operations and data as quickly as possible. If your IT environment becomes compromised, it is best practice to initiate your Incident Response Plan immediately to stop the infiltration. But data restoration will be impossible without the foresight to implement a data backup solution before the breach. Don't kick yourself after the fact – prepare, run test drills, and conduct healthy and open 'lessons learned' discussions to learn from mistakes. And then update your business continuity plan to capitalize on your experience.
What is my Risk Profile?
Risk profiles are unique to each company and depend on the size, industry, data sensitivity, type of infrastructure, employee count, supply chain dependence, and research and development investments. Understanding your risk profile is key to determining the amount of IT budget to earmark for data backups and cybersecurity.
Maybe you feel that you have all the tools for security monitoring, vulnerability management, asset management, and data backups to fortify your risk profile. But consider the possibility of undetected vulnerabilities that invite criminals into your systems. Malware can lurk in your network, sneaking into your Active Directory and applications and infiltrating privileged accounts – even before launching a full-scale attack.
Say you have over fifty thousand employees. You then have a 95% chance that someone in your company will receive a business email compromise and endanger your enterprise.
Or maybe you are taking advantage of the volatile market to engage in mergers and acquisitions (M&A) to build your brand by absorbing subsidiaries. While profitable, M&A also means that you are taking on more security risk by expanding your digital profile and are now responsible for integrating multiple platforms under your risk umbrella.
When T-Mobile merged with Sprint, it fell victim to multiple breaches, including a data exfiltration of 40 million customer names and driver's license records because each company did not have the "same security standards." This vulnerability can be preventable by relying on technical experts with M&A experience in integrating disparate systems.
| | | |
| --- | --- | --- |
| | | |
"As a Service" with TBC
Enterprise IT environments need to be simplified and automated. TBC is a Managed Services Provider with 25 years of experience in reducing the complexity of IT environments. TBC's white-glove service increases the value of your technology stack with the support of engineers and architects dedicated to creating secure, stable, and properly configured IT environments for our clients.
TBC weaves a cybersecurity mesh over your critical IT infrastructure and protects your digital assets with a 24/7/365 "as a service" model for security monitoring, vulnerability management, data backups, disaster recovery, infrastructure management, ITIL, unified communications, and endpoint management solutions.