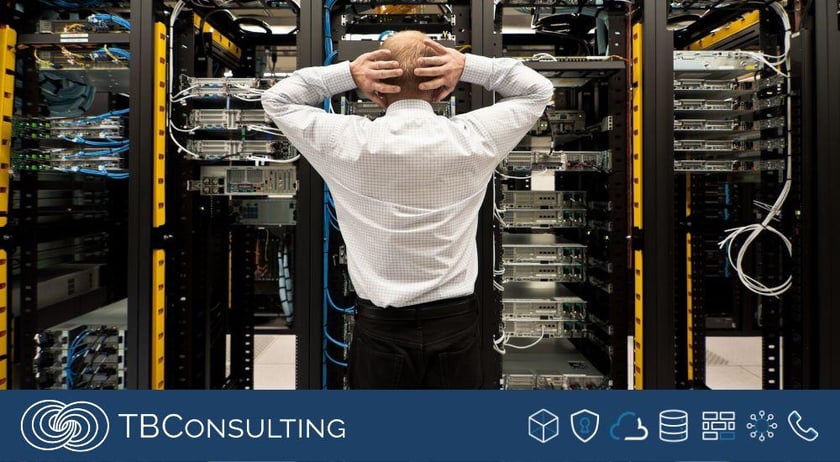 Targeted cyberattacks through social engineering and ransomware are growing. Relentless vigilance is wearing down IT teams, and downtime is frustrating consumers. And yet, there is no sympathy for those who are under attack.

The critical public eye may not feel that any company "deserves" to become a cyber victim. Still, they do expect that companies—especially large ones—should be prepared to react professionally and recover quickly.

And that means being capable of limiting downtime, restoring critical operations, and protecting sensitive data from exposure. Preparation and response should be essential components of every corporate operational strategy, but only

60%

of security executives feel prepared.

BaaS and DRaaS for Business Continuity
Limit your exposure and bolster your IT resilience against emerging threats with a Managed Service Provider (MSP) who can protect and secure your hard-earned data with Backup as a Service (BaaS) and Disaster Recovery as a Service (DRaaS) solutions.
As no business is immune to cyberattacks, it is best to be prepared and have a response and recovery strategy in place before the inevitable attack occurs. At your current state of readiness, how long would it take you to get back online after an attack? How long to restore data? How much of the damage will your cyber insurance cover?
Although you probably already have cybersecurity insurance as part of your business continuity plan, know that your insurance company does not provide data recovery solutions—that is your responsibility.
In addition, as cyber insurance companies raise premium rates in response to increased claims, they also expect more from their clients regarding additional security measures, defined data backup standards, and cyber hygiene methodologies to be implemented across insured organizations. A qualified MSP can help you mitigate risk and fulfill cyber insurance demands by simplifying your data management processes and securing your IT environment with a keen focus on your unique business requirements.
| | | |
| --- | --- | --- |
| | | |
Your IT department is too busy maintaining critical operations to squander their time on backing up data and backup testing cycles. When your IT teams manage an increasingly complex hybrid IT environment, increase their production capabilities by outsourcing task-based data backups. Data architects are available to answer your most heated questions—the only requirement is to find the right fit for your organization.
Risk Management Considerations
Regardless of your industry or business size, the 'Never Trust, Always Verify' motto is a good one to live by, even when addressing unknowns in your digital profile. Threat actors are patient and diligent—often conducting deep investigations into their targets. Malicious attacks can stem from a threat actor gleaning information from business and social accounts to determine a ransom price that you can "afford."
While a cyberattack can immediately impact productivity, costs associated with a breach will gradually spread to your products, services, and research and development efforts. The IBM Security Report revealed that US-based companies pay an average of $9.4 million in data breach costs. Downhill remediation efforts will compound the rising costs of data breaches and associated downtime.
First, it's essential to know your risk profile. An excellent way to understand your risk appetite is to reach out to an MSP for a Security Posture Assessment (also known as a Security and Infrastructure Posture Assessment). The SPA or SIPA is a risk analysis conducted by a third party to evaluate your IT environment and help you to secure your perimeter and data. When you understand your risk profile, you can manage it by expanding your cybersecurity protection to the most remote edge. This assessment also allows your organization to increase its disaster response and reliability.
Disaster response and recovery plans are complex and typically come with an audience of unhappy and opinionated stakeholders. When you can lean on the backup infrastructure and disaster recovery solutions provided by an MSP, the experts are on your side, and you can bounce back more quickly.
Backup as a Service (BaaS) solutions include routine backup testing services that will reveal hidden gaps in your processes—and it is always better to find them during dry runs. Verifying your backup strategy allows your internal team the confidence to act when disaster does strike, saving valuable remediation time. Communication, awareness, and action between IT roles are vital in improving response time.
Response time matters because downtime equates to lost profits and a heightened sense of customer frustration and distrust. When you can provide a seamless response to a disaster, where each party knows its roles, has clear communication channels, and defined responsibilities, you can combat panic with experience and a business continuity plan. Having a DRaaS solution is key to projecting assurances of your business resilience and enabling your company to get back to work faster.
Data Backup as a Service for Resource Efficiencies
Cloud-based backups can save your business. Accessing clean, full backups and workflows from the cloud can keep the organization operational and productive after a disruption. Not only is a BaaS solution essential to maintain operational sustainability, but deploying BaaS can also:
Lower the total cost of ownership
Keep data highly available
Prioritize data based on its sensitivity
Increase data recoverability
Release IT teams from mundane backup and testing tasks
Maintain a consistent backup schedule
Increased data security
Ensure end-to-end encryption
Install storage and maintenance controls
Automate backups for increased stability
If your organization is strapped for IT resources, an MSP can take responsibility for managing your data with best-in-class technologies, experienced cloud and data architects, compliance analysts, and certified security engineers. Your data remains under your control, and you can rest assured that a qualified MSP prioritizes the data you need to run your business.
Employing a BaaS solution allows your IT teams to focus on profitable projects and system innovations.
Improve your Risk Mitigation Capabilities
Partner with TBC, a Managed Services Provider headquartered in Phoenix, Arizona, but with a global data center footprint to understand your risk profile, secure the digital perimeter, and prevent data loss. TBC can help your organization qualify for cyber insurance with our Security Monitoring, Backup as a Service, and Disaster Recovery as a Service solutions.
TBC can help you build a comprehensive incident response plan to protect your most valuable data and critical applications. With the support of a qualified MSP, you can rest easy knowing that you are fulfilling the data protection obligations mandated by your business and your customers.
TBC is in the business of securing data backups and supporting backend technologies to solidify business continuity plans. We have expanded our data center footprint across the globe, and our certified engineers and architects have tremendous experience in working alongside client teams to support whole business initiatives. TBC understands that while BaaS and DRaaS are essential components of a comprehensive business continuity plan, they cannot stand alone against the heightened risk of cyberattacks. TBC works to secure and support digital landscapes with IT management solutions such as data backups, endpoint management, cyber security, infrastructure, unified communications, and ITIL.