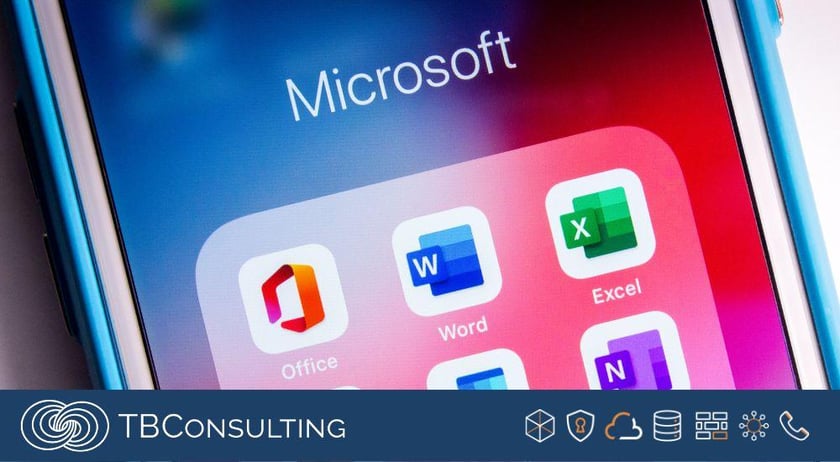 Why would anyone need third-party backup services if they already have a Microsoft 365 license? The answer may be an unpleasant surprise--Microsoft's data retention policies are limited. Hopefully, you are not learning this after losing data due to accidental deletion, a lapse of 90 days, or external threat actors.
How can businesses emulate the Boy Scouts with their motto "Be Prepared?" Boy Scout founder Robert Baden-Powell expounded on the motto, saying that it meant "you are always in a state of readiness in mind and body to do your duty." The Scouts were always prepared for unexpected events, accidents, and sudden opportunities. If 12-year-old children can act with foresight and maturity, so can CISOs and IT leaders.
Do you know
the
data retention policies of
your
Microsof
t
365
license
?
While Microsoft's platform offers an exceptional portfolio of business apps known for availability and reliability, it is not architected to support unlimited data retention. Microsoft 365 has standard retention limitations and access restrictions. But it's up to you to define and implement data backup solutions and retention policies to protect your most valuable assets.
The data gathered from OneDrive, MS Teams, Word, Outlook, and Excel is critical to your business, as it can be used to analyze metrics from customers, vendors, suppliers, and operational costs. In-house resources can use this data to help prioritize future budgets, resource allocation, product releases, etc. As this data is invaluable to your business plan, it must be protected and available for long-term engagement.
Data retention policies can be as unique as your company, but decisions about your data—which data must be retained and for how long, which may be deleted, and on what timeframe—must be made proactively. You must decide how you want to configure your retention policies separately from Microsoft's limited retention. You probably don't need to keep every email, and every Teams chat; even if you did, the value of keeping everything must be weighed against the cost of storing that data.
Be Prepared
When Microsoft was hacked in March 2022, they denied that customer data was stolen. While there are critics who doubt that only source code was stolen, the bottom line is that if Microsoft can be compromised, so can your organization's Microsoft 365 data. It is best practice to take ownership of your data and build repeatable data retention processes in your organization.
And data retention is not only about managing risk but also about capitalizing on business opportunities revealed by data analytics. Don't miss the chance to track market trends, understand consumer behavior, prioritize research and development, and respond quickly to market demands. All that data is yours. Keep it at your fingertips with Backup as a Service.
But to take advantage of these data-driven opportunities, you must have clean, available, and secure data. Recently, Microsoft email service users were hacked—targeting 10,000 organizations by deploying phishing attempts to steal credentials that were then used to bypass Multi-Factor Authentication (MFA). This targeted attack reminds us that even Microsoft is not immune to a cyberattack, and thus it is your responsibility to configure retention policies to mitigate Microsoft vulnerabilities.
Choose your Data Protection Level
Your IT teams may not be filling their cargo pockets with Swiss Army knives, tourniquets, and matches, but they will benefit from the support of an MSP using the right monitoring and management tools to mitigate data risk.
Data volumes can get unwieldy no matter the source, and not all data deserves the same level of protection and retention. As cloud and data center costs rise and compliance regulations become more stringent, you need to create a personalized data retention policy.
Backups are time-consuming and require constant attention to detail that busy internal IT teams can often overlook. An expert Managed Services Provider (MSP) can help your organization build a comprehensive data backup strategy. An MSP will classify your data by type, sensitivity, and priority and set up Backup as a Service (BaaS) and Disaster Recovery as a Service (DRaaS) solutions to best serve your business needs.
The following chart for Good/Better/Best options can help you decide the most appropriate level of engagement for BaaS solutions. The standard 3-2-1 backup rule is a good one—but one that can be supercharged with Veeam's 3-2-1-1-0 backup structure to ensure data recovery.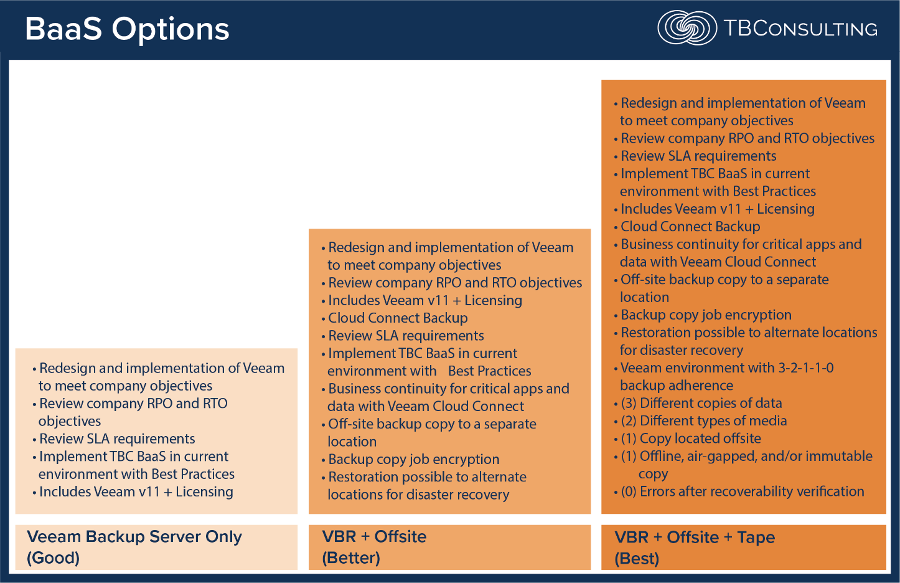 Protecting your data from Microsoft vulnerabilities, natural disasters, internal sabotage, and threat actors is a constant battle. And the burden of long-term data retention is ultimately your responsibility. Many organizations do not have the resources available to support a team of dedicated data backup specialists and prefer to outsource backup to an MSP.
R
isk
Mitigation and Data
Security with TBC
TBC is an MSP with more than 25 years of experience helping organizations grow and thrive. TBC is headquartered in Phoenix, AZ, but our data center footprint spans the globe to support data redundancy, recoverability, and security. Because TBC uses Microsoft 365 internally, we understand the importance of deploying additional data backup measures to secure our data, independent of Microsoft's retention policies.
A robust data backup solution is essential to a healthy Business Continuity Plan to ensure continuous business operations despite unplanned disruptions. As a qualified MSP, TBC will help you create and manage your data backup strategy based on the risk and retention requirements of your business.
When you partner with TBC, you are investing in Veeam technologies and our Veeam-certified data architects and engineers who are 'always in a state of readiness in mind and body to do [their] duty' and will shift the burden of data retention from your systems to our archiving technologies.