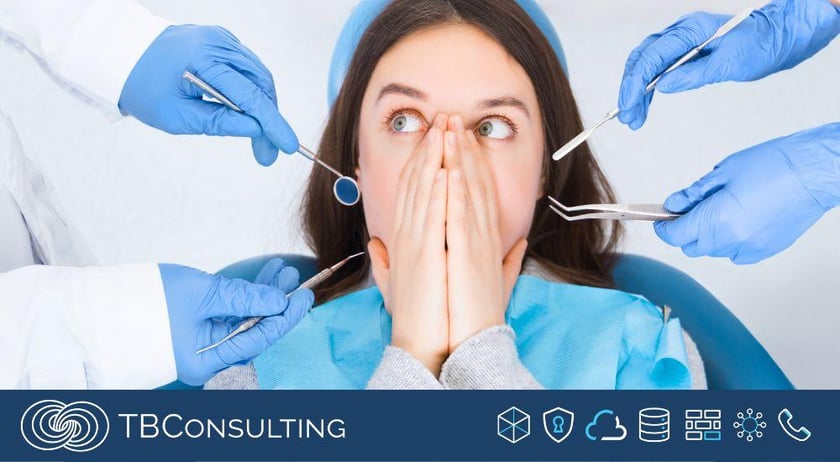 Remember that poster in your dentist's office as a kid that said, "Only floss the ones you want to keep?" The one with the cartoon drawing of a tooth holding a spool of floss and a toothbrush? Perhaps it was on the ceiling so that you could absorb the message as you were crying on the inside while the hygienist gleefully raked at your gums until they bled profusely? And then, once you were upright again, the hygienist would expound on the merits of daily flossing to avoid recurring pain and suffering.
Minus the trauma of the dental visit, the message is a good one and one that can easily apply in a business context: "Only backup the data you want to keep." That has a nice ring to it, right?
Backing up your data with the 3-2-1 formula is not exciting. It's messy, kind of a drag and doesn't feel that important at the moment. So, you put it off—over, and over, and over again. Until one day, you find yourself in the hot seat, staring at the ceiling, wondering why you didn't take the time to avoid a preventable disaster.
Control Backup Anxiety with the Right Methodology
Because your data is one, if not the, most important assets your business has, it must be backed up to protect it against the 93% chance of a threat actor penetrating your network. If your IT teams are already inundated by routine maintenance and supporting growth initiatives, you may benefit from the valuable data protection services offered by a qualified Managed Services Provider (MSP).
If you have told your IT team to "just" back up the data without giving them the tools and the time they need to do it correctly, there will be gaps in your coverage. The "just" in that directive is thoroughly dismissive of the expertise required to manage, store, test, and ensure the recoverability of your critical data and applications.
With cyberattacks at an all-time high, business owners are understandably anxious. To keep from spiraling out of control thinking about all the "what ifs' and "should haves," why not take action now and implement data protection methodologies into your routine business processes?
While backups alone aren't enough to resume operations after an attack, you can pair Backup as a Service (BaaS) with Disaster Recovery as a Service (DRaaS) to ensure a continuum of data care. DRaaS provides complete data replication in the cloud to serve as a temporary infrastructure to keep your business operational after a disaster. With tried-and-true tools and methodologies to ensure business continuity during a disruption, an MSP can help you establish the right backup program for your company.
Practice Routine Backup Hygiene
Without DRaaS, post-disaster recovery efforts are expensive and sometimes futile. The overall pain is compounded by the Board's grinding and gnashing of teeth, lost production time, angry customers, exhausted IT teams, and cybersecurity insurance limitations. And it all could have been prevented with routine backup hygiene. Just like biannual dental checkups, your backup and recovery strategy should be revisited periodically.
Data cleanliness is a key performance metric of data management and must be the goal of your backup program. If you are running lean IT teams that prioritize threat detection and response (as they should), their 24/7 schedule leaves little room to deploy data management and recovery operations.
Data loss is preventable. Full backups that are cloud-based, redundant, air-gapped, tested, and ultimately available when needed offer the most comprehensive disaster recovery protections. Bring your executives and IT leaders together to build your disaster recovery plan before it's too late.
Don't Be the Single Point of Failure
What can you afford to lose? What would your company look like without your customer data, research and development files, operational applications, production schematics, or archived communications? Imagine a total wipe-out of everything you had worked so hard to earn.
As part of a business continuity management plan, take the time and the space to evaluate the who, what, where, when, and how of your data protection strategy. You don't need to worry about end-to-end encryption between locations—an MSP can do that. You don't need to run your own data center—an MSP can do that. You don't need all the industry-leading tools to ensure data viability after a disaster—an MSP can provide them. And you don't have to reallocate your valuable IT resources away from innovation and expansion projects—an MSP has fully staffed teams of certified data experts to fill that gap.
Of course, not all data is equally critical to your business's health, but it is best practice to evaluate your data streams and lock in tiers of protection based on business importance. An MSP can help you build your disaster recovery program and continuously maintain clean data to ensure business continuity.
Preventative Maintenance with TBC
Fight the "mirage of overconfidence" by deciding to engage data support specialists. TBC, an MSP headquartered in Phoenix, AZ, can add value to your already invaluable data with fully managed BaaS and DRaaS solutions. Only you can choose to routinely flex that data floss to remove hidden vulnerabilities to keep your data structure healthy and available.
TBC's in-house data backup and recovery specialists can deliver confidence with strategic roadmaps to support the health and maintenance of your business data. Our certified data engineers and architects will implement industry-leading Veeam v11 backup and recovery technologies to secure your data.