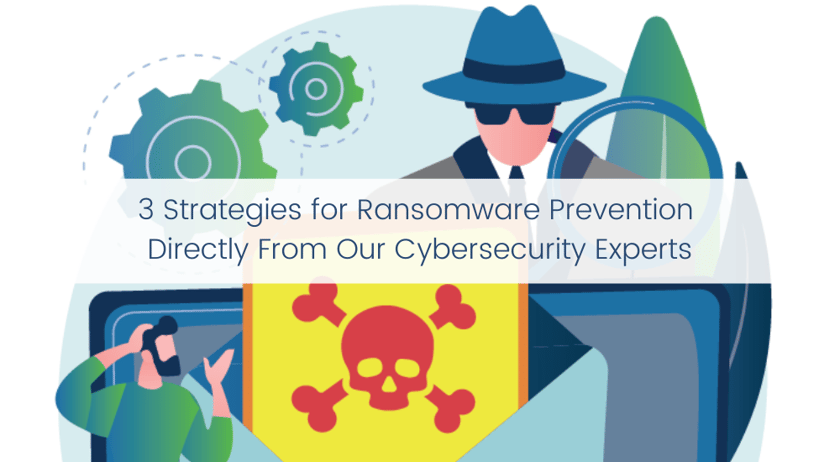 Ransomware has become commonplace in nearly every business. Whether you're a small business or a Fortune 500 conglomerate, no organization is immune to the dangers of ransomware. Although companies implement strategies designed to minimize the potential risks—it's often not sufficient to prevent large-scale cyber attacks.

A ransomware attack recently caused Colonial Pipeline, one of the largest US gasoline pipelines, to shut down operations. This attack caused panic about gas shortages and increased gas prices for Americans along the Eastern Seaboard.
"The FBI confirms that the DarkSide ransomware is responsible for the compromise of the Colonial Pipeline networks," the agency said in a statement. Pipeline operations have been restored, but an attack that crippled essential infrastructure and raised gas prices has cybersecurity at top of mind for most Americans.

As seen in recent events, ransomware can result in devastating consequences for businesses and gravely impact customers. Protect your enterprise from a ransomware attack by implementing robust security strategies to help safeguard your business.
How to Be Prepared
As cybercriminals become more sophisticated, it's increasingly important to assess your vulnerabilities. Although creating a balanced approach to cybersecurity can be challenging, businesses must build a security strategy that addresses all potential weaknesses.
Take the time to cover these fundamental cybersecurity steps:
Ensure antivirus software is up-to-date
Ensure firewall protection is up-to-date
Increase email security
Keep passwords updated
Provide annual training for employees
Every organization should take these initial steps to limit risk. If a company is compromised once, there's an increased likelihood it will be a repeat target for malicious attacks. Let's take a peek into some of the strategies you should consider implementing for ransomware protection.
Using a 3-2-1 Backup Strategy
Backups have become vital to ensuring operations continue in times of shutdown or attack. With proper backup strategies in place and periodic testing, organizations are better positioned to recover from a cyber event successfully.
The best backup strategy involves using a multi-tiered approach. The 3-2-1 backup technique helps to protect valuable data in the event of disaster or breach.
Here's how your company can implement the 3-2-1 backup strategy:
Maintain three (3) copies of data

Use two (2) different types of storage media

Store one (1) copy at an offsite location
Diversifying backup strategies can ensure that data is recoverable regardless of the type of disaster or circumstance.
Verify Data Backups
Data backups should be scheduled and verified continually to ensure data is appropriately managed. Whether it be daily, weekly or monthly—businesses should keep data sufficiently backed up to securely manage it.
Data backups often fail due to file corruption or incomplete backups. Testing backups is a critical component of data security and recovery. Insufficient data backups can have a devastating impact on companies.
Some of the steps you can take to ensure successful backups include:
Testing backups regularly

Following regulatory compliance standards

Ensuring that testing remains a priority
Although these steps appear to be simplistic—keeping backups up-to-date ensures minimal downtime. Monitoring backups means your business has minimized risk and decreased recoverability time.
Update Security Protocols
Ransomware and malware target vulnerabilities in your systems, networks, software, applications, and even your employees. Keeping security firewalls and antivirus software up-to-date is only the first line of defense to identify and stop the source of ransomware events.
Security education to help employees identify malicious emails will also help protect against ransomware attacks. Up to 94% of malware is delivered via email, so the best way to prevent those malicious files from entering your environment is to train the people receiving them.
How TBC Can Help Prevent Ransomware
Preventing ransomware attacks requires implementing security policies across the organization; this means protocols known by all, followed by all, and approved annually. TBC can design and implement security strategies to best monitor your environment and protect your organization against attacks.
We help our clients protect their data and provide 24/7 cybersecurity monitoring and vulnerability management to protect your IT infrastructure. With the help of these preventative solutions, TBConsulting will help safeguard your organization against debilitating ransomware.
If you would like to learn more about how TBC can help manage your security needs—be sure to reach out to us for additional information and support. Don't let your organization become another ransomware attack statistic.