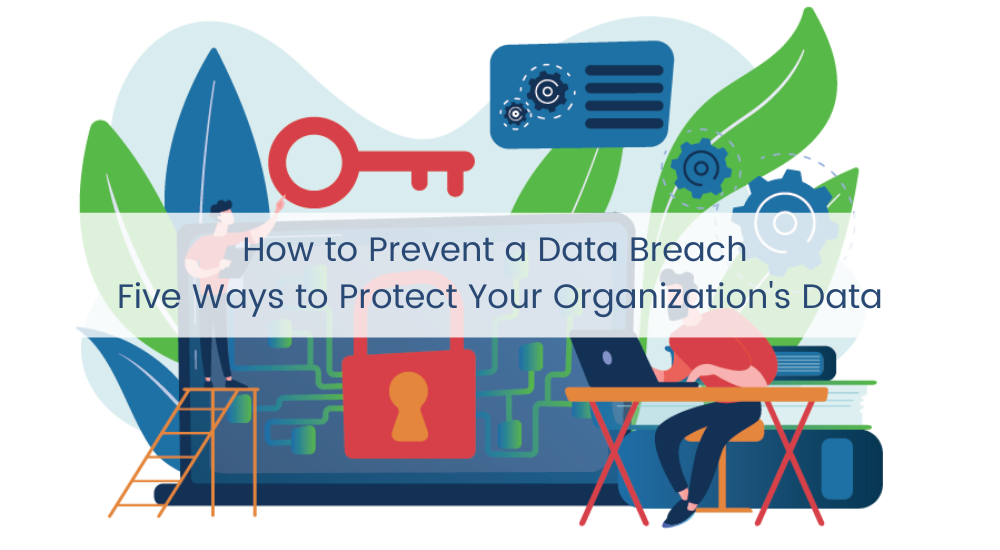 Cybersecurity attacks on all types of businesses continue to increase. The recent attack targeted at Colonial Pipeline resulted in quite a payday for the hackers, nearly $5 million. This kind of successful cyberattack may embolden other hackers; thus, businesses need to prepare to mitigate the risk of a data breach.
The recent oil pipeline attack garnered significant media attention. While your company may not operate critical infrastructure or make the news after a ransomware attack, an attack will significantly impact your business operations, nonetheless. After paying the ransom, it took almost a week for the oil company to be back up and running. Can your company afford to be offline for a week? Does it have the ability to cover a considerable ransom demand?
Protect your business with these five initial data protection steps.
Tip #1: Learn What You Have to Protect
The chances are that even if you think you have enough controls in place to manage your assets, there are probably hidden or lost assets still connected to your network. Hardware and software are hard to track without an IT asset management system in place. Run a discovery of your environment and identify every asset that could be a vulnerability source. You can't protect your environment if you don't know what's in it.
It is also essential to understand what software your employees may have downloaded and to take that shadow IT into consideration when protecting your environment. Almost 50% of security professionals worry that shadow IT on home computers represents a security risk. Because IT isn't administering these applications, they may not be receiving patches or updates on a regular schedule. Learn what software your users are running and how to protect it.
Tip #2: Patch and Update
Without dedicated security professionals managing your IT environment, each hardware and software asset is a potential attack surface. Create a security policy to evaluate and schedule updates and patches to both minimize downtime and increase protection.
Unpatched vulnerabilities are a significant problem. In 2019 alone, unpatched vulnerabilities enabled 60% of all data breaches. Any application that hasn't been patched is the information security equivalent of a four-alarm fire.
Tip #3: Review Your Tools
Patching and updating may be some of the most important steps you can take when improving your information security, but they're not the only steps. Information security tools—such as antivirus, firewalls, and IDS/IPS—can be extremely useful, but only if you have the expertise to integrate them into your systems as protection.
Scale your protection to match your environment. Using consumer-grade antivirus software that you use to defend your home computer will not scale appropriately to defend an entire company. Organizations can monitor their environment with a SIEM tool—aided by a 24/7 security operations center.
With the expansion of remote work, you should extend business-grade security to your users at home. It doesn't matter if your end users are using their personal computers for work; what matters is that the security of sensitive company data and software is protected at every level.
Tip #4: Have a Conversation About Security Awareness
The Colonial Pipeline data breach was most likely caused by a phishing email, just like 94% of all malware. So it may have taken just one person who clicked on a malicious link to negatively impact an important component of the country's infrastructure.
Phishing emails have become more sophisticated and highly realistic-looking. The sender's address is often spoofed to look like a co-worker's, and the content is usually relatable. A few obvious phishing signs to look out for in an email are a request to enable macros in a word document, a request to download an unknown file, or an urgent request demanding quick action to share sensitive information.
To prevent employees from opening malicious emails, require cyber awareness training at every level of the organization. This training will enable employees to recognize the signs of a phishing attempt and then inform IT immediately. And finally, when a phishing email makes it through the company's existing email filters and is identified, it represents an opportunity for IT to improve security measures.
Tip #5: Consider Hiring a Managed Security Service Provider
Companies often lack the resources to fully staff security operations teams. In addition, the applications and hardware required for cybersecurity are often expensive, and it's hard to calculate an ROI for cyberattack prevention.
TBConsulting is a Managed Security Service Provider that can help organizations protect their networks, systems, and data with Security Monitoring and Data Backup as a Service solutions. With constant monitoring, TBC's offsite backup best practices can help defend your digital infrastructure and data against potential threats and vulnerabilities. Business-critical data and sensitive files must be protected to ensure that your organization remains operational.
By working with TBC, you will enjoy the benefits of dramatically increased security for your organization—without the complications of building an in-house security operations center. For more information, contact TBConsulting today.