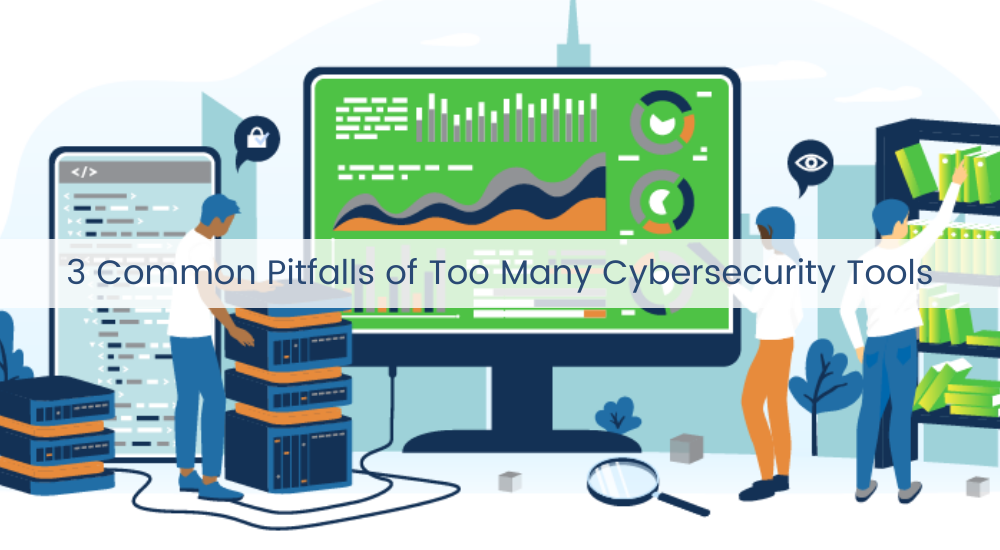 Having the proper cybersecurity tools in place is crucial for mitigating the risk of cyberattacks. With ransomware attacks becoming more commonplace on companies of all sizes, organizations can protect their financial assets and critical data infrastructures by aligning their risk tolerance and budget against a strategic cybersecurity framework.

Every day a new company seems to be in the news for ransomware attacks and data breaches. Big-name corporations such as EA Games and JBS have recently been hit by cyberattacks resulting in stolen IP and millions of dollars in financial damages.
Businesses are attacked with ransomware every 14 seconds. Many organizations are increasing IT and cybersecurity protections, but most still lack a standard security methodology to address threats and often have many "siloed" tools within the organization.

Having too many tools can cause several systemic pitfalls. Let's look at some of the problems commonly associated with having too many cybersecurity tools that aren't integrated into a standardized cybersecurity protection framework.
Limited Cybersecurity Protection
Understanding how cybersecurity tools and software can help your business achieve measurable security protections as part of an overall effective cyber defense strategy. Many companies divide their cybersecurity strategies by department, and the lack of synchronization is a detriment to cybersecurity and a waste of resources with the purchase of duplicative tools.

Organizations that lack good communication and info-sharing techniques often suffer from inadequate security integration. As a result, time-sensitive security events are met with widespread inefficiencies, take longer to fix, and increase costs. The lack of information and tool sharing may increase disruptions. Time-sensitive security data, knowledge, and tool capacity should be shared across departments to maximize cybersecurity and streamline IT processes.
Siloed Protection Within The Organization
Corporations often invest in industry-leading cybersecurity tools but lack the IT expertise to use them to expand security coverage across the organization. Without strategies for measuring performance standards across the organization, there is no way to assign value to the tools or determine the effectiveness of each cybersecurity mechanism and how they are working together.

Each tool must be specifically tied to the people and processes that use them. Cybersecurity tools should be routinely reviewed for effectiveness to ensure that they support overall business health and provide value within the strategic framework.

Stop Relying On Checkbox Protection
Many organizations have increased cybersecurity standards to protect their financial interests and meet compliance requirements. But increasing cybersecurity tools just to meet compliance requirements is not enough, and considered "checkbox protection." Sure, you may have the tools designed to protect PII, intellectual data, and create backups, but are those tools actually being used as part of a focused strategy to protect organizations facing the increased likelihood of ransomware attacks?

Even when companies "check the box" to meet regulatory and compliance standards,the tools may not truly integrate with existing systems to deliver adequate security benefits and data protection.

Increasingly sophisticated ransomware attacks and huge ransomware payments should spark urgency in companies to focus on their own cybersecurity maturity and take real steps to protect their assets. By minimizing potential risks and implementing data recovery processes, organizations can improve post-incident recovery and reconciliation.
How Should Your Organization Improve Cybersecurity Strategies?
Organizations should use due diligence when it comes to evaluating cybersecurity tools that align with their budgets and infrastructure protection requirements. Tools should be evaluated using meaningful metrics and the IT solutions implemented should closely align with the goals of your business. By addressing potential vulnerabilities and deploying automation processes, you can reduce cybersecurity risks.

Having backup solutions that are regularly tested and assessed can also help to maximize the impact of security protocols. IT teams should manage cybersecurity concerns to eliminate unverified threats.

Cybersecurity teams focused on implementing the best tools will optimize collaboration, communication, and organizational security. TBConsulting designs and implements security strategies to help monitor your environment against potential threats and attacks.

We help our clients protect their data using 24/7 cybersecurity monitoring and vulnerability monitoring to protect your IT infrastructure. TBC can help safeguard your organization against debilitating ransomware attacks.

If you would like to learn more about how TBC can help manage your security risks, please reach out to us for additional information and support. Don't let your organization become another victim of ransomware attacks, schedule a call with us for a free consultation today.