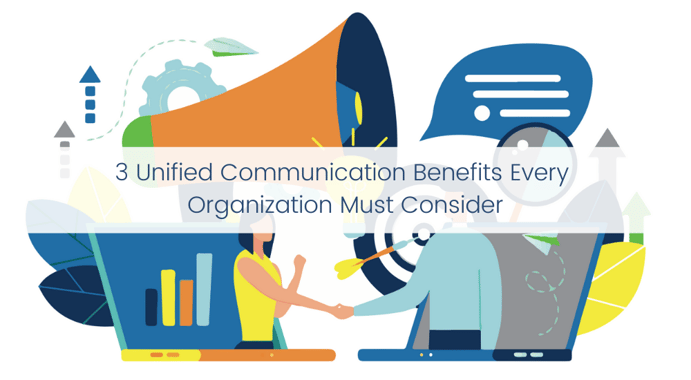 The global pandemic has forever changed the way we conduct business. In reaction to fluctuating social distancing and stay-at-home requirements, many organizations have discovered innovative ways to stay profitable and relevant during changing times. Corporate giants such as Google, Facebook, and Twitter have transitioned most of their workforce to hybrid work models for the foreseeable future.

Even those companies on the smaller corporate scale must adapt their business strategy to the "next normal." The support of hybrid and remote workforce employees is a top priority to remain competitive and to attract and retain talent. Many organizations have seamlessly bridged the gap between in-office and remote workers with Unified Communication solutions.
Employees can enjoy the many advantages of hybrid work - diminished commute times, focused productivity, and savings in transportation costs. And businesses can save on IT spend, geographically expand their talent search, see improved collaboration between teams and increase revenue.

Working remotely doesn't alter the fact that communication, trust, and integrity must remain at the forefront of professional relationships and business transactions. Core communication capabilities in the cloud offer scalability and availability that can support business operations and feature collaboration tools to ensure business continuity despite interruptions.

Unified Communication as a Service (UCaaS) is continuing to grow and expand across all market segments. In fact, according to Gartner, the rate at which organizations are expected to deploy cloud telephony is expected to double from 20% in 2019 to 43% in 2024 (Gartner, November 17, 2020).
1) Connecting the Growing Remote Workforce
Although the increase in remote work environments began as a short-term solution to protect public health and safety—the pandemic has changed how and where teams work. As a result, the vast majority of employees have been fulfilling their job obligations from home. Companies have always had the responsibility to provide the right tools and resources for employees to be successful. But, in this new working climate, that means increased voice, video, and chat collaboration tools to support the dispersed workforce and encourage employee communication.

UCaaS provides a cloud-based, centralized communication hub that connects your workforce and eliminates the reliance on multiple platforms to run your communication system.

According to Gartner, "COVID-19 has led many organizations to accelerate their plans to transition from premises-based solutions to cloud-based UCaaS. Adoption of cloud-based audio and video conferencing has accelerated among new organizations, and usage by existing organizations has expanded" (Gartner, November 17, 2020).

Companies that utilize Unified Communication solutions enable their staff to have the same access to phone system features, whether in the office using a desktop, or at home using a laptop or mobile device. Unified Communication solutions allow a company to engage end users, regardless of where employees are working.
2) Using Contact Centers to Drive Customer Experience
The pandemic hasn't altered the fact that businesses are committed to keeping customers engaged; it has just made navigating customer service more challenging. Improving the overall customer experience through UCaaS can help ensure the organization remains profitable with digital adaptations despite workforce changes.

Customer representatives require proper technology, procedures, and mindset to provide the highest level of customer service possible. Extended wait times and dropped calls are two significant issues of concern for call center representatives. These two customer service deficiencies may lead to frustrated customers who chose to discontinue service in favor of competitors. But, with proper communication infrastructure in place, call center representatives can provide seamless interactions that produce higher levels of customer satisfaction.
3)Cost-Effective and Can Deploy Quickly
One of the benefits of Unified Communication for small to mid-size enterprises is the ability to deploy a cost-effective solution quickly. These organizations can implement a robust cloud-based communication system, similar to the on-premise versions of the past, for a fraction of the cost.
Moving to an operating expense (OpEx) model eliminates the need to manage and maintain multiple carrier contracts, thus reducing costs. The OpEx model allows IT staff to focus on strategic initiatives that enable business growth.
TBC's UC Solutions Can Improve the Customer Experience
Creating a positive customer experience is highly dependent on maintaining a high level of communication, integrity, and respect with customers and employees alike. Legacy communication systems are often too costly to maintain and cannot always be integrated with new forms of technology. In addition, outdated firmware and hardware can pose security threats to an organization.

A comprehensive communication strategy that utilizes the latest technologies enable companies to face digital transformation challenges head-on. TBC can help you create a flexible, scalable, and secure UCaaS solution to meet your company's needs. We help companies achieve mission-critical business goals while protecting invaluable technology infrastructures. Our forward-looking strategic vision continues to provide secure UCaaS environments that help employees work safely from any location to provide top-tier customer experiences.

For more information about how TBC can create customized solutions to best fit your business needs, please schedule a free consultation with one of our communication experts.