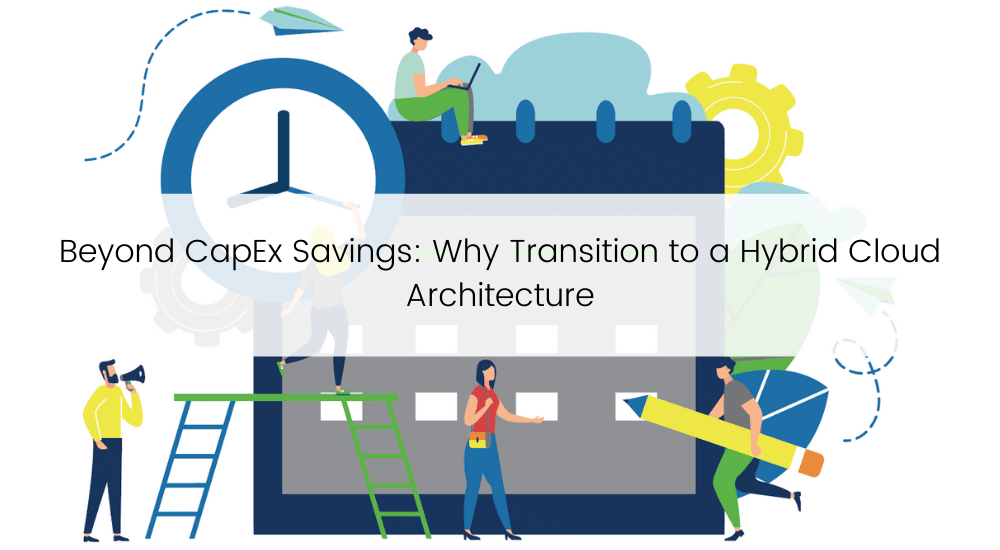 With all the talk surrounding AWS, Microsoft Azure, GCP (Google Cloud Platform), data centers, private cloud, and more—it can be challenging to determine which cloud platform may provide the most benefits to your business. Executives should invite their IT teams to engage with external stakeholders to help drive hybrid cloud innovation.
IT remains a critical contributor to a business' imperative for modernizing operations, driving value, and protecting data with hybrid cloud solutions. Becoming aware of digital investments will strategically maximize your company's capabilities and business modernization.
With the help of hybrid cloud—businesses can develop a strategy centered around optimizing workloads, applications, virtualization, security, data, and infrastructure. As a result, hybrid cloud allows organizations to enjoy significant CapEx savings.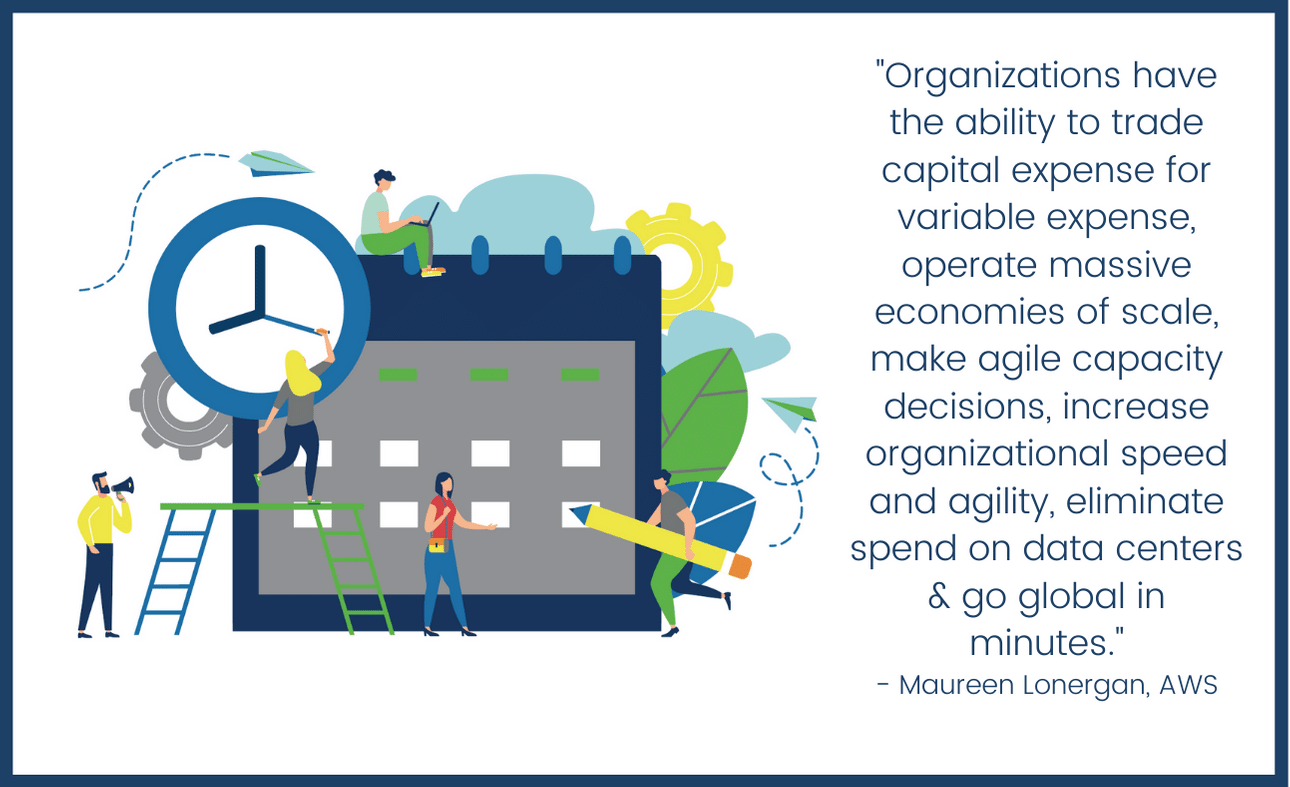 Let's dive into why to transition to hybrid cloud and how your business can benefit from it.
How Can Your Business Benefit from Hybrid Cloud
Do you ever wish your business had greater mobility, security, efficiency, scalability, faster implementations, or reduced CapEx costs? Chances are your competition is one step ahead, having invested in cloud-based operations. If you want to remain competitive in the marketplace—it's time for your company to step up to the plate.
Cloud migration is driven by the need for increased data protection, security controls, optimum IT performance, and cost savings. According to Forbes, hybrid cloud is an essential tool for maximizing value through data sharing and business system integration.
The right balance of cloud architecture blends on-premise private cloud, public cloud, and everything in between. While digital transformation may be an imperative for reaching future success, many businesses are unsure of how to get there. There is no single formula for moving to the cloud, but organizations should be focused on developing a cloud roadmap for success.
Suppose your company is looking to expand your business operations with the help of internal growth or mergers/acquisitions. In that case, hybrid cloud solutions can help maintain the same security standards, patching standards, and application deployment standards at scale across environments to help keep the core business operating securely and effectively.
With the help of proper security strategies across platforms—cloud resources can be protected in a manner similar to traditional on-premise technologies.
How Can I Begin My Path Towards Hybrid Cloud
Most organizations are ill-equipped to commit 100% to cloud operations unless they're a cloud-native company. Businesses with a long history of operations may be clinging to legacy infrastructure, a good first step into the cloud is to migrate data backup and disaster recovery systems. Leverage the cloud as a tool that incorporates the orchestration and management components for copying, restoring, and reporting on data.
After setting up initial data storage and recovery, companies can focus upon remote capabilities that allow employees to work from any location using desktop and application virtualization technologies. Forgo the traditional VPN latency and manage security risks with central management and distribution of data and applications.
Having security tools built into your cloud capabilities helps remote workforces perform job duties within safe and secure environments. Building a cohesive security strategy is a critical tool for retaining the benefits of hybrid cloud.
What Costs are Associated with Hybrid Cloud
Innovating business processes to meet business objectives requires decision makers to understand that modern technology is an organizational investment, not just an IT investment. And that technology requires constant analysis to maximize cloud features for achieving measurable outcomes.
Hiring a managed service provider makes sense for companies that don't have the desire to own, maintain, or manage infrastructures or lack the tools necessary to monitor orchestration across environments.
The real value of the cloud lies in an organization's ability to scale and grow in a manner that consumes resources on demand. Using right-sized, smartly integrated cloud infrastructures can be an effective way of controlling costs. A significant benefit of using Hybrid Cloud utiliites lies in its ability to utilize less hardware, data center space, power, and therefore reduce capital expenditures. The problem many businesses face is that costs often increase if cloud resource demands exceed the business's standard operational needs. Scalability is a critical component of maintaining a system of checks and balances for controlling expenditures.
How Organizations can Jumpstart their Hybrid Cloud Journey
Many leaders and decision-makers are reluctant to undergo massive digital transformations due to indeterminate cost expenditures and security concerns. Their reluctance is understandable. In 2018 and 2019 alone, 33 billion records were exposed due to cloud misconfigurations—resulting in losses of nearly $5 trillion.
Businesses must seek the help of IT experts familiar with hybrid cloud technology in order to build a robust cloud strategy that incorporates security, resiliency, agility, and scalability using cohesive collaboration with mission-critical objectives.
Prior to committing to cloud technologies, organizations should utilize a third-party or managed service provider to run a security posture assessment or another form of analysis for assessing existing environmental issues and concerns. The results are foundational to help develop an action plan built around fortifying gaps, identifying resources, and accelerating operations using hybrid cloud functionality.
TBC's IT experts use standardized methodologies and approaches to prepare businesses for cloud-based operations in the transition to the cloud. TBC can provide the roadmap, monitoring and maintenance needed for secure cloud deployments—accelerating business objectives and outcomes necessary for secure digital transformations.