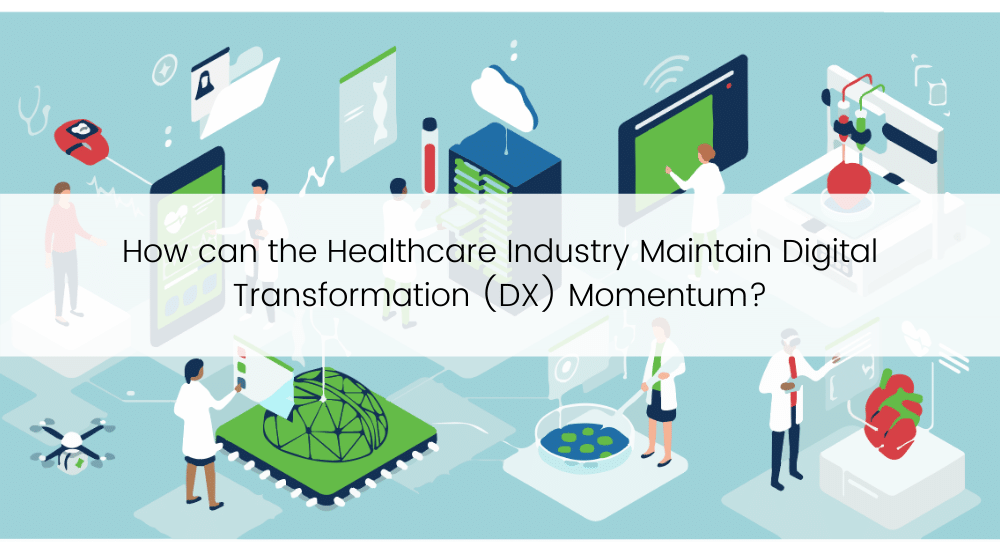 The healthcare industry has experienced a number of profound changes related to patient care. As the pandemic has increasingly normalized telehealth visits using virtual collaboration tools, more healthcare organizations are embracing hybrid cloud strategies to accelerate their digital transformation initiatives.
Whether it be app-enabled registration for COVID-19 testing, vaccine distribution, or merely regular check-ups, more individuals are using digital healthcare tools. Following the recent success of rapidly implemented digital solutions, the healthcare industry should feel confident in pursuing DX across the organization.
According to Gartner, "Achieving value from cloud services over on-premises services requires healthcare providers to analyze their application portfolio to identify cloud-ready workload candidates; this must be part of an enterprise cloud computing strategy."
Using various new technologies, business processes, and digital tools, companies are doing everything in their power to maintain patient safety and confidentiality. Executives can build on the momentum to modernize their infrastructure by preparing a strategic approach to business initiatives under the umbrella of a hybrid cloud construct.
A recent Nutanix study revealed that 95% of healthcare industry respondents declared a hybrid IT model as their ideal choice for managing data security and orchestration between environments.
Let's take a look at how healthcare organizations can develop a roadmap towards digital optimization.
Develop a Strategic Vision
Healthcare executives can effectively leverage their deep industry experience by creating an intentional and strategic business vision. Organizations must follow prescriptive modernization programs that focus upon incorporating IT tools and processes to deliver better patient care, enhanced records accuracy, and robust cybersecurity.
Some key initiatives organizations should take when developing an effective digital transformation roadmap include:
Setting a clear agenda and sharing the vision between stakeholders that give IT teams a voice
Encouraging data responsibility and security of patient records
Improving diagnostic accuracy with comprehensive access to records
Shifting from reactive to proactive strategies aimed at minimizing digital disruptions
Using a disciplined approach to digital transformation
Addressing foundational interoperability issues
Accounting for potential data challenges
Keeping close communication with stakeholders and decision-makers
Some additional guidance from Gartner follows, "Develop a cloud-first strategy that prioritizes the public cloud and is focused on a multi-cloud approach. Begin with a hybrid cloud architecture together with a roadmap that favors the increasing use of cloud resources and services over time."


Create a Modern Foundation
The value of cloud computing technology has never been more apparent in this increasingly digital world. As cloud-native businesses pivoted rapidly to remote solutions to maintain quality patient services and business operations, organizations heavily reliant on legacy infrastructure struggled to implement telehealth and remote work capabilities.
The pandemic highlighted the gaps and interoperability issues of legacy systems, and challenged healthcare organizations to make critical transformation decisions. With some critical modernization efforts already implemented, executives need to capitalize on their success with greater focus on organization-wide digital initiatives.
Here are some key points to keep in mind as your organization prepares a strategic modernization plan:
Maximize the capabilities of existing systems while leveraging platforms that facilitate collaboration and professional services
Prioritize the most significant vulnerabilities, gaps, patches, and security issues
Hybrid cloud infrastructure is scalable - allowing for greater capacity & pivoting
Use scalable technologies aimed at improving organizational efficiency
As healthcare organizations continue their dedication to modernization initiatives, they must be hyper-focused on maintaining healthcare standards and safeguarding patient privacy. Hybrid Cloud can help optimize business operations and processes with responsive and secure IT solutions, but to fully benefit from cloud services, organizations need to prepare a comprehensive roadmap to the cloud.
Optimizing the Hybrid Cloud
John Glaser, Harvard Medical School Executive, said, "Resist chasing the shiny object and be disciplined in deciding which ones to adopt and which ones to resist and how to incorporate them. Interoperability sounds good, but has to make sense for your business model, or you pay for what you don't need." Cloud adoption must be right-sized to the unique needs of each business, so that the move to the cloud makes business and operational sense.
Some of the key outcomes when optimizing hybrid cloud include:
Service enhancement
Maintaining a high level of data security and privacy
Collaborating from anywhere
Delivering constant value to stakeholders
Increasing patient satisfaction
Ability to cost-effectively pivot the organization
Healthcare providers will become increasingly reliant on the responsive, scalable, accessible nature of Hybrid Cloud technologies.
Let TBC be your Digital Transformation Partner
TBConsulting provides business and IT experts with the people, the processes, and the technology tools to provide the best solutions to achieve your strategic vision. Our professional teams will help guide your cloud migration strategies, as well as support the implementation of solutions and the maintenance of systems, networks, and environments.
If you would like to learn more about how TBC can help create the roadmap needed to guide your organization toward digital transformation—be sure to visit our website for additional support and services.