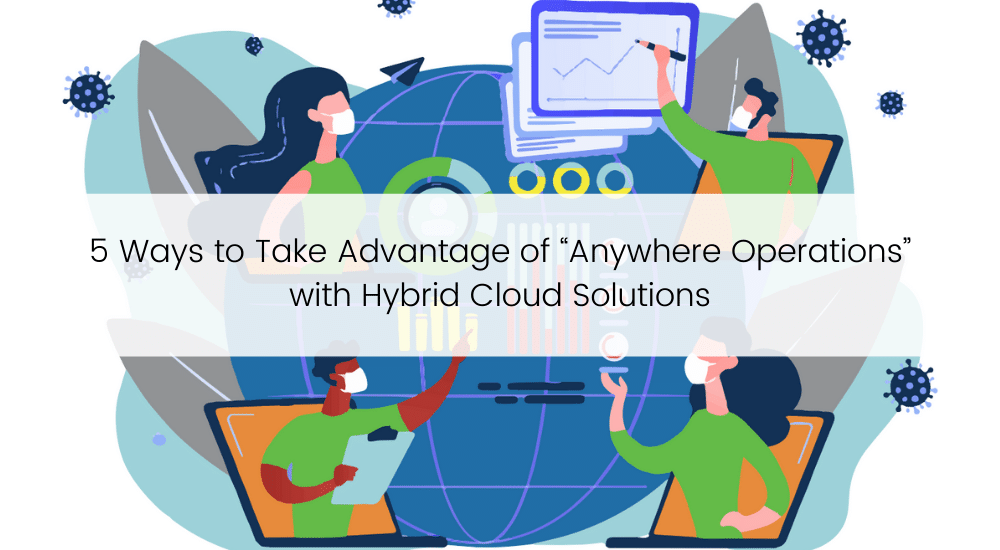 Is your business ready to take advantage of Hybrid Cloud solutions and invest in IT operations deployed on responsive, reliable platforms, with 24/7 access, and running without the limitations of traditional location-specific hardware?
Even if you want to keep your most critical and compliance-heavy data and workloads on-premise, the flexibility granted in the Hybrid Cloud model will work for you. All you have to do is determine which business components go where – depending upon their sensitivity level. Cloud adoption is an integral part of any successful business strategy and implemented to drive efficiency, resilience, and growth in a fluid economy.
The pandemic has normalized a hybrid, work from anywhere model that challenges businesses to be more inclusive, streamline collaboration, track engagement, and drive the highest productivity levels. Now, more than ever, businesses need flexible infrastructure and demand-driven scalability to respond to workforce requirements and changing market dynamics.
What is Anywhere Operations?
Identified as a top technology trend for 2021, the "Anywhere Operations" concept goes beyond the ability to pivot seamlessly to a remote workforce with Hybrid Cloud solutions. The concept is defined by Gartner as "an IT operating model designed to support customers everywhere, enable employees everywhere and manage the deployment of business services across distributed infrastructures."
Hybrid Cloud enables the distributed deployment of business infrastructure and applications across the globe. As long as there is a stable internet connection, companies can continue to promote collaborative communication and achieve productive outcomes despite their distributed workforce. The business paradigm has shifted, and cloud-based IT resources have taken a top position in key success drivers.
Modernize your Infrastructure
Not only has the pandemic highlighted the gaps in your legacy infrastructure, but the relentless demands of remote work and the frantic pace of business operations has left no time to review the lessons learned. Take the time and seek out a trusted advisor to help evaluate where you are on your digital transformation journey, how you can take advantage of Anywhere Operations, and how you can move from reactive to proactive participation in the cloud.
The evolution of cloud services continues – opening the market for SMBs to modernize operations and work dynamically – both in-office and remotely.
The 5 Key Advantages of Anywhere Operations
Hybrid Cloud allows a diverse portfolio of applications, workflows, data, and operations for anywhere accessibility. Some of the key advantages of Anywhere Operations are as follows:
Realize greater Collaboration & Productivity – by using a mature IT model to govern Hybrid Cloud; organizations are empowered to build momentum, attract top talent with location independence and increase collaboration across the enterprise.
Secure Remote Access – by incorporating role-based access to cloud infrastructure, there is greater security control over accessing data and applications within the organization.
Cloud-based infrastructure – with the always-on Hybrid Cloud model, availability and flexibility are vital to driving work opportunities.
Track digital experiences – with quality metrics on employee and customer engagement, the business can see clearly and quickly if something is resonating or failing.
Support remote operations – with Anywhere Operations, businesses can maintain core processes, enable remote employees, and rely on a resilient infrastructure despite pandemic-sized disruptions.
Build a Roadmap with TBC
TBConsulting will leverage its cloud implementation and management expertise to support businesses wanting to experience Hybrid Cloud's benefits. TBC can guide your success with a roadmap designed for your specific business needs and deploy innovative solutions on Hybrid Cloud platforms. Cloud orchestration requires skilled management wrapped in security-focused protocols and governance to achieve measurable business outcomes.
TBC can design and manage your right-sized infrastructure with Hybrid Cloud so that your cloud resource consumption is scaled to align with your business strategy and keep costs in check. To find out more about how we can help, talk to one of our experts.