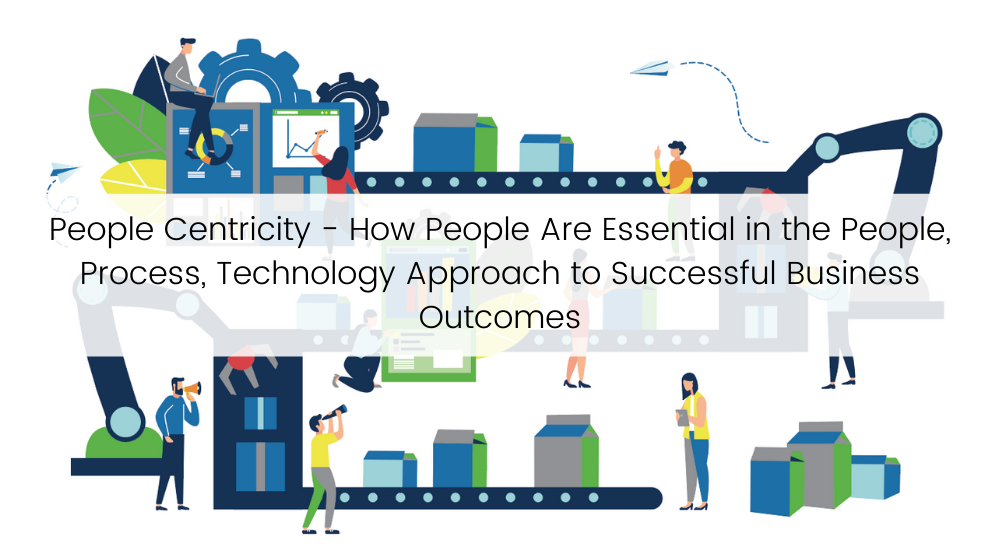 Today's business model requires a delicate balance between people, processes, and technology. To achieve and maximize business outcomes a "people, processes, and technology" framework must be effectively aligned.
According to Mike Ettling of the Forbes Technology Council, "Applying a people-centric approach to process and products is not an option. It's a must for fueling a modern-day business's viability in a competitive market."
The term "people, process, and technology" refers to a synergistic approach to managing various business elements. People are equipped with processes to take action while using the required technology for streamlining actions. Creating high-performing businesses involves the alignment of all three aspects.
The world is currently experiencing vast amounts of change, and the professional world is no exception. As companies continue to adapt to an increasingly remote environment, how businesses grow and thrive are ever-changing. Although many companies struggled to pivot operations at the outset of the pandemic, maintaining communication, integrity, and innovation remains of the utmost importance.
The pandemic has changed how people work within organizations, but people centricity remains a critical factor for maintaining effective business operations and growth.
Why Focus On People Centricity
People centricity means adequately developing and improving employees while focusing on customer experience. Employees that are happy, valued, and have the right processes and technology to do their jobs effectively will pay dividends in the way of improved business outcomes. Happy employees lead to improved productivity and customer satisfaction, creating a synergistic environment for businesses to grow and thrive.
The win-win situation helps improve organizational dynamics, loyalty, and overall happiness. Brands with the most long-term success and employee satisfaction typically are among the most profitable and sustainable.
Developing a people-centric culture will help companies achieve goals by creating an environment where employees feel valued and use their strengths to create positive business outcomes. Ways to shift toward people centricity within your organization include:
Executive Alignment: ensuring all senior leaders are on the same page about developing people and the customer experience
Leadership: organizations should focus upon having open conversations between management and employees to ensure constant support and feedback
Continuous Feedback: Involve customers and critical stakeholders when generating ideas about change to gain insights based on different perspectives
The success and vision of organizations are rooted in the belief that people are responsible for their company's growth or failure. Adhering to this concept can help companies maintain a sense of optimism and competency regardless of industry patterns.
Encouraging Collaboration Using Today's Technology
The office lifestyle went mostly unchanged for the last half-century or more. People woke in the morning, donned business attire, and drove to work. Almost overnight, the pandemic changed how companies engage with their employees and customers.
Increased flexibility, remote work, more digital collaboration, and a noticeable change in professional culture forced companies to make changes. Organizations that adapted and had flexible infrastructures maintained successful operations while others struggled.
Leveraging an agile and flexible workplace culture is not only encouraged but critical for long-term business success. The ease of remote work has allowed individuals the freedom to work in various environments and time zones using digital technology. Maintaining a sense of collaboration and communication in any environment is key to successful remote operations.
Successful organizations have now prioritized speed and customer experience over cost savings and efficiency. Consequently, many companies have turned to the hybrid cloud as a tool to build a more future-focused and supportive framework. Remote work may have eliminated the opportunity for watercooler banter but increased collaboration and information sharing in the workplace.
Businesses that move to hybrid cloud solutions are winning, with an optimized strategy to capitalize on the right balance of architectures that blend on-premise, private cloud, public cloud, and everything in between. As challenges arise, these organizations can pivot because they have the right people in place, their processes adapt, and their technology stack is built to scale when customer demands change.
How the PPT Framework Can be Applied, Starting With the People
The PPT framework can help your organization modernize while providing solutions to operate efficiently and, if implemented correctly, allow the organization to scale when needed. The focus should remain on increasing speed, improving efficiency, and creating an agile infrastructure that improves business outcomes.
The framework all starts with the right people; without them, failure is inevitable. Choose people who will execute strategies with the right experience, qualifications, and attitudes. Creating the right processes enables your teams to achieve their business goals.
Technology is also crucial as companies must invest in innovative strategies to utilize resources effectively. Don't attempt to overcomplicate technology, but invest in tools that provide a long-term investment in efficiency and effectiveness.
How TBConsulting Can Enhance Your People-Centric Organization
Creating a compelling digital experience in your organization requires close adherence to PPT strategies. Protecting customer trust and security of data should be at the forefront of decision-making to ensure successful business outcomes.
Managed service providers such as TBC can help augment a people-centric strategy within your organization. We help your organization's CIO and IT teams manage workspace operations. Whether you're back in the office or working within a remote environment, TBC can provide the tools necessary to help your company thrive and succeed.
TBC identifies your systems, workloads, data storage, and applications within your digital environment. We provide fully managed solutions for companies looking to optimize or maintain infrastructures while alleviating the burden placed on in-house IT employees.
To learn more about how TBC can help address your current organizational needs, visit our website for additional information.