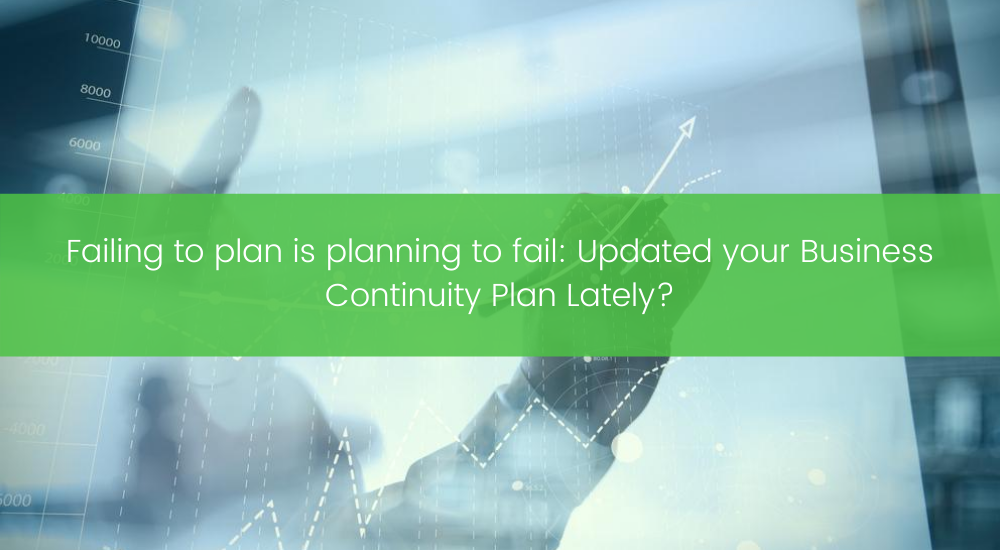 Many people are familiar with the Benjamin Franklin adage, "Failing to plan is planning to fail." Businesses are not immune to this sentiment as emergencies and disasters happen daily. Preparing for such events can go a long way towards minimizing financial damage and operation stoppages.
Companies can be disrupted by a number of different unplanned events. Whether it be natural, man-made, or digital cyber attacks, most companies are ill prepared for disaster. Mercer, a global consultancy firm, discovered that 51% of companies worldwide lack the business continuity plans necessary to take action.
Preparation and disaster response procedures can help businesses survive unexpected emergencies. Let's take a closer look at how companies can develop or update business continuity plans to keep operations moving forward.
What is a Business Continuity Plan and Why is it Needed?
Whether it be a devastating earthquake, a global pandemic or a large-scale ransomware attack, businesses must prepare for all types of potential crises. Business continuity plans allow companies to maintain or resume operations quickly in the event of unforeseen circumstances.
Protecting digital assets is the key to market survival and company profitability. Failure to do so may result in devastating financial impacts. Last December, Bio-Rad lost an estimated $20 million in revenue due to a cyber attack that left operations down for a week.
Business continuity plans outline specific protocols and procedures which should include:
Preparation response
Downtime procedures
Critical vendor services checklist
Prioritization of business applications and data
The guidelines help to easily identify mission-critical business functions and how to properly recover from these unexpected incidents. These action plans help to delegate the specific roles and responsibilities needed to resume operations.
Business continuity plans should take all contingencies into account and provide the steps needed to maintain organizational functionality. By eliminating the panic and stresses associated with emergencies, employees and leaders will be able to strategically continue day-to-day operations.
Decision-makers should delegate roles and assign responsibilities in the event of a disaster. Be sure to address the following questions when creating business continuity plans such as:
Who can authorize payments for emergency equipment, services, and locations?
What communication methods can be used if phones and internet service providers are down?
How can businesses continue to communicate with customers?
Can other tools such as VPNs and cloud solutions be used to quickly resume operations and are they secure?
Who is responsible for keeping the plan updated?
Planning for diversity via alternate locations can be helpful if businesses have been hit by natural disasters. Organizations that were prepared for remote work, before the global pandemic, transitioned easily into the new working environment.
How do you Create or Update a Business Continuity Plan?
Companies of all sizes can benefit from developing business continuity plans and should have one ready to implement when a disaster strikes. Organizations without business continuity plans should assess current processes and identify potential areas of vulnerabilities.
Business continuity plans can be developed using the following steps:
Identify plan goals and objectives
Determine vital business areas
Identify operational functions
Pinpoint potential areas of weakness
Prioritize which systems and data may be impacted along with potential downtimes
Strategically develop a plan to resume operations
Using third-party resources to conduct Security Posture Assessments can help to eliminate biases while pinpointing functional gaps. By identifying areas of vulnerability, companies can determine which systems are most vital for continuing operations.
The Security Posture Assessment can help companies create an action plan suitable for protecting prioritized applications when disaster strikes. Organizations should strive to revisit plans on an annual basis to keep operations up-to-date.
Implementing Business Continuity Plans
Disaster planning can help organizations think quickly and efficiently in the event of an emergency. Executives should take action by proactively designing business continuity plans that best protect the interests of their employees and business.
Although disasters typically strike without notice, proactively establishing plan ahead of time can help to minimize financial losses while helping to resume operations. And testing that plan either through tabletop exercises or simulations will train employees to respond efficiently and properly.
TBConsulting specializes in a number of areas designed to help companies plan for an emergency. Our tools and expert knowledge can help organizations build the cybersecurity, data storage, disaster recovery and testing strategies needed to develop and update a business continuity plan.
For more information about how TBC can help your company, be sure to visit our site and schedule a free consultation with one of our knowledgeable experts.