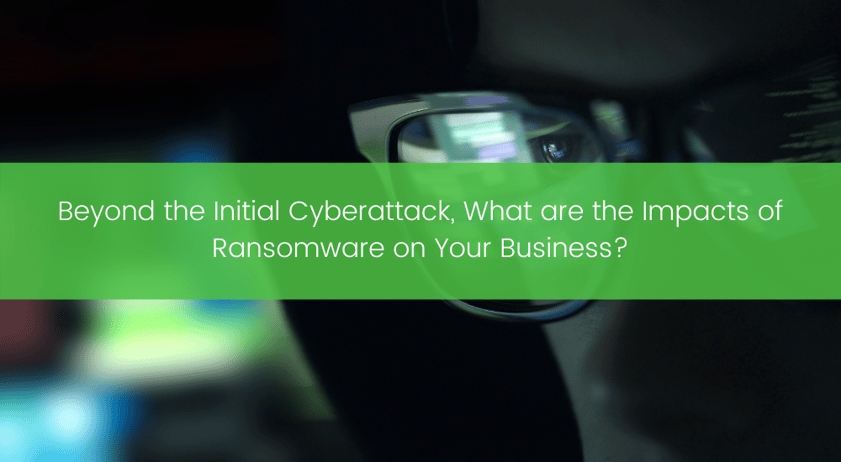 The prevalence of ransomware has made it one of the most significant issues currently faced by businesses. While many people believe that large corporations pose the highest risk of being hit, the truth is that 71% of cyber threats target small businesses.
As the world becomes increasingly digitized, it may not be a matter of if but rather when a ransomware attack hits your organization. Organizations should practice their due diligence when handling both the short and long term impacts associated with cyber attacks.
Although businesses may suffer immediate consequences in the form of financial losses and shutdowns—the long-term effects may be even more severe. Consumer credibility and trust can take years to build but seconds to lose after an attack. Data security issues may extend well beyond the initial point of the incident. At the same time, costs related to potential fines, data recovery, new hardware and software infrastructure can financially cripple any organization.
Data is the most critical asset of businesses today. Organizations rely upon data to manage financial systems, store critical information, and perform daily operations. As digital transformation continues to impact businesses across all industries, managing cybersecurity risks and minimizing potential threat areas should be a top priority for companies.
Let's take a look at the impacts of ransomware and how businesses can best manage the risk of an attack.
Managing Cyber Risks
Security breaches can wreak havoc on companies of all sizes. As such, cybersecurity must be a critical part of daily operations to ensure organizational longevity. Not all security breaches result in cyber incidents, but companies must be able to detect, neutralize, and prevent future attacks.
The effectiveness of a cybersecurity system relies on continuous management, evaluation, and assessment in order to maintain operational efficacy. Companies cannot rely upon antiquated techniques of setting up cybersecurity tools as a one-time operation. Proper cyber defense requires continued maintenance and oversight to ensure continued effectiveness.
The Costs of Exposure
Ransomware can immediately force businesses to seize operations until demands are met, but the effects may create a ripple effect within organizational infrastructures. Some of the long-term impacts of cyber attacks may include:
Loss of consumer trust
Loss of vendor confidence
Decreased sales
Future business opportunity losses
Negative media attention
Permanent loss of customers
Aside from a loss of data, operational time, and decreased revenues—organizations must also consider the associated costs of attack such as ransom payments, system recoveries, regulatory fines, and exposure of sensitive data. The consequences can extend well beyond the immediate periods of downtime and may damage long-term business developmental plans.
Real-World Example
Arizona Beverages was hit with a ransomware attack last year as the issue was discovered far beyond the point of prevention and containment. Due to a number of systemic problems - such as outdated Windows OS systems—the company had little recourse to minimize or prevent the problem. Security systems were unsupported and lacked a number of patches and updates needed to protect internal systems.
To further complicate the issue, backup systems were not properly configured and resuming operations took several days. A third-party company was tasked with rebuilding the network infrastructure and restoring previous capabilities. TechCrunch reported that Arizona Beverages spent hundreds of thousands of dollars recovering from the attack. The problems could have easily been avoided with the right cybersecurity systems in place.
If you're concerned that your company could be hit, be sure to use our free Downtime calculator tool to estimate the potential costs of organizational downtime.
Let TBC Protect Your Organization from Cyber Attacks
Prevention is always the best defense against potential cyber-attacks. Educating your teams on proper cybersecurity strategies can help organizations in the fight against ransomware. Utilizing recovery strategies that adequately backup data systems and network capabilities is the first step towards protecting your organization.
When it comes to protecting your company, no stone should go unturned. Proper security requires updating internal systems and ongoing training mechanisms designed to prevent the occurrence of ransomware. Investing in cybersecurity prevention and backup initiatives can help companies save up to 82% of the costs associated with a cyberattack lifecycle.
TBConsulting specializes in providing a number of cybersecurity resources such as data backup and recovery. We provide ongoing security monitoring, cloud system storage, backup as a service, and disaster recovery. We stand committed to helping companies achieve mission-critical objectives while protecting digital assets.
For more information about how TBC can help your company, be sure to visit our site and schedule a free consultation with one of our knowledgeable experts.