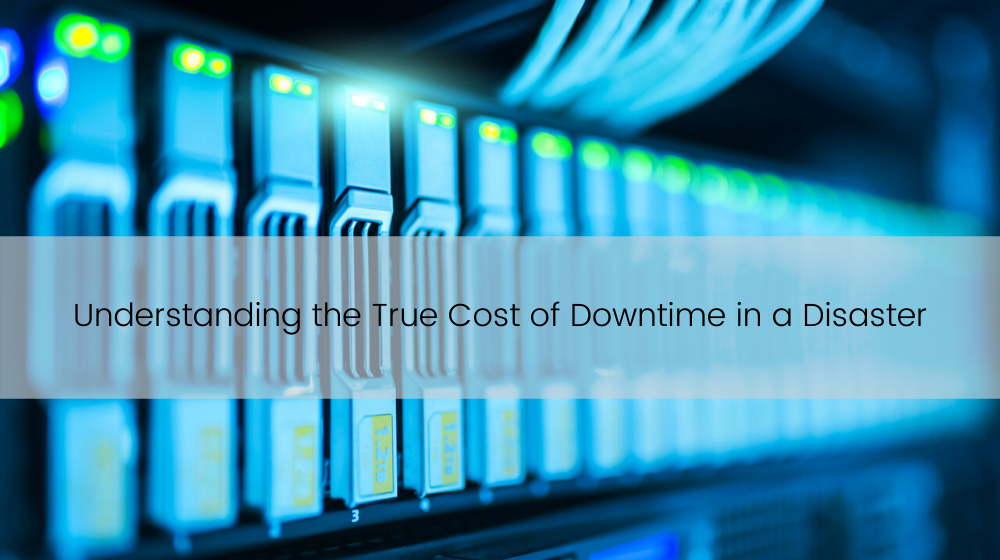 The old adage time is money is an indoctrinated aspect of business rooted more in truth than hyperbole. Every minute spent operating at sub-optimal capacity is directly reflected within the bottom line. Gartner estimates the average cost of downtime at $5600 per minute. Datto reports that downtime costs were up by 200%, year over year, in 2019 and the cost of downtime was 23X greater than the average ransom demand. Depending upon the size of an organization, companies may be prone to losing countless dollars, even during brief periods of shutdown.
Ransomware and any other disaster - including pandemics - can attack operational infrastructures without notice, causing the business to screech to a grinding halt. These types of events can infiltrate internal systems and prevent user access to critical databases until ransom demands are met. Some companies believe they are equipped to handle such events, but many organizations are severely lacking sufficient security and data protection and recovery protocols.
The best way of limiting the impact of malware attacks is to prevent them altogether. Utilizing a proactive approach to ransomware security can help prevent businesses from being attacked. Failure to plan and prepare for such scenarios may result in devastating consequences.
Here are some notable cybersecurity statistics to be aware of:
Ransomware costs businesses more than $75 billion per year (source: Datto)
Over 75% of businesses attacked had updated security endpoint protection (source: Sophos)
By 2021, a new ransomware attack will be occurring every 11 seconds (source: CyberSecurity Ventures)
As cyber attacks become more frequent—businesses must exercise additional precautions for protecting themselves against potential threats. Failure to do so may result in financially catastrophic circumstances.
Adding insult to injury, if you are hit by a malware attack and haven't implemented an effective data backup and recovery plan, the impact of your downtime can be exponentially higher.
How Much Will Your Business Stand to Lose?
Some are led to believe a false notion that only mega corporations are victims of cyber attacks. While Fortune 1000 companies may be subject to the greatest financial losses—up to $1 million per hour (source: IDC survey), small businesses may be becoming increasingly more susceptible to breaches.
Reports have shown that over 70% of ransomware attacks in 2018 targeted small businesses (source: Beazley). Furthermore, ransomware results in losses of $133,000 to businesses, on average (source: Sophos). As clearly shown, no business is immune to disaster and any company can be a victim regardless of size or structure.
Cybercrime groups frequently attempt to exploit victims while they're most vulnerable. During especially chaotic times such as the current COVID-19 crisis—businesses may be especially susceptible to risk. In fact, the FBI recently warned that scams may be on the rise due to the COVID-19 virus. Times are already tough for small businesses—cyber attacks can prove even more disastrous during these situations.
Fortunately, effective security monitoring and a robust data backup and recovery solution can help prevent and mitigate damage and downtime caused by disasters and malware. In fact, 96% of businesses with a disaster recovery solution in place are able to fully recover from ransomware and other attacks and mitigate the extent of downtime.
Use Our Downtime Calculator
Downtime proves harmful due to disruptions in normal business functionality. Every minute of downtime translates to a minute of lost opportunity. If you'd like to calculate a quick estimate of downtime costs—be sure to use our calculator below. The costs will vary depending upon the size of your business and the amount of time incidents last.
Do the results surprise you? Are the costs higher than you were expecting?
Most people focus on downtime costs strictly as a factor related to lost revenue. The monetary impact runs much deeper than surface level costs. Business disruptions can instantly tarnish reputations and violate sacred codes of consumer trust. Furthermore, companies suffer severe losses due to decreased productivity and employee retention problems. The harmful effects of downtime can cause a ripple effect impacting nearly every function of business operations.
How TBC Can Minimize Downtime
As the world faces vast uncertainties, businesses must practice due diligence in safeguarding their digital assets. Prevention is the best course of action when it comes to handling cyber attacks. Avoid disaster before it strikes with the help of TBConsulting.
TBConsulting provides solutions designed to monitor systems while protecting against future attacks. Our Security Posture Assessment can help you assess risk, protect data, and implement strategic surveillance systems to protect data 24 hours a day, 7 days a week.
The costs of a cyber attack go far beyond revenue losses. Don't let your company become the next cyber attack victim. Stop it before it happens using our unique security support systems.
If you would like to calculate the true costs associated with disaster downtime, feel free to use our downtime calculator. Don't let your organization become another cyber attack statistic.