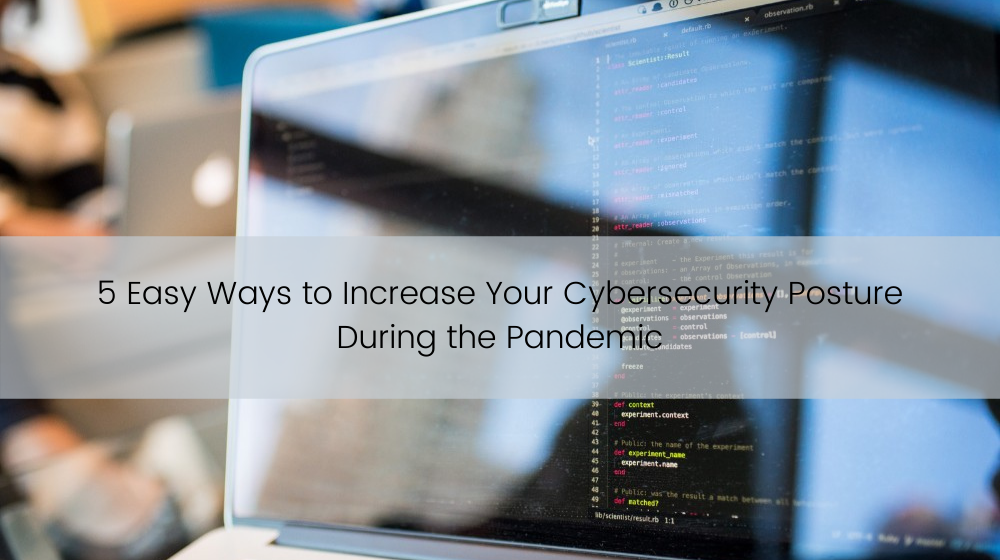 The COVID-19 virus has rapidly become a global-wide pandemic that has impacted businesses in all industries. Amid the crisis, the world has faced dramatic impacts on a personal, social, and economic level. During these times of unprecedented circumstances, it's critical that companies take additional measures to safeguard the interests of their businesses.
Companies are being presented with a number of cybersecurity challenges as more employees transition to virtual work environments. Web conferencing services have been breached and ransomware attacks continue to increase.
During times of social lockdown—hackers are leveraging the world emergency by preying upon the vulnerabilities of users and companies. While many organizations possess advanced cybersecurity measures at brick and mortar offices—working from home may leave employees at increased risk of data breaches and attacks.
Many companies have already felt the widespread ramifications of the Coronavirus, but they must exercise additional precautions to prevent further damage. Let's take a look into some steps that can help minimize cyber attack risks.
Identify External Vulnerabilities
Cyber attackers often prey upon organizations with limited security resources. In the absence of robust cybersecurity protocols, hackers may be able to easily infiltrate internal systems. External vulnerabilities present easy opportunities for accessing networks without directly exploiting users.
Some organizations unknowingly leave the door open for potential attackers to enter networks. Holes in firewalls or servers hosted with outdated applications allow outsiders easy access to internal systems. Identifying these vulnerabilities can help pinpoint potential areas of risk and minimize threats that are easily avoidable.
Businesses shouldn't have an open door policy when it comes to network security. Using cyber diagnostic tools can help assess internal network safety while mitigating security risk areas.
Ensure SSL Certificates are Updated
SSL certificates act as digital padlocks that enable encrypted communication between web browsers and servers. As privacy measures, SSL certificates help ensure that only intended users are able to see web traffic.
Failure to update SSL certificates may allow outsiders to review website data such as login and payment information. Typically, SSL certificates are only valid within specified timeframes before expiring. If not renewed, users visiting impacted sites are warned by browsers about out of date certificates.
Not all SSL certificates provide up-to-date security protection. Recent versions such as TLS 1.2 and 1.3 help safeguard company and user information. Any other outdated SSL certificates should be abandoned in favor of more recent certs.
Properly Configure SPF and DMARC Records
A staggering number of ransomware attacks occur due to spoofing and phishing occurrences. In fact, more than 90% of all attacks happen by virtue of email phishing. Configuring SPF and DMARC records can help protect against threats related to spoofing and phishing attacks.
SPF and DMARC records help authenticate mail servers and ensure only authorized users can send emails. Cyber criminals are able to pose as legitimate company employees if records are formatted incorrectly. If SPF and DMARC records are not configured properly, companies run a higher risk of becoming a victim of ransomware. Configuring these records ensure only intended users can send emails on the company's behalf.
Leverage TBC's Cybersecurity Diagnostic Tool
Recent years have seen cybersecurity pose an increasing risk to companies of all sizes. Amid the current COVID-19 pandemic crisis, more organizations are becoming exposed to potential risk factors.
At TBC, we offer a free Cybersecurity Risk Diagnostic tool that can help determine if companies may be at risk of the aforementioned problems listed above. The assessment will perform the following steps:
Check your domain to reveal open ports and identify risks associated with those open ports
Help to identify your organization's external vulnerabilities
Check if SSL certificates are updated
Check SPAM protection
Create a future roadmap to help limit cybersecurity risks
If you'd like to assess your company's cybersecurity protocols, visit our site to access your free personalized report.
Let TBC Perform a Complete Security Posture Assessment
Businesses are currently being faced with a number of unprecedented economic challenges. At TBC, we're offering free and reduced cost resources aimed at helping your organization strive and thrive during the global pandemic.
The world has experienced a sudden shift to remote and virtual work environments. Although these technological innovations have allowed companies to stay connected to their employees—organizations may unknowingly be put at increased risks of phishing, ransomware, and malware attacks.
TBC is providing security resources along with a number of other available tools. We're optimizing customer satisfaction by assisting companies with creating remote contact centers. With the help of our partner, ServiceNow, we're also offering Emergency Outreach applications free of charge to help distribute information and confirm employee safety and location.
TBConsulting stands committed to helping companies achieve mission-critical needs while protecting security infrastructures. Let TBC perform a security posture assessment to help your company identify and minimize potential risk areas in your environment.
For more information on how TBC can help your company, be sure to visit our site and schedule a free consultation with one of our knowledgeable experts.