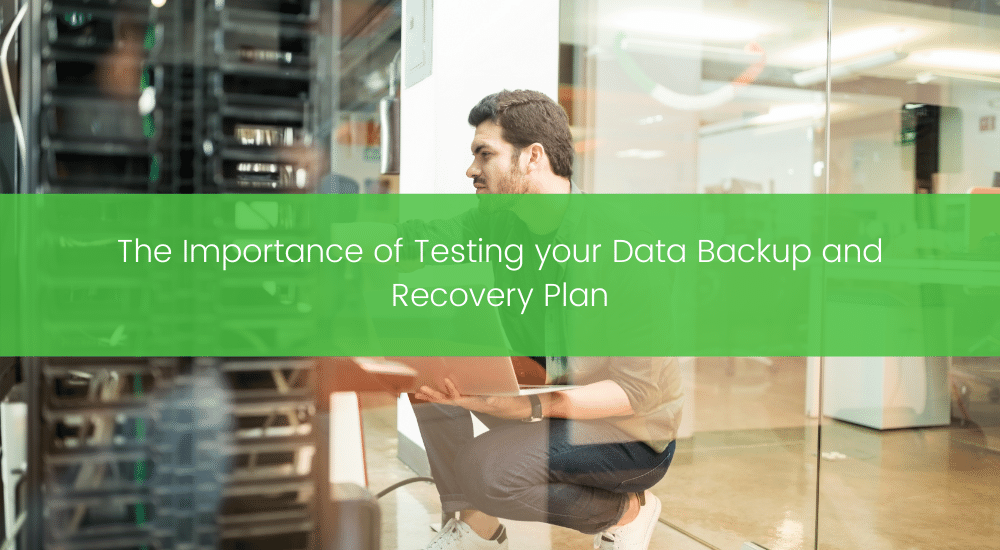 Businesses today rely upon information technology for nearly every aspect of operations. Data is constantly exchanged among partners, employees, and customers—making it one of the most viable commodities throughout many organizations.
Keeping these assets protected against breaches and cyber-attacks is vital for business functionality and maintaining the trust of consumers. In today's highly volatile world, organizations of all sizes must take appropriate security measures to ensure protection. Failure to take proper action may lead to data loss, file corruption, hardware malfunction, or potentially business shutdown.
You may be surprised how misinformed companies may be when it comes to disaster recovery.
46% of small and medium-sized companies have no backup and recovery plan in place
Many businesses lose up to $300,000 for every hour of downtime
23% of businesses never test their recovery plans
Having a data backup and recovery plan has become non-negotiable for protecting information assets, but organizations must perform additional steps for maintaining security. Companies must practice their due diligence when it comes to testing and verifying their recovery strategies.
Why Should You Test your Data Backup and Recovery Plan?
Recovery plans were designed to protect businesses in times of disaster, but sometimes that's not enough. Having a lack of appropriate testing mechanisms in place is the equivalent of having lifeboats that don't float. Without ongoing procedures in place, there is no way of determining if your processes and tech stack will fail after a disaster.
Creating actionable recovery tests is akin to nearly any type of disaster drill. The goal is to develop and reinforce steps taken during times of catastrophe. Many companies fail to do so—resulting in panic, uncertainty or loss of revenue when chaos arises.
Steps for Testing your Recovery Plan
A common misconception that exists among companies is that an outage must occur in order to test their disaster recovery plan—this couldn't be further from the truth. Companies are able to create actionable plans that recreate harmful occurrences without being under full-fledged attacks.
Here are some key takeaways to remember when implementing a successful data backup and disaster recovery plan.
Test on a Recurring Basis
Infrequently testing backup strategies can put organizations at substantially higher risk of failure during disasters or breaches. Company size and amount of total data stored will play a role in determining the frequency of trials. The problem is most companies aren't performing regular testing mechanisms.
Many organizations only attempt yearly disaster recovery tests or avoid them altogether. Although allocating the proper time resources for such events can be difficult to navigate—most experts suggest that ongoing tests should be held at least quarterly. Test frequency may be substantially higher for mega-corporations or companies with massive data volumes.
Follow Compliance Standards
Many types of organizations are subject to compliance standards that must be followed. Governing bodies such as PCI, HIPAA, and DoD all have specific policies regarding data retention requirements.
Companies that fail to adhere to regulations run the risk of receiving fines, penalties, or worse. Businesses should focus on utilizing a data backup strategy that meets specific requirements and storage capabilities. Understanding how long data should be retained will ensure organizations stay in compliance while preventing lapses in protection.
Make Testing a Priority
Organizations tend to disregard disaster recovery plan testing until it's too late. Testing should be prioritized and scheduled to occur on a regular basis. Companies should set dates and times in which disaster recovery protocols will be practiced. Organizations should emphasize the use of regular testing using predefined plans and strategies.
Putting off testing could prove to be devastating if your company is struggling to navigate through a major disaster. IT teams should have clearly defined policies and procedures to follow in case of an emergency. Ensuring tests are performed regularly will guarantee IT teams are confident and prepared when catastrophe strikes.
IT leaders should maintain accountability standards by signing off on tests and validating appropriate steps have been taken.
Let TBC Manage your Data backup and Disaster Recovery
Simply having a disaster recovery plan in place isn't enough to ensure data protection during times of distress. Maintaining functionality of disaster recovery plans involves having actionable plans while performing regular ongoing testing.
Unfortunately, not all companies have the knowledge or resources necessary for performing these types of obligations. Having a team of professionals available 24 hours per day can help ensure your data is protected at all times.
TBConsulting provides fully managed backup solutions that ensure proper functionality through regular testing and verification procedures. We assist our clients in creating data backup recovery plans that protect your business while adhering to your specific compliance requirements.
Having a data backup recovery plan is useless if proper testing isn't performed regularly. We take the guesswork out of disaster recovery planning by providing solutions tailored to fit any type of business.
If you'd like to learn more information about how TBC can help integrate your data protection strategy—be sure to request a quick, risk-free consultation. A member of our team will be able to assist you in taking the next steps towards protecting your business.