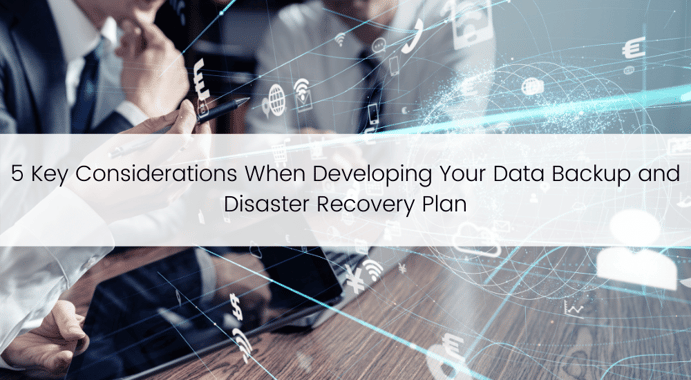 Living in a digital world requires expedited solutions when problems arise out of nowhere. Unforeseen circumstances can impact business operations and IT decision-makers must be able to react at a moment's notice. Companies shouldn't wait for issues to go awry before implementing full-scale solutions. Preparation for deleterious scenarios can help protect digital infrastructures during times of unplanned incidents.
IT disasters can create systemic issues at businesses of all sizes resulting in uncontrollable mishaps with unpredictable outcomes. Although you may be unable to dictate when you will be attacked by ransomware or other catastrophic events occur—effective backup and disaster recovery plans can help protect your company during times of uncertainty.
In the cases of many catastrophes—people wait until it's too late before creating action plans for addressing these radical circumstances. Having structured plans in place ahead of time can allow your business to appropriately respond to disasters and emergencies.
Establishing Acceptable Recovery Time Goals
Returning business functionality to normal after a disaster is critical for ensuring operational continuity. The problem is determining acceptable recovery times can be a hurdle for many organizations. While many companies may claim immediate recoveries are necessary—the potential costs for instantaneous solutions can be astronomical. Estimates of a day or more are both realistic and conservative in most instances.
Establishing disaster recovery time goals is key for meeting backup objectives within certain timeframes. The given type of industry should also be a consideration for companies to review. While some businesses need continuous data recovery and support—others will be better suited for daily or weekly recovery strategies.
Assessing the specific needs of your business can help to determine company objectives. Performing cost/benefit analyses of different strategies can help you create individualistic approaches best suited towards meeting organizational needs.
Choosing Appropriate Technology
Having the right software and hardware in place can help companies protect assets during times of uncertainty. Keeping up with new cutting-edge technologies can help keep businesses protected against data loss and attacks.
The need for more immediate recovery will necessitate real-time data availability—likely creating additional software needs. Less urgent requirements may require less frequent data backups—perhaps only once daily.
Copies of existing environments should be made on a continual basis along with newly created patches and security updates. Offsite backups can help to protect against site failure while reducing recovery times. Data should also be placed on multiple types of sources for an additional layer of backup protection.
Establishing Geographical Remote Site Locations
Selecting locations for disaster recovery solutions is more complicated than it may appear at face-value. Isolated incidents may result in disastrous circumstances beyond your control. Natural disasters such as floods or hurricanes have the potential to wipe out entire infrastructures instantaneously. Due to this potentially volatile environment—creating and maintaining offsite structures can help to better manage recovery solutions.
The creation of cloud-based solutions makes it simpler to backup and manage data regardless of location. Geographically placing backups on the opposite side of the country may help to protect critical information but also may also make data access more difficult. Effective recovery solutions require establishing a fine balance between distance and accessibility.
Creating Backup Processes and Procedures for Data Recovery
Failure to prepare for disastrous times can wreak havoc on any organization or company. Having predefined procedures in place ahead of time can help to speed up resolution while minimizing negative financial impacts.
Determining the order systems are restored along with appropriate task delegation can reduce the potential impact of negative circumstances. Department heads should be aware of their duties ahead of time in order to minimize stress and uncertainty.
Prioritizing certain elements of your business can help to expedite disaster recovery in times of uncertainty. Business segments of lesser importance can be put on hold in favor of more critical requirements.
Data Backup and Recovery Verifications Should be Performed on an Ongoing Basis
Data back up and recovery tests should be performed regularly—at least annually if not quarterly. Verifying that all services and applications have transferred can minimize recovery times. Though tests can be time-intensive and may expend a lot of resources—these vital solutions can help to solve systemic problems.
Performing ongoing testing is a necessity for determining the effectiveness of disaster recovery plans. More frequent tests help to better prepare individuals in cases of disaster or emergency. Document all tests and indicate restore times, data recovery success rates, and unexpected failures. If needed, address any potential vulnerabilities to help improve recovery strategy.
Let TBC Help Create and Implement Your Data Backup and Recovery Plan
Today's companies rely upon digital applications for operational functionality. Unfortunately, unforeseen circumstances can wreak havoc on company infrastructures in the form of natural disasters and data loss. These potentially devastating scenarios can lead to profit loss and even operational shutdown. Designing protocols that address disaster recovery plans can help to minimize downtime while allowing for continued business operations.
Being adequately prepared for disasters can help ensure that businesses survive with minimal long-term impact. Partnering with a reputable third-party company can help improve flexibility within your organization while allowing you to achieve goals using a strategic approach.
TBC provides dedicated protection domain services for Nutanix and even offers full VMware replication services through Veeam. Our US-based IT Operations teams monitor clients 24 hours a day to help resolve IT related issues at a moment's notice.
If you would like to learn more about how TBC can positively impact your company's IT needs—be sure to reach out to us for additional information so we can help help your business flourish using specifically designed plans.