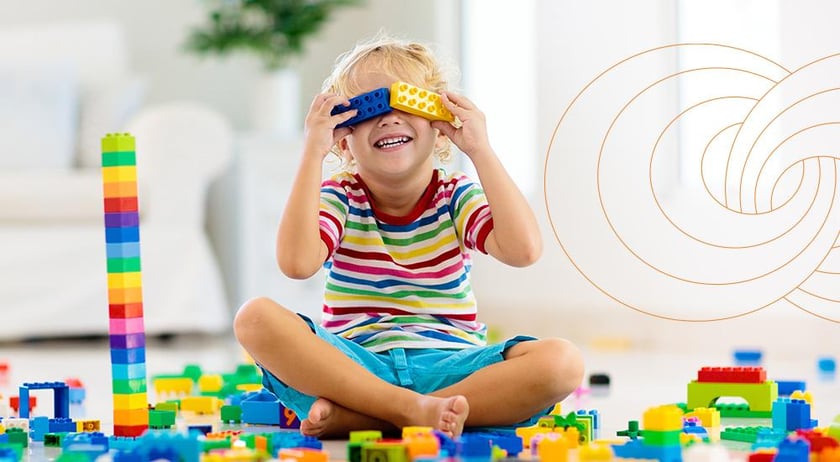 Feel like you are walking barefoot on tiny plastic toy bricks while carrying the weight of your enterprise's business longevity on your shoulders? It's painful—but you are not alone.
While you are forward-focused on economic success, each of those plastic pieces lurking just outside your field of vision represents a vulnerability that could lead to crippling pain. You may be tempted to sweep them aside with a few choice words, but vulnerabilities can find their way back into your path. Whether deeply engrossed in critical business decisions or in the middle of an M&A, a single vulnerability can destroy your trajectory of success.
Clearing the Path
You have heard the adage that cash is king--but in business, data is king – and every minute you can't access your data means lost revenue. Even if you have an in-house team dedicated to protecting your organization from cyber hazards, navigating the threat landscape is challenging. It's you against ransomware perpetrators that "continue to be the number one threat to large and medium-sized businesses, including government organizations."
A NOC or a SOC can address incidents and manage patching. But you must also prioritize business continuity, eliminate vulnerabilities at the edge, and protect your data from corruption, accidental deletion, and ransomware. And all this needs to happen in a fluid IT environment with eyes on all your systems, 24/7/365.
Impossible? No, but you may need to enlist the help of a qualified IT Solutions Provider that can provide those services and be those eyes with the people, processes, and technologies to clear your path to growth.
Clearing the miniature foot daggers from your path takes time, expertise, tools, and constant vigilance. Your goal is business continuity and recoverability.

Fight Failure with Business Continuity
Falling victim to a cyberattack is more of a 'when' than an 'if' scenario. If you expect to win against those determined to destroy your business, you must prepare and use those moments of pain as lessons learned. Address vulnerabilities in your path and use them as building blocks to create a more robust defense against ransomware.
General George S. Patton once said, "He who sweats more in training bleeds less in battle," That same wartime mentality applies to business in today's climate. You are fighting an invisible cyber war—the stakes are very high, and the enemies are determined and malicious.
How to build up your defenses and ensure business continuity?
Leverage the symbiotic relationship between Cybersecurity, Data Backup, and Disaster Recovery solutions to sustain the health of your business. Using any of these solutions in isolation can undoubtedly address a siloed problem—but together, they offer both offensive and defensive positions to secure your business continuity.
Enlist the help of an IT Solutions Provider with a robust managed services portfolio. The right Solutions Provider will ensure stability, security, and recoverability.
Goal definition is critical to scaling your infrastructure and solutions to meet market demands.
Operationalize your cybersecurity matrix to align your risk tolerance with your business strategy.
Secure your data and technology stack against escalating threats.
Maintaining IT functionality and data accessibility ensures a business continuity plan that will protect your business operations, brand, and revenue streams in times of crisis.
Backup as a Service
Relying on your IT teams for manual backups drains their resources and prevents them from delivering strategic initiatives. Offloading the complex management of backups to a Solutions Provider makes better business sense, which can give you greater control with centralized management on a single platform.

It doesn't matter where you source your data because BaaS can integrate backups from multiple physical and virtual platforms. BaaS is a cost-effective deployment model based on consumption and is scalable to demand. Mission-critical data and applications are backed up—and more importantly—restorable as they are secured in an offsite repository.

Your job is to define retention policies that work for your industry compliance standards and customer demands. Define your RPO (Recovery Point Objectives) and RTO (Recovery Time Objectives) in your business continuity plan, so there is no risk of miscommunication or delays.


| | | |
| --- | --- | --- |
| | | |
Many organizations use Veeam's standard backup policy, "Forever Forward Incremental," which creates one full backup at the beginning of the retention period and uses incremental backups thereafter. No matter what tool you use, remember the 3-2-1-1-0 critical backup rule.
IBM reported that the United States has the highest costs associated with data breaches at $9.44 million. Defend yourself against long-term damage and expensive remediation with BaaS and DRaaS.
Disaster Recovery as a Service
DRaaS is a replication and monitoring service for data and application recovery in the event of a disaster. An IT Solutions Provider typically supports DRaaS in a shared data center environment with 24/7 restoration services, configuration of automation tasks, testing of automation, and the validation of data replication.
Cybersecurity as a Service
Protecting your data and applications is a twofold process. You need to back up your data and secure your IT environment from threats and vulnerabilities. A comprehensive cybersecurity solution like Extended Threat Detection and Response (xTDR) will protect your IT environment and data by actively hunting for and eliminating threats. The key word here is 'comprehensive' because a cybersecurity security program siloed by department is risky and unsustainable.
The NIST framework is the foundation of any cybersecurity solution that implements risk controls and works to Identify, Protect, Detect, Respond, and Recover from threats. Cybersecurity interfaces with every system and end-user in your environment and is a core IT stabilizer. A Solutions Provider partners with your IT teams to deploy, integrate, automate, optimize, and manage your security tech stack. https://www.nist.gov/cyberframework

Cybersecurity is just one layer of a business continuity plan but a critical one. The earlier you identify and respond to threats, the less impact they will have on your organization.
Achieve Victory and Operational Resilience with TBC
Protect your lines of business with TBC, an IT Solutions Provider headquartered in Scottsdale, Arizona. TBC has over 26 years of experience in managed services and managed security services. TBC operates on the premise that businesses depend heavily on data integrity and that data needs to be available, usable, protected, and restorable.
TBC is the Veeam and Nutanix partner for innovative data backup and recovery solutions. We collaborate with clients to hyper-connect our services to the needs of the enterprise. Our data architects and cybersecurity engineers are constantly learning to expand our toolsets and services to meet and exceed the needs of our clients.
TBC is an aggressive defender of IT infrastructure stability. We know that downtime is the enemy of business, and we want to help you remove any obstacles to your success.