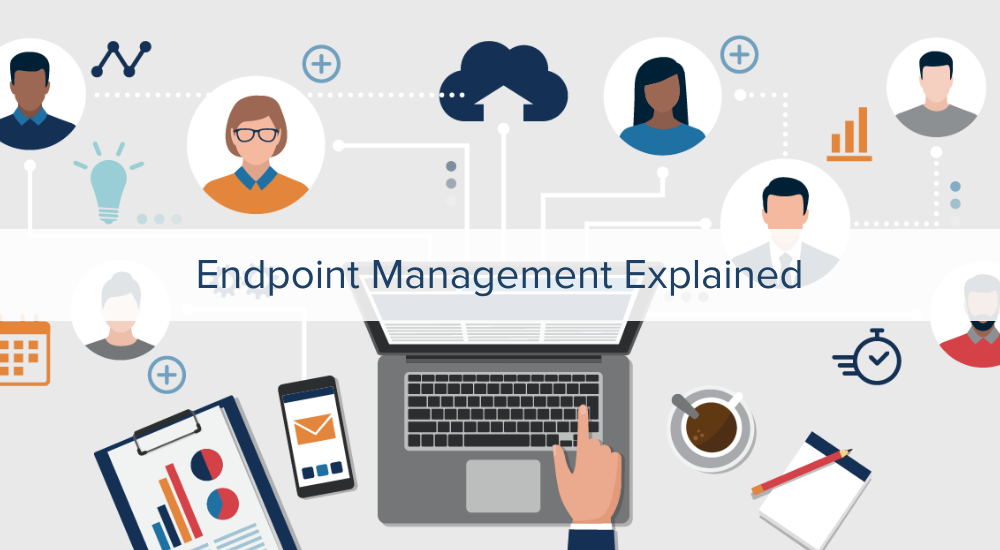 With hybrid work here to stay, the security and controls of the traditional office environment must be extended across multiple locations to connect and protect the professional world. But what can you do about the inherent security issues associated with multiple endpoints opened by each employee? Why is it so hard to secure the multiple devices (laptops, phones, tablets, desktops) that each employee uses daily? Because employees, and even executives, want to get their work done using familiar processes in the fastest way possible. And sometimes, that opens a can of cyber worms!
Small businesses are the worst offenders for unsecured endpoints. In fact, 43% of small businesses are woefully unprepared for a cyberattack. With the number of ransomware attacks on big-name enterprises increasing, maybe small businesses feel safe that they are too small a target? But think of it this way; if a single ransomware attack, like the one on Colonial Pipeline, can impact an entire nation, then you can assume that a data breach on your modest-sized company will affect each and every one of your clients. And you may not have the resources available to recover as Colonial did.
What is Endpoint Management?
Endpoint management (EPM) is a risk detection, application deployment, and patching system where various hardware types (e.g., desktops, laptops, and servers) are controlled and responses are actively managed. Endpoint management can operate as an on-premise, hybrid cloud-based, or public cloud-based offering. In this post, we highlight hybrid cloud-based Endpoint Management – a solution that uses on-premise resources, cloud-driven automation and is challenging to manage using a variety of tools. That is why endpoint management is often outsourced to a Managed Service Provider (MSP).
Endpoint management tools use centralized management, reporting, compliance automation, and deployment automation, often within a cloud environment. Whether on-premise or in the cloud, complete end-to-end management coverage can help companies with patching, app deployment, imaging for operating systems, firmware updates, and more.
Why do you need Endpoint Management?
Doesn't complete visibility into the status of applications, data points, and connections exude confidence and responsible security protocols? With EPM, you get all that while also collecting data that helps evaluate performance metrics and execute corporate policies across the company network.
Maybe John Donne was far ahead of his time in A Valediction: Forbidding Mourning, and we can imply that the bond of love mimics a beautiful endpoint management solution.
See how EPM is one system, with multiple devices, always joined by a digital tether that maintains connection despite locational differentiation? With centralized management to limit business exposure, distance doesn't have to lead to a breached vulnerability, but an expansion that can boost operational efficiencies, increase remote workforce productivity, and maintain security with the proper tools and management system in place.
How can Endpoint Management address Security Concerns?
Because 68% of successful breaches start at an endpoint, it is critical to enforce endpoint security as if your business depends on it.
Open endpoints are easy targets for hackers. Organizations are constantly expanding their digital footprints with additional data that must be secured. Still, many organizations use multiple cloud environments to tool up for remote workforces and have forfeited in-office security policies. If properly implemented and monitored consistently, a robust EPM solution can alleviate security concerns at endpoints.
Hybrid work policies have expanded threat vectors. Over 55% of organizations have recently reported increased endpoint security risk, with potential problems looming at every turn. If a hacker infiltrates a single remote laptop, they can access an organization's network, files, sensitive data and potentially paralyze the business.
In-house IT resources often lack the expertise to use endpoint management tools properly, and 61% say they do not have the capacity to protect every endpoint against security threats using the tools available to them. Companies that struggle to track, update, and secure all devices connected to business networks often turn to Managed Service Providers to secure endpoints and prevent extensive downtime. MSPs can integrate with customers' existing CCM investments, transforming them into robust solutions that maintain security and boost productivity.
How can EPM Increase Visibility?
Obtaining a complete view of all endpoints is one way of improving visibility and asset management. Endpoint management can often detect issues in real-time, while responding to threats in a timely manner.
The ability to secure a variety of devices and operating systems creates a balance between management and access—mostly related to security and productivity. The employee experience will benefit tremendously from this form of enhanced digital scrutiny.
How can Endpoint Management Build Resilience?
Corporate-owned and managed systems can be deployed to a distributed workforce. As employees add personal devices to the mix—each one must be incorporated into the safety of the network using corporate-approved policies, software, and security measures through automated, cloud-based processes.
Patches, imaging, and app deployment can be managed from a central platform as resiliency is built into the network using comprehensive management across the business. As a result—redundant tool functionalities can be identified and eliminated. Security is often embedded as an endpoint strategy that becomes increasingly more scalable with automation. Utilizing reporting and role-based profiles effectively allows users to control access to internal systems.
Endpoint management solutions are tied to business outcomes. Managed service providers incorporate the organization's vision of security, technology, and operations into a solution that connects availability, backup processes, and business continuity. Implementing endpoint management solutions helps address the challenges of unpatched endpoints, security risk, remote accessibility, deployment of applications, and remote shutdown of rogue or compromised accounts.
How can TBC Manage your Endpoint?
TBConsulting works closely with clients to identify security gaps, incorporate existing toolsets effectively, and monitor endpoint management devices at scale. TBC can manage the IT ecosystems within the hybrid cloud and improve visibility to deliver actionable reporting.
TBConsulting identifies the systems, workloads, data storage, and applications within your digital environment to optimize the path to greater efficiency. We help businesses develop forward-thinking strategies to help secure valuable data and limit the risk of cyberattacks.
If you would like to learn more about how TBC can address current organizational needs, please schedule a 30-minute consultation with one of our security experts today!