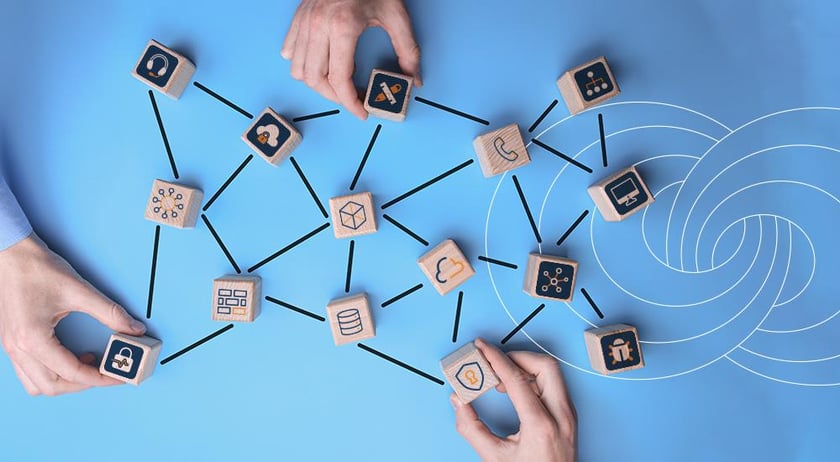 Are you having trouble dragging everyone back into the office, where the traditional security controls are easier to manage? More than likely, your post-pandemic office strategy means accounting for a hybrid workplace – and expanding your security coverage across multiple locations and network-connected devices.
With a workforce now well adapted to remote work, application-based collaboration, and productivity unrestrained by attempts to dodge rush hour traffic, organizations still rely on endpoint management and cybersecurity solutions to connect employees and protect business operations.
Why is securing multiple devices (laptops, phones, tablets, desktops) so hard? Because everyone, from the lowest level employee to the highest paid executives, wants to get their work done using familiar processes in the fastest way possible. And sometimes, that opens a can of cyber worms!
With the number of ransomware attacks endlessly rising, the size of your business is separate from your targetability. You may think that small businesses are the worst offenders for unsecured endpoints because half of all small businesses are woefully unprepared for a cyberattack. But recently, a U.S. Federal agency fell victim to a ransomware attack—perpetuated through a known, three-year-old vulnerability.
If a single ransomware attack, like the one on Colonial Pipeline, can impact an entire nation, then you can assume that a data breach on your modest-sized company will affect every one of your clients. And you may not have the resources available to recover as Colonial did.
What is Endpoint Management?
Endpoint management (EPM) is a risk detection, application deployment, and patching system where various hardware types (e.g., desktops, laptops, and servers) are controlled and actively managed. Endpoint management can be an on-premise, hybrid, cloud-based, or public cloud-based offering.
Cloud-based Endpoint Management is a solution that uses on-premise resources, cloud-driven automation, and security monitoring of virtual endpoints (i.e., hybrid work devices) to give hybrid and remote workers access to applications and data they need to remain productive. Many organizations find endpoint management too complex and resource-draining; thus, it is often outsourced to an IT Solutions Provider.
Endpoint management tools use centralized management, reporting, compliance automation, and deployment automation within a cloud environment.
Whether on-premise or in the cloud, complete end-to-end management coverage can help companies with patching, app deployment, integration, endpoint security, imaging for operating systems, and firmware updates. If you need the extra protection of threat hunting, vulnerability management, and managed incident response – invest in xTDR (Extended Threat Detection and Response) for maximum endpoint protection.
Why do you need Endpoint Management?
Complete visibility into the status of your applications, data points, and connections promotes confidence and responsible security. With EPM, you get all those features plus data analytics to help evaluate performance metrics. In addition, corporate policies and compliance standards can be easily implemented across the company network.
Maybe John Donne was far ahead of his time in A Valediction: Forbidding Mourning, and we can imply that the bond of love mimics a beautiful endpoint management solution. EPM is one system with multiple devices, always joined by a digital tether that maintains connection despite locational differentiation.
With EMP's centralized management, the distance between devices and your server merely expands your in-house capabilities, boosting operational efficiencies. EMP is the golden link between security and remote workforce productivity.
How can EPM address Security Concerns?
Because 68% of successful breaches start at an endpoint, it is critical to enforce endpoint security as if your business depends on it. Endpoint risks include cyberattacks via phishing, DDoS (Distributed Denial of Service), ransomware, malware, and malicious social/mobile links. In addition, unpatched devices and systems are significant vulnerability risks to your core business processes.

Open endpoints are easy targets for hackers. Organizations are constantly expanding their digital footprints with additional data that must be secured. Many organizations use multiple cloud environments to tool up for remote workforces and have forfeited in-office security policies. A robust EPM solution can alleviate security concerns at endpoints if properly implemented and consistently monitored. EPM solutions must detect, protect, and prevent cyberattacks across an ever-expanding IT environment.

Hybrid work policies have expanded threat vectors. If a hacker infiltrates a single remote laptop, they can access an organization's network, files, and sensitive data, potentially paralyzing the business. With over 15.14 billion Internet of Things (IoT) devices available in 2023, an equally large number of cyberattacks is expected.
In-house IT resources often lack the expertise to use endpoint management tools properly, and 61% say they cannot protect every endpoint against security threats using their available tools. Companies that struggle to track, update, patch, and secure all devices connected to business networks often turn to IT Solution Providers to secure endpoints and prevent extensive downtime. A trusted IT Solutions Provider can integrate with customers' existing CCM investments, transforming them into robust solutions that maintain security and boost productivity.
How can EPM Increase Visibility?
Obtaining a complete view of all endpoints is one way of improving visibility and asset management. Endpoint management can often detect issues in real-time, while responding to threats in a timely manner.
The ability to secure various devices and operating systems balances proactive and defensive strategies. When there is a single source of truth, there is greater visibility, and the employee experience will benefit tremendously from consistent oversight.
How can EPM Build Resilience?
Corporate-owned and managed systems can be deployed to a distributed workforce. As employees add personal devices to the mix—each one must be incorporated into the safety of the network using corporate-approved policies, software, and security measures through automated, cloud-based processes.
Security features embedded in an endpoint strategy become increasingly scalable with automation. Patches, updates, imaging, and app deployment can be managed from a central platform instilling resiliency into the network using a comprehensive management solution. A single dashboard makes it easy to see redundant tool functionalities that can be identified and eliminated. Utilizing reporting and role-based user profiles effectively allows IT leaders to control user access to internal systems.
Endpoint management solutions are tied to business outcomes. IT Solution Providers work with executive leadership and IT teams to incorporate the organization's technology and operational strategies into the business continuity plan. Implementing endpoint management solutions helps address the challenges of unpatched endpoints, security risk, remote accessibility, deployment of applications, and remote shutdown of rogue or compromised accounts.
Let TBC Manage your Endpoints
TBC, an IT Solutions Provider based in Scottsdale, Arizona, works closely with clients to provide comprehensive infrastructure and security solutions. TBC can manage your IT ecosystem within the hybrid cloud to improve visibility. TBC can assess and run discovery on your environment to identify security gaps, incorporate existing toolsets effectively, and monitor endpoint management devices at scale.
TBC identifies the systems, workloads, data storage, and applications within your digital environment to optimize the path to greater efficiency. We help businesses develop forward-thinking strategies to help secure valuable data and limit the risk of cyberattacks.
Interested in learning more about endpoint management within a hybrid cloud environment? Visit tbconsulting.com/xTDR or speak with one of our security experts today.