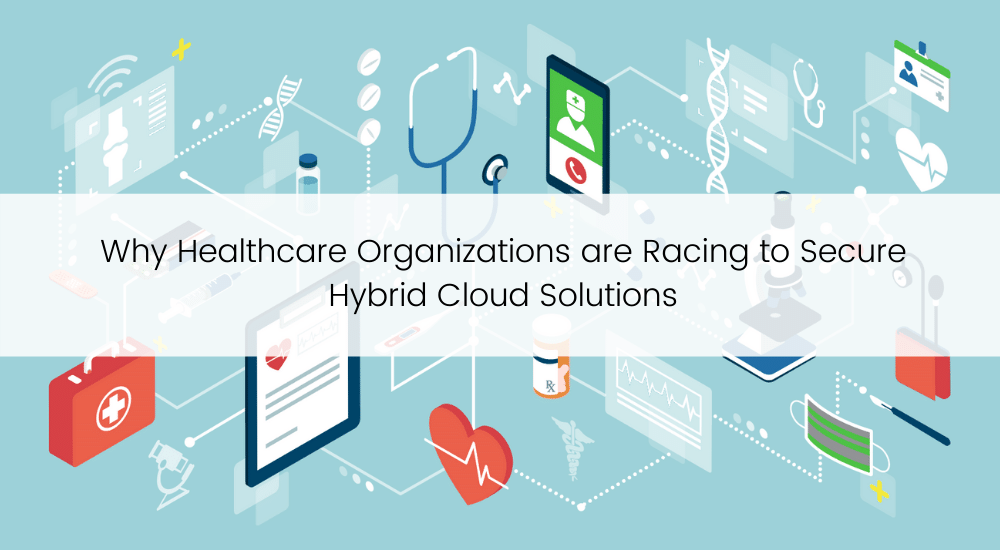 Cloud computing has helped transform how companies and organizations do business amid today's technologically advanced landscape. In the past, most companies relied strictly upon private data centers, but virtualization and cloud technologies have drastically altered IT infrastructures.
Many organizations strive to maximize the benefits of both public and private cloud environments, making hybrid cloud solutions a popular solution for healthcare companies as they modernize their IT environments.
Healthcare organizations are particularly susceptible to data breaches and security risks—meaning that the hybrid cloud is a key enabler of transformation along their journey. Healthcare organizations must identify IT solutions ranging from HCI-powered private clouds to finding ways to effectively bridge private and public cloud environments while keeping security and cost factors top of mind.
Let's take a closer look at why healthcare organizations are racing to secure hybrid cloud solutions.
Top 3 DX Challenges for the Healthcare Industry
Nutanix recently released key study results identifying three digital transformation challenges within the healthcare industry. Among them include:
Security: over 58% of healthcare respondents claimed that security was a significant challenge.
Compliance: healthcare organizations must practice due diligence when it comes to protecting personal information and records. Failure to comply with various federal regulatory bodies, such as the Department of Health and Human Service Office for Civil Rights, can result in patient data mismanagement while eroding public trust and undercutting company value.
Each of these issues remains a top-level concern for healthcare executives, but each challenge can be addressed using smart and managed hybrid cloud solutions.
Addressing the Challenges
Although these and a number of other challenges exist for healthcare companies, using a capable IT partner can solve each of these issues. Creating a thoughtful Hybrid Cloud strategy uniquely aimed at the healthcare industry can mitigate each of these concerns.
Hybrid cloud has been proven to be a highly scalable, flexible, and responsive solution for healthcare organizations. Healthcare companies must manage and address increasing pressures of rapid machine adoption, increases in big data usage, and the demand for interoperability between institutions and various locations.
Optimization of Digital Care
The healthcare industry—like many others - has pivoted throughout the pandemic by offering remote care services in response to changing times. Cloud technologies have enabled telehealth and remote work capabilities, but there are still ongoing concerns about security of patient data, the responsibility of protecting PPI (Protected Personal Information), and how data is stored and transferred between hospitals, care facilities, physician groups and medical labs.
To many, digital care is a new world that provides immense possibilities for patients but may lack the security of in-office visits.
Standardization of Risk Management
Leveraging hybrid cloud strategies can build redundancy and protection in data backup. Recovery protocols can help protect data in the case of cyber attacks, while minimizing downtime and the impact on business and care operations.
Bridging the gap between disparate data sources can improve hybrid cloud capabilities while leading to a higher level of accessibility of patient information gathered from labs, pharmacies, physician practices, hospitals, and more. Each of these users must have access to the most current medical information while being confident in prescribing sound care recommendations.
Establishing Regulatory Compliance
Due to the stringent implications of HIPAA violations related to security breaches exposing protected patient data, leveraging regulatory compliance across technology is more manageable with the help of Hybrid Cloud solutions and mandatory employee security training. With properly managed hybrid cloud security protocols, and a solid understanding of where to run workloads and store sensitive data, patient records are far more secure in the cloud than PPI files stored on a medical practice's laptop, or isolated in an on-premise data storage facility.
How TBC Can Help Healthcare Organizations Secure Hybrid Cloud Solutions
Hybrid cloud adoption across the healthcare industry will inevitably shape how patient care is delivered under more secure and compliant frameworks—while valuing patient privacy, efficiency, and security.
With nearly 25 years in the IT industry—TBC provides broad business management expertise. Using "as a service" models customized to the unique needs of the healthcare industry—organizations can rely upon support through the rapidly changing demands of delivering patient care, efficiently and effectively.
TBC manages technical intricacies of healthcare organizations using rigorous standards required for compliance. Our IT teams are highly qualified to manage and support so you can focus on providing the best patient care available. TBC's white-glove service and partnership powers the backend technology needed to ensure the care and trust deserved by patients.
For more information about how TBC can help to support the needs of your business's schedule time with one of our certified solution experts for additional information.