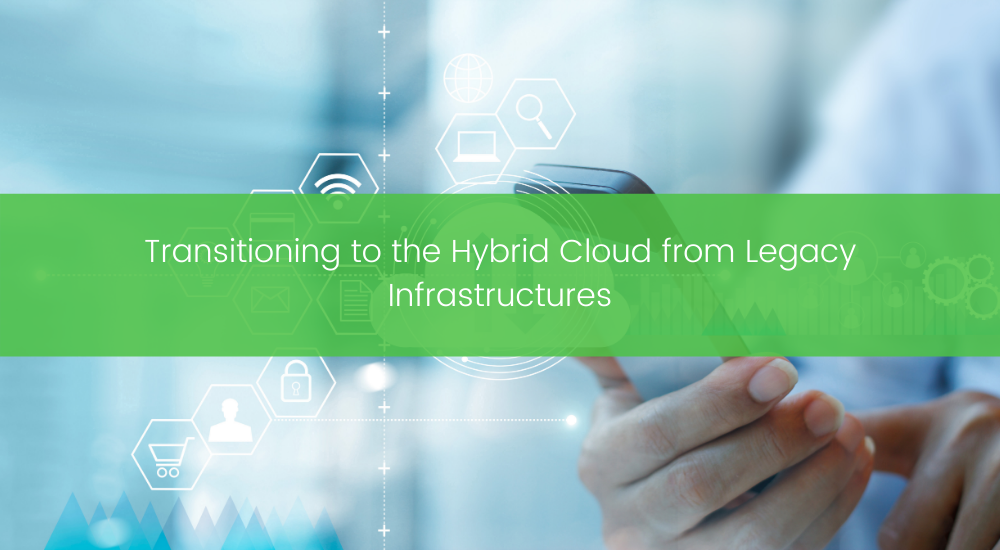 Companies that embrace and encourage change are best positioned for sustained growth and success. Adopting new digital solutions is one way businesses can reach and achieve long-term, strategic excellence in the marketplace.
Objectively reviewing existing legacy systems before transitioning to the hybrid cloud can help a company assess current digital infrastructures. If you discover that countless hours are spent managing IT services with outdated and unpatchable systems—your organization's financial future may be in jeopardy.
Analyzing security and performance metrics can help companies determine if digital areas are underperforming or if upgrades may be warranted. A recent stat has shown that over 93% of CIOs have declared digital transformation a top priority for capitalizing on customer experience and business engagement.
Achieving Success by Pivoting
Organizational inefficiencies can force a thriving business into a perpetual state of mediocrity. Successful companies do one thing better than everyone else—they adapt to change and pivot their objectives and goals, as necessary.
Forward-thinking organizations are leveraging the hybrid cloud to improve flexibility, availability, and security of data and workflows. Over 67% of manufacturing CEOs have proclaimed agility as the "new currency of business; if we're too slow, we will be bankrupt."
Using outdated legacy system technologies can leave employees and IT teams frustrated due to downtime and inefficient workplace applications. As a result, employees may turn to DIY techniques which heightens security risks.
Controlling workflows and data access with a powerful centralized tool can improve efficiencies while minimizing security risks. Forrester has found that "Enterprises are just now starting to use the cloud for modernizing core business apps and processes." Hybrid cloud options help companies promote agility, meet customer demands, and encourage employee collaboration across teams.
Making Security a Top Priority
The hybrid cloud is a resilient tool that helps minimize disruptions, disasters, outages, and service interruptions. It provides employees the ease and flexibility of moving between workloads fast and efficiently as a digital solution.
Hybrid cloud solutions eliminate archaic hardware dependencies by moving applications to secure virtual environments. The COVID pandemic crisis has further shifted the move towards remote work spaces. With many employees working from home for the foreseeable future, cloud and cybersecurity services continue to increase drastically.
Using the Hybrid Cloud to Encourage Digital Transformation
Digital transformation has become an absolute necessity in today's tech-driven society. Users benefit from cloud services as they provide faster service, enhanced accessibility, and secure data transfers.
Whether companies seek increased data storage capabilities or improved security infrastructures, the hybrid cloud can help companies achieve various strategic goals and objectives. Deloitte has found that digitally mature organizations that embrace digital transformation have experienced vastly higher revenue growth and profit margins. Companies should view digital transformation as a company investment towards future growth and success.
More companies are continuing to transition to hybrid cloud solutions, but currently, only 20% of enterprise applications reside in the cloud. Organizations that utilize cloud services can benefit from competitive advantages, reduced security risks, and improved customer satisfaction ratings.
Partnering with TBC to Encourage Innovation
The reality is, digital transformation is complex and requires constant attention throughout the lifecycle of your business. TBConsulting is a managed services provider with a specialization in IT systems, software, data storage options, security monitoring, and strives to be a valued partner helping organizations through their hybrid cloud journey.
We work with your organization's CIO and IT teams to assess the technological needs of your business. TBC identifies how to optimize your systems, workloads, data storage, and applications within your digital environment. We create solutions that enhance current cybersecurity infrastructures while preparing for enterprise data storage capabilities.
As a Cloud service provider in Arizona, TBC can help your business define modernization strategies as you transition towards hybrid cloud solutions. Learn how TBC can address current organizational needs by scheduling a 30-minute consult for additional information.