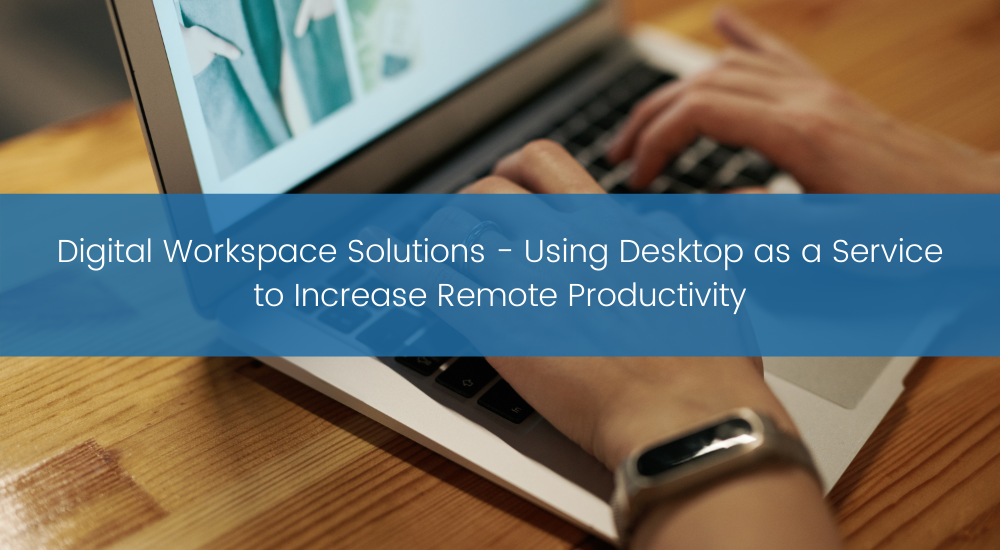 The pandemic crisis has forever changed professional office spaces. As more employees continue working remotely, there becomes a stronger likelihood that many may never return to conventional office spaces.
In fact, over 74% of businesses are planning to permanently move employees off-site in the post-pandemic era.
It's now become essential to initiate secure and flexible digital delivery support to employees working remotely. Desktop as a Service (DaaS) is a technology that allows employees to have the same capabilities and accessibilities on digital workspaces as in-office workers. As a cloud-based tool that operates similarly to a VDI—DaaS provides technological enhancements without unnecessarily high capital costs.
DaaS subscribers can use applications, workflows, and data to access all forms of cloud-based data.
What is a Digital Workspace Solution?
Digital workspaces provide employees with the freedom to work from any location and any time of day. As a secure environment—DaaS solutions maximize productivity by using public, private, or hybrid cloud services across multiple digital devices.
Research has found that 77% of remote workers use their personal devices to access work-related systems, increasing the chance of cyber attacks and other security vulnerabilities. DaaS solves this potential problem by allowing employees to access data securely from the cloud without storing data on personal devices.
Citrix defines digital workspaces as "integrated technology frameworks designed to deliver and manage app, data, and desktop delivery; allowing employees to access apps and data real-time—on any device, from any location regardless of whether information is stored through cloud services or at data centers." As such, DaaS has become a critical part of remote workforce success.
What Can DaaS Do for Me?
DaaS digital workspace solutions allow businesses to stay operational through times of disruption while also helping companies attract and retain talented employees. A study performed by Oxford Economics has shown that 69% of respondents feel that virtual work helps spur creative problem-solving.
With easy functionality through the cloud—DaaS helps to reduce the need for on-site infrastructure management. Companies that previously had DaaS in place before the pandemic were able to transition to remote work seamlessly. DaaS is continuing to help businesses manage employees resulting in enhanced user experiences equivalent to in-office functions.
Reducing Capital Expenses
DaaS can help control capital expenses as it's a less expensive option compared to hosting on-site VDI functions. Hardware, maintenance, upgrades, and compatibility issues are all handled through the cloud, allowing IT teams to better focus on other critical business initiatives.
DaaS is favored by SMBs and remote-workforce companies as it offers pay-as-you-grow scalability features with subscription-based services. The capabilities of DaaS are only continuing to expand as the global market is expected to grow to $1.2 billion as remote work capacity increases across businesses.
How TBC can Help with DaaS
If your business is looking to expand DaaS systems but not sure where to begin—look no further than TBC.
TBConsulting can help you optimize your systems, workloads, data storage, and applications within your digital environment. TBC provides fully managed DaaS solutions for companies looking to optimize remote workforces while alleviating the burden on in-house IT employees.
Together with our partners—we help build and fuel remote workforces using fully managed DaaS solutions. We help your business define forward-thinking strategies to help you transition toward a hybrid cloud environment.
Learn how TBC can address current organizational needs by scheduling a 30-minute consult for additional information.