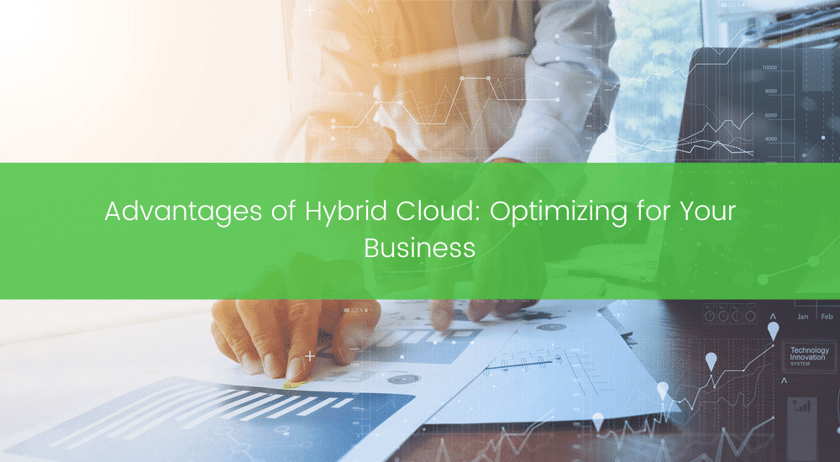 Moving to Hybrid Cloud affects all aspects of your business; it's not just an IT decision. As a business strategy to propel the needs for streamlined enterprise accessibility, it's responsible for efficiently managing various workloads and meeting customer demands.
Businesses tend to focus on the financial benefits of hybrid cloud operations, but customers tend to be interested in accessibility and usability. According to the 2019 Enterprise Cloud Index, over 85% of enterprises view Hybrid Cloud as an ideal model for IT operations. That's why it's essential to understand which cloud solution is best for your business model as well as your infrastructure.
Here are the best practice protocols for implementing Hybrid Cloud computing:
Keep your most sensitive data in private clouds or on-premise
Determine which data and workloads don't require high-security standards or high usage rates—these forms of data can be placed in public cloud databases
Integration of business-critical apps and workloads in cloud environments should be used to improve efficiency and increase productivity
Let's take a look at why many businesses choose to optimize their business using cloud-based strategies.
Why Transition to the Hybrid Cloud?
A Hybrid Cloud approach is customizable, and flexible, providing tremendous cost savings related to capital expenses. As a tool to improve compliance, security, accessibility, storage capability, affordability, and performance—hybrid cloud technology provides a pragmatic solution using a combination of on-premise and off-site cloud computing services that can help accelerate modernization initiatives.
Accessibility: Microsoft, Twitter, and Square are now allowing employees to

permanently utilize remote work

environments. The hybrid cloud enables a reshaping of the workforce with tools such as Desktop as a Service.
Security and compliance: The hybrid cloud architectural infrastructure helps organizations secure and manage work environments properly. In a world filled with numerous security and compliance issues—the hybrid cloud provides your organization flexibility when building your security infrastructure. On the other hand, public clouds are not exclusive, and security management is a mitigating factor to determine what applications belong where.
Scalability: Business operating models can be scaled up or down according to specific business needs while using Hybrid Cloud operating systems. Also known as the "pay as you grow," this model helps keep costs in line with other potential business opportunities.
More and more businesses are continuing to move towards cloud-based operations. Let's take a look at why it's a more critical solution now than ever before.

Why Hybrid Cloud is Important Right Now
The COVID-19 pandemic has caused a ripple effect of damages to businesses of all sizes. As companies moved from traditional office spaces to at-home work environments, the remote work landscape has changed significantly from a few short months ago.
Many companies are now permanently allowing employees to work from at-home office spaces. Cloud-based operations enable employees to fulfill necessary job obligations without having the need for traditional offices.
Adopting strategic cloud-based objectives is a necessary component for furthering business operations. Although more and more businesses are moving towards the cloud, some companies have pulled back from the cloud due to a misunderstanding of the capabilities of various cloud environments and misconfigurations. In 93% of cloud deployments, misconfigurations were found, which led to security gaps and unnecessary exposure of sensitive data. That's why you must have the right partner helping you with your cloud solution from the beginning.
How TBC Can Help with Hybrid-Cloud Strategies
TBConsulting provides the IT and business expertise needed to help businesses navigate when transitioning to the hybrid cloud. Building knowledgeable IT teams can be a struggle for many organizations, especially when it comes to good in-house teams.
At TBC, our IT and security teams practice due diligence to stay ahead of industry standards. If your business is struggling to develop IT initiatives to support growth and profitability—contact us to set up a 30 minute consultation with one of our experts to develop a path toward cloud optimization.
To learn more about how the Hybrid Cloud journey, check out some of our experts' recent articles.