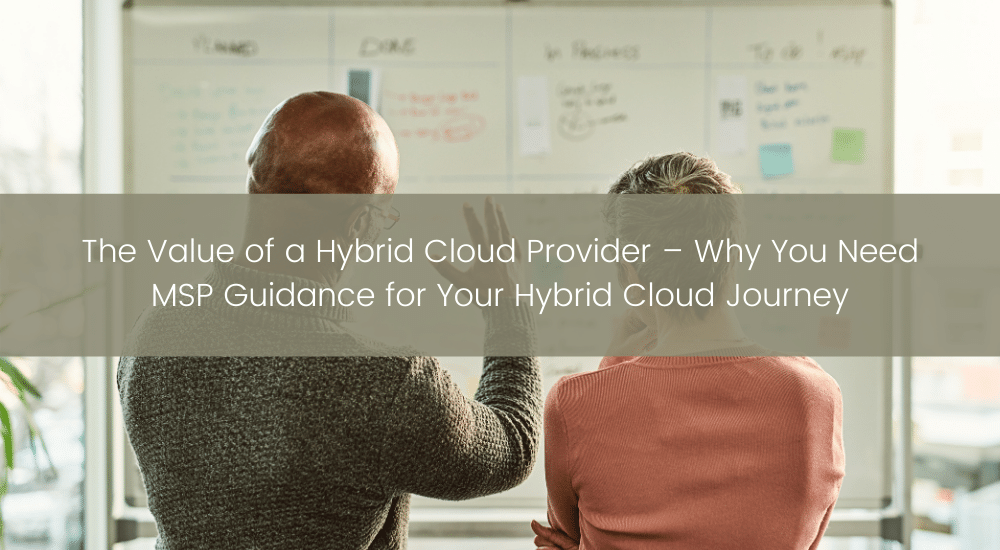 You already have a high performing IT team—why would outside advice be needed before embarking upon your Hybrid Cloud journey? The truth is 1 in 3 cloud deployments result in failure, due to inexperience and a lack of business-wide adoption of cloud processes. Businesses should hyper-focus on cloud migrations as a core business strategy.
IT teams should not be blamed for business inefficiencies within your organization. Leaders of companies should begin cloud migration initiatives with an understanding that cloud adoption is a key driver of growth, and can also eliminate some systematic headaches.
Let's dive into how managed service providers can provide the guidance needed within your hybrid cloud journey.
Establishing Proper Guidance
Embarking on the Hybrid Cloud journey without proper guidance can be dangerous for IT teams unfamiliar with cloud deployments. The journey to hybrid cloud may become a haphazard road of difficulties if strategic plans aren't initially created to map the critical steps necessary to achieve business goals.
Cloud suitability, performance and security must be determined for each application and each mission-critical workload as well as acknowledge the sensitivity of each data classification level. Cloud readiness is often overlooked when pressure builds to digitally transform, but it is important to understand the interdependent relationships between data and applications before migration. Not all applications may be suitable for use within the cloud.
Challenges Businesses are Facing
The pandemic has been an ongoing catalyst for change within workplace environments. A recent IDC survey reports a decline in overall IT expenditures by 5.1%, but highlights that infrastructure budgets have increased and most CIOs are increasing investment in cloud, according to Gartner. Businesses are realigning their budgets in an effort to control costs while maximizing resources to help meet demand.
The business's future is always the top priority and migration challenges must be assessed and mitigated using careful evaluation procedures. Make changes that will positively impact your business. Processes should be evaluated and prepared in advance of implementation.
The risks and opportunities associated with the cloud must be evaluated while giving credence to hybrid cloud approaches for the best environment for individual needs (e.g. on-premise, private cloud, or public cloud). Without proper preparation, businesses are at risk to join the 74% of IHS Markit study respondents who migrated applications to the cloud, only to end up pulling them back later.
Achieving Proper Balance
The appropriate cloud model may appear different than your competitors. Businesses must balance cloud capabilities using suitable resource capacity and goals. The cloud can be equated to a bicycle wheel axle, with each spoke being framed by business needs while connected to the central Hybrid Cloud components.
The so-called wheel spokes are business priorities, including security, data backup, costs, user interface, reliability, data analytics, and accessibility. Additional priorities that support the need for an interdependent business structure include compliance, support, maintenance, and profitability. Each of these individual components must be accurately balanced to meet the increased demands of an organization's framework of efficiency within the Hybrid Cloud.
Using the Right Guidance
The success of cloud migrations are dependent upon the quality of your plan. Initialize hybrid cloud transformations using tried and tested Data Backup and Recovery and Desktop Virtualization solutions first. Each of these help to magnify remote capabilities while adding value to the business.
Technological innovation moves at a rapid pace that many organizations struggle to keep up with. As the IT talent pool continues to shrink, many more businesses are turning to managed service providers to help support and secure IT environments and to optimize performance of digital assets.
Experienced managed IT service providers are able to help you understand the various complexities of using multiple cloud offerings while best optimizing applications and workloads. The critical component of data application/workload interdependency must be investigated before cloud suitability is determined. This is an essential component of the hybrid cloud journey to save the time and costs associated with performing reverse migrations.
Invitation to Join TBC for a Live Webinar
Be sure to join us for our TBC Tackles Tech webinar, where HCI, cloud, and cybersecurity experts will be discussing the top 5 strategies for accelerating your move to the hybrid cloud. Just click on the invitation below to register for the webinar. If you cannot attend but would like to access the recording—please register, and we will contact you.