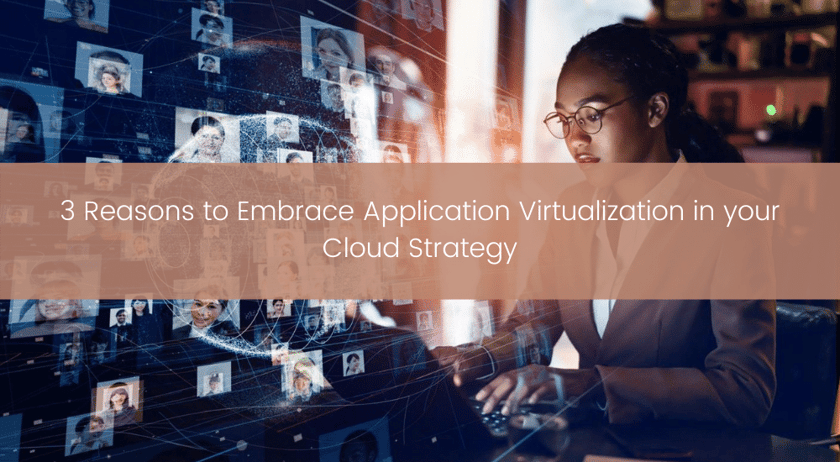 Application Virtualization, also referred to as Remote Apps, is a server-based computing solution for providing applications to the end user. This solution is important for developing remote workplace capabilities. The applications live in the data center, and are delivered via remote protocol. By using Virtual Applications, most in-office applications, as well as security standards and authentication procedures, can be seamlessly replicated to ensure a productive experience for the remote user.
Application Virtualization represents a powerful connectivity tool and a critical component of virtual business infrastructure environments to bridge the remote workforce challenge gap. The ongoing pandemic crisis has triggered projections of a CAGR of 13.67% for the application virtualization market over the next five years.
By leveraging responsive remote access to applications, businesses can support operational efficiency and on demand capabilities while catering to work from home environments. Data and software are accessible through a data center, and are available to the end user through an internet connection. Security protocols and authentication access requests are still enforced based on user groups to ensure employee accessibility standards are maintained throughout the organization.
Let's take a look at how companies can utilize application virtualization as part of their hybrid cloud strategy.
Building User Confidence
Application virtualization is a tool that businesses can strategically use to help fill the gap left by lean IT resources. User authentication policies and procedures and resources can be centrally managed by experts at the data center level while offering a wide variety of integrated solutions to the company and simultaneously achieving excellent customer value.
Employees and other users can be afforded the comfortability of seamless work productivity at any location. Using application virtualization—computers can display the same look and feel as most traditional software interfaces found in offices. By providing the stability of a mirrored experience, businesses can save time and money while simultaneously heightening user confidence and productivity.
Increasing Security
With premium application portability and access across personal and company-issued devices—security continues to be a high priority concern. Application virtualization helps organizations employ a heightened security model of constant monitoring as highly sensitive files are encrypted, and access is limited by user role.
Security of user data and applications is a top priority and the benefits received can help meet and exceed monitoring performed by in-house IT teams. With the help of specialized virtualization teams—companies can instantly respond to security threats such as stolen equipment or even rogue employees.
Saving Time and Money
Many businesses may fall under the false assumption that using managed service providers for application virtualization can be cost-prohibitive. The truth is, using an MSP to implement cloud strategies may help reduce expenditures. Consider your budget for infrastructure, energy consumption, hardware, storage capacity, and downtime — cloud solutions may be able to reduce company spending capacities significantly.
The central management and security of applications in a virtual environment can be a more efficient strategy when compared to traditional IT staff who manually manage software and hardware in an on-premise environment. If your business is struggling to embrace application virtualization—it might be time to partner with a provider to help guide you through the transition.
Creating your Desktop Virtualization Strategy with TBC
TBConsulting is a managed service provider with specializations in desktop and application virtualization solutions, data storage options, security monitoring, and more. We work alongside your organization's CIO and IT teams to help you manage IT operations. Whether you're back in the office or working with a remote environment, TBC can offer responsiveness, scalability, and attention to technical solutions that fit your unique business needs.
Not sure if application virtualization is the right strategy for your organization? That's ok; our experts are here to work with your organization and guide you based on your workforce environment.
To learn more about how TBC can help address your current organizational needs, please schedule a 30-minute consult to talk with one of our desktop virtualization experts.