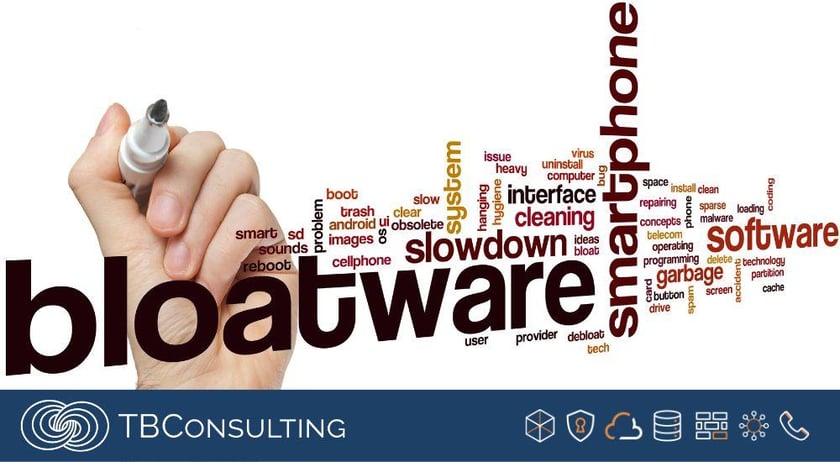 Is bloatware that much different from hoarding? Watching a show like Hoarders is downright fascinating—people compulsively gather things they believe are useful—shiny things they're convinced they "need." But those same things end up in piles, unused, ignored, and eventually become hazards.
Bloatware is all those software features and functions and IT applications that could have been and should have been useful—but instead sit idle and end up wasting the United States $10M per hour, per day in productivity. Why?
What is Bloatware?
Bloatware is hardly a new concept. It has been creeping into all things digital since the first PCs were mass-produced. And it deserves your attention if you want to maintain high-performing devices and networks, keep your staff productive, and manage cyber risk.
Think about how many preloaded applications are on your laptop right now. And even on your phone. Think about how much time you waste moving between multiple applications to do your job, communicate, and manage workloads and timelines between projects. And when the manufacturer or company apps don't seem to be getting the job done, employees may download more solutions to improve efficiency or simply because they are peer-recommended.
How many platforms do you continue to pay for but rarely, if ever, use? How many software licenses do you hold? How many of those provide value to your daily work? How many of your tools are redundant?
Bloatware is all that extra 'stuff' that slows down your network performance, wastes time, and drains your battery and available memory. Not only does it hold zero value, but it can also be detrimental to the health of your IT environment.
Risks of Tool Sprawl and Bloatware
Did you know that organizations use an average of 76 tools for cybersecurity alone? This does not make your environment safer--instead, it opens vulnerabilities, increases time to detection, and exhausts security professionals trying to protect and defend your business.
What about project management tools? Does each department have its 'favorite' one? If the tools are not integrated, important deadlines may be missed.
Did you jump on the Zoom and Slack bandwagon for internal communication during the pandemic, knowing that you are already paying for Teams with your Microsoft 365 licensing? That's bloat.
Habit, comfort, and the need for more time to research and discuss IT solutions are key contributors to the consumption of valuable resources, financial waste, tool sprawl, and bloatware.
Simplify the Complexity of your Tech Stack
Have conversations with your teams. What do they need? What software and services do they use daily? What software is the most user-friendly and gets the job done? Is there a better alternative to streamline all the functionality you need onto one platform?
The impetus for simplification may come from your Chief Financial Officer (CFO), who needs to see the value in paying for redundant and underutilized software subscriptions. An honest evaluation of your most productive software can identify the tech sluggards and target them for elimination. You may find that you don't even need the latest and greatest tools. You can manage and even excel without the extra bloat and expense.
But if you have IT managers with a hoarder mentality, those who are distracted by the 'potential' of point solutions, show them how much more efficient they can be using the right processes with the right tools. The more IT complexity you manage, the more vulnerable you are.
Hackers love lurking around in your unpatched extras – working to gain access to your network. All that pre-installed software and individually downloaded applications are entry points into your network, especially when employees work from home, using their own devices. Even when your employees are in the office and working on company-issued computers, bloatware contributes to the time lost when employees need to refocus and realign themselves when working between different apps to get a single job done.
Tips to Relieve the Pressure of Bloatware
While no one platform or solution will solve all your IT problems, try to consolidate for functionality and efficiency. If 89% of IT professionals are wasting time on bloatware, you can expect an even higher percentage of sluggish behavior from your non-IT employees. There will be pushback from employees while they adjust and learn, but these short-term discomforts will lead to long-term gains.
Consult with your IT team to:
Uninstall/remove software, tools, and services that don't contribute to growing your revenue or delivering cybersecurity.
If you can't integrate currently siloed tools—get rid of those wasteful products.
Engage a qualified MSP to run an IT health assessment on your environment to identify areas of bloat.
Consolidate vendors to reduce risk and streamline costs.
Implement an asset management program to bring visibility into redundant resources.
Don't be afraid to analyze, prioritize, then eliminate software in your operating system that does not meet your demands.
Get Professional IT Help to Reduce Discomfort
When you already have too much on your plate but are looking for dessert, you might be a hoarder. When enough isn't enough--and you find a newer, better, faster, stronger app that promises to take your company to the moon and back, you might need professional IT help to evaluate the bloat in your environment before you spend any more money.
When you can't enforce compliance standards across your workforce and are afraid of audits, you need a Managed Services Provider (MSP) to help bring visibility into your IT. TBC is an MSP with over 25 years of experience delivering and integrating IT frameworks to drive efficiency and profitability, meet your business goals, and help relieve your bloatware and streamline your business processes.
TBC's global footprint and Phoenix-based headquarters make TBC well-suited to guide your strategic IT decision-making. Our IT management and support services are backed by decades of IT intelligence, risk management experience, continued education, vendor partnerships, and a commitment to white glove service.