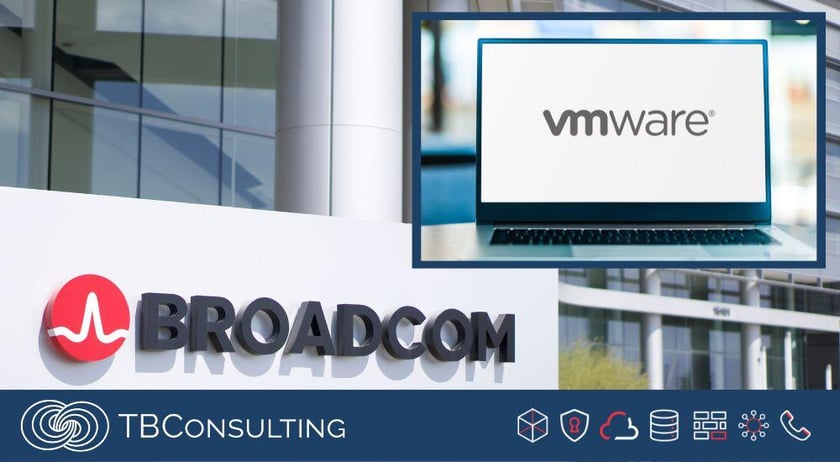 Everyone may be jumping the gun, worrying about how Broadcom's acquisition of VMWare will impact their organization. The acquisition, announced in May 2022, is still under review by the Federal Trade Commission and the United Kingdom's Competitive Market Authority to determine if the merger will "result in a substantial lessening of competition."
If cleared, Broadcom expects to finalize the deal in October 2023 to "bring together two engineering-first, innovation-centric cultures." VMWare's multi-cloud stack is an attractive investment that would complement Broadcom's hardware-heavy stack.
This deal is considered one of the most significant tech acquisitions of all time.
The Value of VMware's Technology
VMware recognized initially as a virtualization giant, has innovated itself into a hybrid and multi-cloud computing platform provider of network, security, and data center software.
Consumers want to see that businesses are confident in their security posture so they can believe their data is safe. Stay out of the headlines to build consumer confidence!
Broadcom designs, develops, manufactures, and distributes communication chips, semiconductors, and infrastructure products. Broadcom has acquired companies (like CA Technologies and Symantec) to expand its enterprise software portfolio.
But Broadcom is also known for buying up entire companies to expand their portfolio and capture more tech market share.
VMware CEO, Raghu Raghuram, says that Broadcom values VMware because they want to become a "leader in infrastructure software and have the richest portfolio of software in infrastructure and management."
The Acquisition
Let's imagine that the $61 billion sale gets approved. Now what?
Broadcom wants VMWare to be its software division, and Broadcom will retain the hardware division. Broadcom's previous CA Technologies and Symantec acquisitions have resulted in customers complaining about substantially higher costs and lower-quality customer service. Given Broadcom's pattern of behavior, current VMWare customers are rightfully concerned.
The acquisition "has significant integration risk and Broadcom must prove that it can integrate a silicon, software, and services story," says Bola Rotibi at CCS Insight's Software Development. 'Integration' issues aside, customers have high expectations for VMware's hybrid multi-cloud management platform and have come to rely on quality customer service experiences – service they can only hope Broadcom will continue.
To increase VMware's profitability from $4.7 to $8.5 billion within three years, Broadcom will replace VMware's perpetual licensing model with a subscription-based model. Still, more is needed to deliver that kind of payload. VMware customers are worried that they will pay higher costs for less service.
Evaluation before October 2023
The Chairman of the VMware Board, Michael Dell, assured customers that the acquisition would bring even greater innovation to its customers. "Together with Broadcom, VMware will be better positioned to deliver valuable, innovative solutions to even more of the world's largest enterprises. This is a landmark moment for VMware and provides our shareholders and employees with the opportunity to participate in meaningful upside."
If you are a current VMware customer, reevaluate your licenses to determine if they are currently maximized--then you can determine whether to eliminate some licenses. If you are afraid of losing your shirt post-acquisition or want to know what your peers are doing in this situation, you may need to reach out to a trusted Solutions Provider for advice on navigating the changes.
For large VMware customers, for whom it may be too difficult to transition out of the VMware ecosystem, it may mean properly navigating the change to ensure the best licensing value and product investments while remaining cloud intelligent.
Navigate the Change with TBC
TBC, an IT Solutions Provider with Managed Services offerings based in Scottsdale, Arizona, has been working with our clients to help them prepare for potential disruption to their VMware licensing. Evaluating your options now, instead of in crisis mode later, will leave you better prepared to protect your bottom line if the deal closes.
TBC serves the enterprise market with Data backup & Disaster recovery, Cybersecurity, Unified Communications, ITSM, Systems Infrastructure, and Network Management solutions. Our 24/7/365, US-based IT Operations Center delivers service excellence and expertise to manage any incidents that arise. With TBC as your Solutions Provider, you can rest easy knowing your critical infrastructure is high performing and secure to power your business growth.