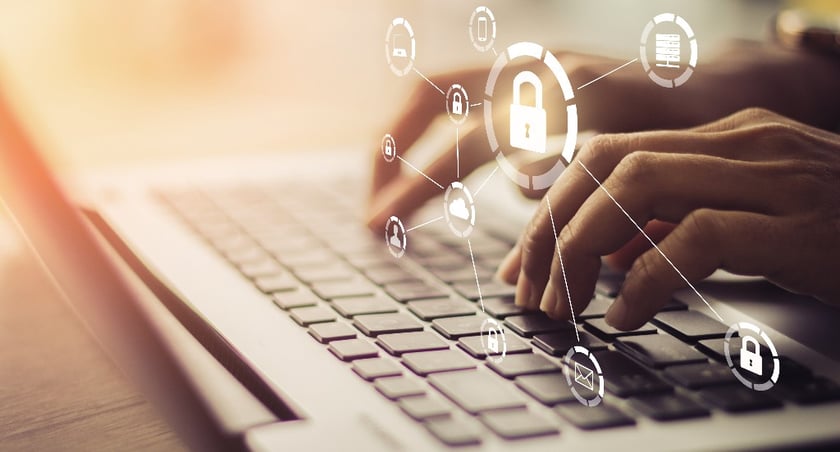 In today's expansive digital age, enterprise organizations are faced with a number of challenges related to cybersecurity. The broad-based adoption of cloud and mobile technologies has compounded the risk of cyber attacks at an exponentially growing rate.
Cybersecurity incidents have the potential to impact every element of your business. When cyber attacks occur, they can slow down operations making it challenging to keep pace with competitors. Focusing on strategic initiatives can seem impossible if key personnel are allocating manpower and resources to cyber attacks.
Familiarity with cybersecurity should resonate far beyond IT teams and technical positions. High profile decision makers are also attempting to become subject matter experts. A study found that 80% of CEOs claim to possess high level knowledge about cybersecurity issues and Forbes rated it as the number one business priority for leaders. Effective cybersecurity protection means creating a familiarity within your enterprise from the bottom up.
Here's some common human-related cybersecurity risks most executives tend to miss.
1. Your Visibility and Special Access to Systems Leaves you Vulnerable
Effective leadership means instilling values in your employees, minimizing risks, and putting the best interests of your people first. As the face of their organizations, leaders are either praised for success or scrutinized for failure. However, your stature and position can make you susceptible to cyber attacks.
Many executives unknowingly have a target on their backs as the face of their organization. Cybercriminals can expose these vulnerabilities through a number of methods including phishing attacks, spear phishing attacks, and whaling attacks.
Typical phishing attacks occur when cybercriminals send emails throughout the organization as a means to obtain user access privileges. Spear phishing attacks are a more targeted approach in which cybercriminals pose as company financial officers in an attempt to access monetary accounts.
Whaling attacks involve using personalized messages that appear to be from someone the victim trusts. This form of malware sends the target sham documents in an attempt to steal passwords and other critical information.
To help minimize the risk of these threats, cybersecurity experts recommend limiting access to critical systems on a need-to-know basis. Creating a teaming environment with your IT department and fellow executives can help protect sensitive information and financial accounts.
2. You Haven't Taken End-User Security Training
Many employees view security training as simply another action item on their annual to-do-list. However, failure to understand and recognize the potential dangers of cybersecurity can lead to devastating consequences.
A recent report found that 87% of executives cite untrained staff as their greatest cyber related business risk. Providing employees with the appropriate tools needed to spot potential threats is critical to maintaining lofty security standards.
Formalized security training and testing should be taken on an annual basis. Upon completion, employees should also sign documentation citing their understanding of cyber related policies.
Closely work with your CISO and HR leadership to institute ongoing mandatory security training for all employees regardless of tenure or position. Take the lead on security and work with fellow leaders to reinforce values and procedures.

3. You're Not Talking to Security Directly
All departments within an organization should synchronously operate together in a collaborative fashion. Leaders should encourage a steady flow of information with their cybersecurity teams to help build value and trust. Working directly with security personnel can ensure that critical information is not being filtered through one or more middlemen.
Creating a highly-skilled and motivated security team is crucial to organizational success. Work together on company objectives to ensure issues are handled in a timely and efficient manner.
Schedule regular meetings with your cybersecurity team to address current concerns and issues. Encourage transparency within your team while setting short and long-term goals within your organization.
4. You Get a Lot of Spam
A 2018 IT and cybersecurity survey found that phishing scams accounted for 67% of all cyber attacks. While the majority of spam is harmless, it may point to systemic issues within your email systems.
Although most spam is easy to spot, some can cleverly be disguised as seemingly legitimate correspondence. These emails can unleash harmful malware creating chaos across internal network systems.
A constant flood of spam can drastically increase your risk of cyber-related attacks. It only takes one click by a single employee to cause devastating effects rippling across your organization.
Instruct your security teams to closely monitor spam filtering within your organization. Providing organizational training to team members can minimize the loss of legitimate data while preventing the intrusion of spam.

5. The IT Department is in Chaos
Although the majority of IT departments are sometimes faced with long nights and early mornings—it should not be a regular occurrence. IT teams struggling to keep their heads above water can create a toxic work environment.
Stressed and overworked IT teams can lead to inefficiencies and holes within your security structure. Hackers may seize this opportunity to wreak havoc on network databases and systems.
IT and cybersecurity play a crucial role in the protection of company information and assets. Don't attempt to cut corners when it comes to IT expenses and be sure to spend money as needed. Your IT department should be able to control, prioritize, and manage workflows that closely align with your company's strategic objectives.
The problem is creating a team of highly skilled IT personnel can be difficult to build and manage. Creating processes, configuring systems, and establishing trust takes time and effort to accomplish. In the meantime, your business may be further exposed to potential security risks.

Using Security Monitoring as a Managed Service
Building a capable in-house team of IT and cybersecurity experts can be a daunting task. Entrusting the help of a managed service provider can help alleviate the stresses associated with information security.
TBConsulting's Cybersecurity Solutions can help your business stay ahead of potential threats and vulnerabilities with constant security oversight. TBC's services monitor and manage your security environment to reduce your risk, protect your data and free up your team to work on digital transformation initiatives that drive customer satisfaction and growth.
If you would like more information on other potential cybersecurity red flags, be sure to download our entire whitepaper: 10 Cybersecurity Risks Most Executives Miss for more information and support.