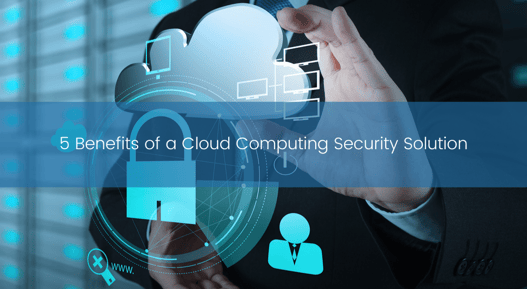 As companies migrate more and more of their data and infrastructure to the cloud, the question of cloud computing security becomes paramount. Cloud security provides multiple levels of control in a network infrastructure to afford continuity and protection. It's an essential ingredient in creating an environment that works for companies around the world.

The benefits of cloud computing can be affordably attained by partnering with advanced private cloud computing providers in a way that doesn't jeopardize your company's security. Here are 5 benefits of a top cloud computing security solution:
Protection against DDoS. Distributed denial of service attacks are on the rise, and a top cloud computing security solution focuses on measures to stop huge amounts of traffic aimed at a company's cloud servers. This entails monitoring, absorbing and dispersing DDoS attacks to minimize risk.
Data security. In the ever-increasing era of data breaches, a top cloud computing security solution has security protocols in place to protect sensitive information and transactions. This prevents a third party from eavesdropping or tampering with data being transmitted.
Regulatory compliance. Top cloud computing security solutions help companies in regulated industries by managing and maintaining enhanced infrastructures for compliance and to protect personal and financial data.
Flexibility. A cloud computing solution provides you with the security you need whether you're turning up or down capacity. You have the flexibility to avoid server crashes during high traffic periods by scaling up your cloud solution. Then when the high traffic is over, you can scale back down to reduce costs.
High availability and support. A best-practices cloud computing security solution offers constant support for a company's assets. This includes live monitoring 24 hours a day, 7 days a week, and every day of the year. Redundancies are built-in to ensure your company's website and applications are always online.
A top-level cloud computing security solution provides companies with the availability, reliability, and security they need to conduct business in a global marketplace. Advanced cybersecurity features combine with physical infrastructure to create a comprehensive, secure solution to your cloud computing needs.
TBConsulting recently released an important e-Book, How to Assess Cyber Security Risks & Ensure Compliance, that you can download here. This comprehensive resource covers risk assessment and cloud security facing many businesses today. Or contact one of our experts to discuss how we can help you with your security needs.