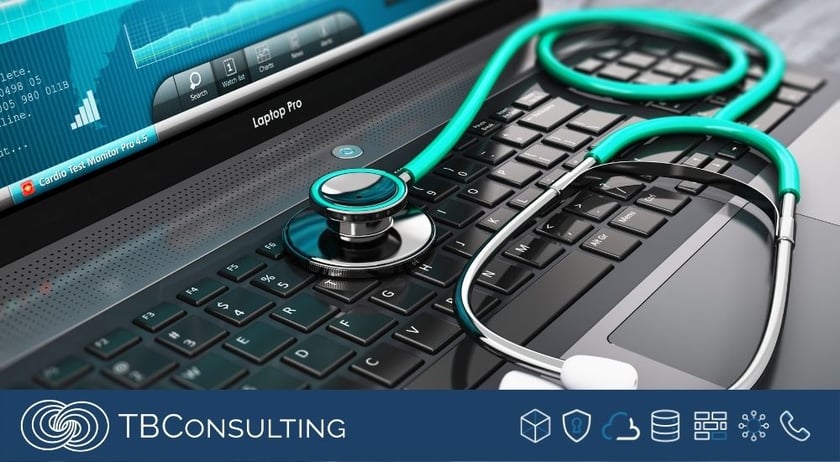 Healthcare organizations are a top target for cybercriminals but are twice as likely to suffer a data breach due to internal human error. Despite security threats, medical facilities must continue to offer care and even hope to improve patient outcomes by 95% with increased technology, data accessibility, and interoperability. With increased data sharing between healthcare providers meant to improve patient care, healthcare organizations must leverage additional cybersecurity strategies to increase cyber resilience.
Hospitals and medical service organizations are keenly aware that technical debt is adding up--that is, they are aware that compliance issues may arise from unsecured data-sharing ports and that there is a substantial increase in cyberattacks against medical facilities. But their hands are tied. 62% of doctors admitted that they had forced years-worth of digital transformation into months to implement the technical upgrades necessary to maintain medical business operations during the pandemic.
Cyber Resilience and Preparedness
Downtime is costly. Patient care is compromised. Ransom payments are outrageous. And to add insult to injury, payment of a ransom is no guarantee that sensitive data will be returned, or decryption keys will be delivered. In 46% of ransomware attacks, the returned data is corrupted and unusable, thus deepening your costs and downtime as you scramble to provide patient care without data.
There is no question of whether you will be attacked, but when; thus, being prepared is essential. Preparedness is a one-two punch delivered by cybersecurity monitoring and tested data backup and recovery solutions. The goal of creating a strategy for cyber resilience is to recover quickly after an attack, whether the damage is from a data breach, malware in your network, or a ransomware event. A solid data backup and recovery plan will protect your data from corruption against internal and external threats.
When you fortify your security defenses and implement and test data backup and recovery plans, you have a 96% chance of recovering quickly from a disaster. But it takes a lot of effort, strategy, company-wide buy-in, and expert advice from battle-hardened cybersecurity experts to avoid infrastructural bottlenecks caused by too many tech tools and not enough vision.
2022 Healthcare Cyberattacks
The U.S. Department of Health and Human Services Office for Civil Rights is investigating 53 separate data breaches between January 2-February 9th, 2022. The exposure of 2,432,865 records has been linked to unauthorized email disclosures, hacks into networks and servers, and theft.
Here is a list of the 2022 top 5 healthcare data breaches in terms of number of records:
Broward Health – 1,351,421records

Medical Review Institute of America – 134,571 records

Medical Healthcare Solutions, Inc. – 133,997 records

South Shore Hospital Corporation – 115,670 records

Ravkoo – 105,000 records
There is no pattern of attack, no single way to protect your perimeter. Cybersecurity should not be relegated to tools alone. Healthcare organizations need company-wide compliance and training to help secure their environments. Every user who has access to sensitive information or medical devices must commit to cyber hygiene and the principle of trust-but-verify.
HIPAA Compliance
Adherence to HIPAA compliance rules should structure how medical organizations collect, use, and store data. And even more importantly, medical care services should ensure the integrity, confidentiality, and availability of Personal Health Information (PHI) with secure mobilization of patient data and enhanced data management and security practices.
Following a breach of PHI, patients can be victimized further by targeted scams, fraudulent charges, and identity theft. A data breach does not only exploit patients and increase hospital liability concerns, but unmanaged endpoints and weak security monitoring allow criminals into your network to spread malware, gain access to administrative accounts, and can make systems inoperable.
TBC for Security Posture Assessment and Penetration Testing
TBConsulting, a Managed Service Provider headquartered in Phoenix, Arizona, is ready to help healthcare organizations build cyber resilience into their business operations. TBC has helped clients protect sensitive data and critical medical transactions with our 24/7/365 Security Monitoring solution. Many clients use our Hybrid Cloud-based Data Backup and Recovery solution to protect PHI and benefit from data redundancy to secure data viability to prepare for disasters, whether natural or human-made.
TBC can be your third-party Penetration Testing source to comply with HIPAA rules. But, for a deeper dive into your environment, IT teams, network, and application configurations schedule a Security Posture Assessment. TBC's certified and experienced security, network, and systems teams will report their findings and create a roadmap report for decisive actions you can take to secure your IT perimeter. TBC will help balance your technology needs and costs to improve your cyber resiliency so you can focus on business outcomes and optimize patient care.