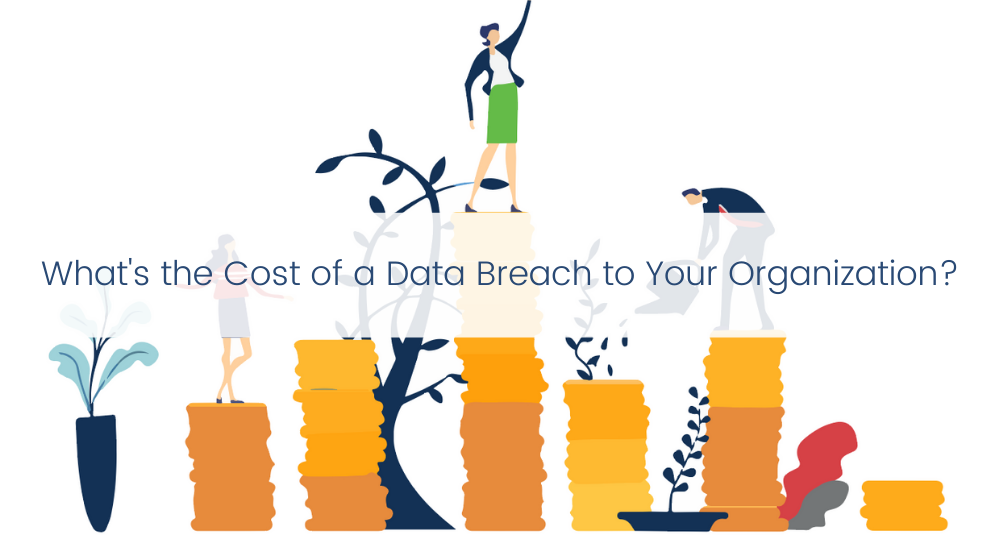 Data breaches have become commonplace for businesses of all sizes. Frequently we read news stories involving Fortune 500 companies, or even midsize organizations, experiencing data loss, file corruption, VPN exploitation, and ransomware - leading to significant financial damages. Alarmingly, experts predict costs related to cyberattacks will hit $6 trillion annually in 2021.
Small to midsize organizations often incorrectly presume they aren't large enough to be targeted. According to Ponemon's Cost of a Data Breach Report 2020, businesses experience losses at an average rate of $3.8M from cyber attacks.
You may be wondering how a single attack can result in such devastating financial damages? Data breach costs add up quickly, often leaving companies bankrupt or in fiscal despair.
Here are a few things to consider:
Understanding the Cost Impact of Operational Downtime
Many businesses fail to anticipate or plan for operational downtime - downtime all industries may experience at some point. Hospitals can lose valuable private patient records, banks may lose sensitive financial information, and manufacturers can lose their valuable intellectual property. Stolen personal identifiable information (PII) may trigger heavy fines for compliance infractions. According to Gartner, the true cost of operational downtime is over $300,000 per hour on average.
Cybersecurity risk is a universal concern, no matter the industry. Cyber attacks can shut down entire networks, causing widespread operational disruption, data loss, and revenue losses. Most industries rely heavily upon revenue streams directly or indirectly tied to technology—meaning all companies can be impacted.
Operations may be shut down for multiple days at a time until security experts can eradicate the issue. Companies already experiencing shutdown costs may incur additional expenses as they hire cybersecurity specialists to fix the problem and PR firms to mitigate reputational damage. The cost of a data breach can vary, but all businesses are susceptible to downtime and damage control.
How Ransomware Can Leave Businesses Financially Devastated
Did you know that 90% of all financial institutions have experienced ransomware in the last year? In fact, the global costs associated with ransomware are set to exceed $20 billion in 2021 alone.
When attackers infiltrate systems and cause widespread network damage, cybercriminals will demand high ransomware. But even if ransoms are paid, there is no guarantee that you will get your data back, and operations will return to normal.
Cybercriminals compromise security standards and can hold your organization for ransom indefinitely. Even if an attacker gives you access to your operations again, they have still infiltrated your security and remain present in your network. And nothing stops them from holding you ransom again. Technology standards should be in place to remediate issues to help ensure a return to normal operations.

How Data Breaches Cause Reputational Damage
In addition to financial loss, operational downtime, and other associated costs—companies experience damaged reputations as a cost of data breaches. When consumers don't trust you to keep their personal identifiable information and banking details protected, they will move to your competition.
While some IT security teams may fix and remediate messes caused by hackers, competitors may use this information to harm your reputation. News will spread like wildfire, causing distrust amongst your customer base.
People don't want to entrust their financial information and assets to questionable organizations. They don't want the burden of protecting themselves when their bank falls victim to a cyberattack. Monetary losses and reputational damage will force customers to leave businesses in favor of their competitors. Rebuilding trust can be a time-consuming and arduous process. Files can be restored, but customers may leave permanently after a data breach.
How Can Your Company Avoid the Crippling Costs of Data Breaches?
Companies not equipped to implement and constantly monitor their systems and networks to ensure cybersecurity should hire outside specialists. Budget constraints and the high demand for skilled IT security experts can make finding and funding an in-house security team difficult and time-consuming.
Organizations without viable in-house IT support are turning to Managed Security Service Providers (MSSP) as a solution. The support of an MSSP can help provide companies with 24/7 cyber protection and data backup and recovery support.
TBConsulting's Cybersecurity and Data Protection and Recovery solutions provide complete system support to help organizations stay ahead of potential threats and vulnerabilities. With peace of mind related to sensitive employee documents, proprietary information, and other valuable data—companies can rest assured their valuable information and data are kept secure and protected.
TBC reduces the risk of cyber-attacks while keeping a company's reputation and financial assets safeguarded. Protect your company from a cyberattack and have safeguards in place to respond to threats. The actual cost of a data breach is far more expensive than hiring outside help.
If you would like to learn more about how TBC's managed cybersecurity solutions can provide critical protection to data and businesses, feel free to reach out for additional information or support.