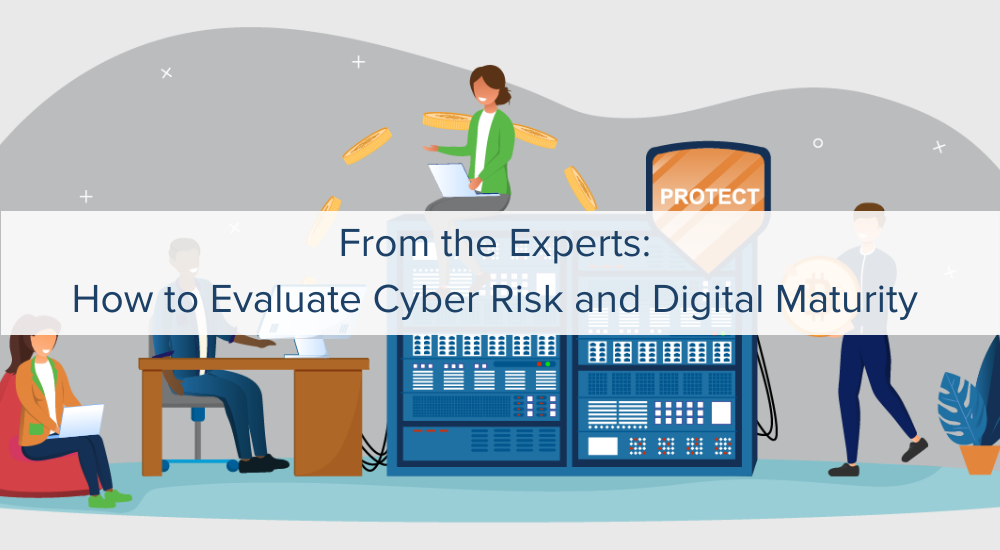 Are you probing your cybersecurity program as a hacker does?
If you aren't looking through a hacker's lens, or you're just checking boxes on a compliance form that asks if you have cybersecurity in place, you might have a serious security problem brewing.
There is a HUGE difference between having the tools and implementing them properly for maximum coverage and organizational protection. Cybersecurity is not an isolated system – it is a strategic framework and enforcement mechanism deployed across your entire organization.
Even more importantly, cybersecurity is a central element necessary to shape a thriving and safe company culture.
Think Big to Build Digital Maturity
So how can you generate interest and buy-in for those in the organization who think cybersecurity is an IT problem?
Every Executive wants to use words like digital enterprise, responsiveness, agility, and resilience--but to make those words believable and earn your customers' business and the respect of your Board, those words need to warrant confidence. Confidence in your digital maturity will stem from your ability to implement a cybersecurity strategy that encompasses the entire enterprise. And that, my friend, requires a healthy self-evaluation of your risk tolerance and how you manage risk.
You can use these alarming statistics to break the sphere of the Board's invincibility:
Or
You can make cybersecurity personal. With ransomware front and center in the news, your brand is at stake. When you get hit by a ransomware attack, your customers, and even your competitors, will wonder why you couldn't protect your organization and then wonder what else you are failing to do right.
Start Small to Understand Risk Tolerance
Every company says they want to build customer trust, and some develop security strategies to safeguard critical information because, frankly, their business depends on it. Many companies have lots of excuses for refusing to close security gaps – they plead ignorance, they are too busy, they are too small, their IT team is swamped,
None of these is a reason to expose your most valuable assets to the dark web.
So how do you prepare a realistic cybersecurity strategy?
You can start small by taking 2.32 minutes to watch Tyler Edgett, TBC's senior cybersecurity expert and Client Delivery Architect, deliver best practice recommendations to reach cybersecurity maturity.
In the video, Tyler discusses working in tandem with companies to create a Security Posture Assessment as one way to understand their position on the Cybersecurity Matrix.
What is a Security Posture Assessment?
A Security Posture Assessment (SPA) is an in-depth analysis of the business and IT environment to secure the network and determine an organization's specific points of weakness against its risk tolerance. Reports are used to identify the vulnerabilities that exist within the business to pinpoint potential threats.
What are the benefits of performing a Security Posture Assessment?
Receive a strategic and tactical implementation roadmap

Focused review of patching and backup processes, network configurations, applications, and user accessibility

Best practice recommendations to improve IT defense strategies

Exposure of potential risk areas

Outline of how to implement the data backup 3-2-1 strategy

Identification of current weaknesses

Increased security of the digital environment
Using the remediation roadmap, organizations can implement SPA recommendations to manage their risk tolerance.
Who can Benefit from a Security Posture Assessment?
Many people falsely believe that only large businesses are victims of cyberattacks.
The reality is that 88% of small to mid-sized companies feel vulnerable. The lack of cybersecurity resources makes small companies a prime target for cybercriminals.

Luckily, all companies can benefit from a Security Posture Assessment to help with project prioritization and IT budget justifications. The assessment report can help organizations define defensive tactics by identifying the people, processes, and technologies needed to enhance cybersecurity strategies and awareness.
Can a SPA Help Your Company?
Even if you think you have a robust cyber defense strategy, it is always a good idea to have a third party look at your people, processes, and technology. It only takes a single point of weakness to cripple an organization. With the prevalence of hybrid work, most companies are at a higher risk of cyberattacks.
Now is the right time to patch vulnerabilities, implement multi-factor password authentications, upgrade security monitoring, and prepare disaster response plans.
The SPA report delivered after a full security review of your environment will give your IT teams the confidence to better manage cyber defense strategies to secure their environments. In addition, the SPA outlines a cybersecurity roadmap to help companies create the actionable defense plans needed to ensure a more secure environment.
Client Success Story
A healthcare supply company recently experienced a ransomware attack that froze their systems and paralyzed manufacturing workflows. They needed immediate help to repair their digital infrastructure and restore their data.
TBConsulting stepped in to perform a Security Posture Assessment to take stock of the environment and build remediation plans for the problem areas. With TBC's security experts performing vulnerability scans, network scans, domain enumerations, and data backup management, the team quickly identified and resolved the points of weakness.
TBC found that the company had all computers, data backups, and network systems linked to a single network. This lack of network diversification allowed hackers to access entire systems from a single point of entry.
A Security Posture Assessment performed before the attack would have identified these systemic problems and helped the company plug security gaps.
How TBC Can Improve Your Organization's Cybersecurity Posture
Prevention is key to avoid cyberattacks, but everyone must prepare a post-attack remediation plan. TBC helps companies create defensive strategies that provide constant monitoring and protection against future threats. Our security experts will work with your CISOs and IT security teams to create actionable roadmaps to develop your cybersecurity maturity.
TBC offers fully managed IT solutions that proactively monitor and protect digital environments and safeguard valuable data. Our IT teams will look at your environment the same way a hacker would and close the gap between tool applications and security coverage.
Contact TBC today if you want to evaluate your cybersecurity preparedness or launch a Security Posture Assessment.