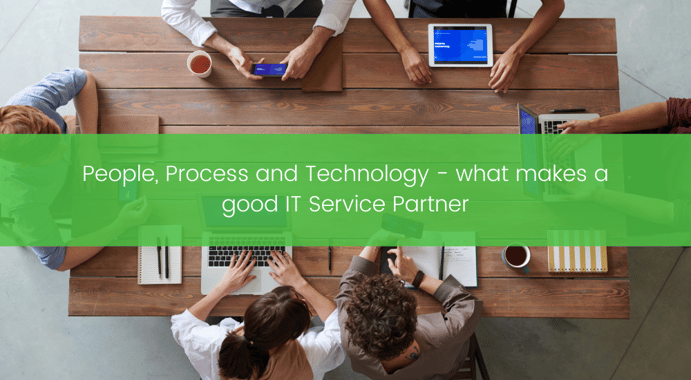 Technology has become one of the most critical elements of business growth. Nearly every operational function is driven through digital initiatives in one capacity or another. As a result, IT strategy has become an indispensable part of ensuring business processes run fluidly. While housing internal IT teams can be effective, outsourcing technical needs can be advantageous to daily operations, allowing your internal resources the opportunity to focus on more strategic initiatives of your digital transformation.
Companies must be able to immediately address technical needs in today's high stakes, fast-paced world. Outsourcing to an IT service provider allows organizations to have more flexibility with resources and the ability to have experts manage the mundane technical tasks.
Finding a reliable IT partner capable of executing complex tasks and improving workplace efficiencies can be challenging. However, locating the right IT team can help streamline processes while allowing companies to thrive. Achieving this level of organizational efficiency requires having a delicate balance of people, processes, and technology in place.
Incorporating the People, Process, Technology Framework
Creating a viable product or service is not enough to guarantee success. Having the right variables in place is critical for achieving organizational effectiveness. Implementing the People, Process, and Technology framework can allow your business to flourish by using a balanced operational strategy.
Finding the right IT service partner is no exception to the rule. Whether you are dealing with internal employees or third-party partners—having the right mix of people and processes in place is critical to ensuring technological success within your company.
Having the Right People
Many leaders claim that people are the lifeblood of any successful organization. If companies are unable to obtain and retain talented people—their business likely won't stand the test of time.
When searching for reliable third-party partners, it's essential to know that the right individuals are in place. Entrusting the needs of your business to an outside source requires a fine balance of communication, reliability, and shared values.
As a trusted partner, TBConsulting focuses on building relationships with clients while providing customized solutions backed by 24-hour support. We partner with clients that enable businesses to solve IT-related issues. Our comprehensive solutions and ongoing monitoring systems allow us to solve the IT needs and challenges of businesses. Outsourcing IT needs to a managed service provider allows internal employees to better serve the strategic needs of their organization.
Eliminating the distraction of mundane tasks allows decision-makers to focus on important matters at hand. Becoming a partner with TBConsulting gives your team the flexibility and time needed to better accomplish strategic initiatives.
At TBConsulting we focus on building and nourishing lasting relationships with our clients. We provide constant monitoring of your digital environment with a dedicated team of professionals that have customer service as their number one priority.
Putting the Right Processes in Place
Designing IT processes that address infrastructural needs while identifying the values of stakeholders can allow operations to run effectively. Creating customized plans and tools that meet the needs of your team can help build and maintain a cohesive IT infrastructure.
Choosing a team that is able to effectively manage your IT goals, growth, and security allows your company's key personnel to focus on strategic growth instead of becoming bogged down with monotonous tasks.
At TBConsulting, we implement our own unique set of defined systems and processes. Through our total care approach, we address performance, security, and monitoring requirements to help better serve the various obligations of your company. We create customized platforms catered to fit the specific needs and requirements of your organization.
Implementing Technology
Technology in and of itself cannot solve organizational problems and inefficiencies. Superior technologies can become stagnant without the appropriate people and processes to implement them. Many companies invest in expensive technologies only to fall short of expectations without the proper team in place.
Our various technological capabilities help empower businesses to undergo complete digital transformations with various solutions including:
Cybersecurity
Disaster recovery
IT service management
Virtual desktop
Private cloud systems
Unified communications and more
At TBConsulting, we're able to address your IT needs by partnering with industry leaders. Our customized solutions and intuitive interface allows your company to meet and exceed expectations helping to advance company-wide initiatives.
Let TBConsulting Help Transform your Business
Attracting and retaining IT talent capable of handling complex duties can be a daunting task. Outsourcing IT needs to a reputable third-party company can provide your company with the flexibility and oversight needed to achieve technological objectives using a focus-based, strategic driven approach.
Becoming a partner with TBConsulting will free up valuable company resources as we take care of day-to-day IT-related tasks so your company can flourish and grow.
TBC's US-based IT Operations teams monitor client environments 24 hours a day to help identify and solve IT related issues from the moment they happen.
If you would like to learn more about how TBC can become a valuable partner for your IT needs, feel free to request a 30 minute consultation. A knowledgeable expert will help provide you with solutions catered specifically to your business needs.